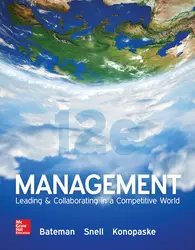 Management: Leading & Collaborating in a Competitive World
12th Edition
Product Details

+
*Improve student learning outcomes using Connect, our easy-to-use homework and learning management solution that embeds learning science and award-winning adaptive tools to improve student results.
*Give students a real sense of the challenges and opportunities and how they can impact the bottom line.
*Engage students with student friendly features: Management in Action three part cases, Digital World, Multiple Generations at Work, and Social Enterprise boxes.
Program Details
PREFACE
PART ONE FOUNDATIONS OF MANAGEMENT
1. Managing and Performing
2. The External and Internal Environments
3. Managerial Decision Making
PART TWO PLANNING: DELIVERING STRATEGIC VALUE
4. Planning and Strategic Management
5. Ethics, Corporate Responsibility, and Sustainability
6. International Management
7. Entrepreneurship


PART THREE ORGANIZING: BUILDING A DYNAMIC ORGANIZATION
8. Organization Structure
9. Organizational Agility
10. Human Resources Management
11. Managing the Diverse Workforce
PART FOUR LEADING: MOBILIZING PEOPLE
12. Leadership
13. Motivating for Performance
14. Teamwork
15. Communicating
PART FIVE CONTROLLING: LEARNING AND CHANGING
16. Managerial Control
17. Managing Technology and Innovation
18. Creating and Leading Change