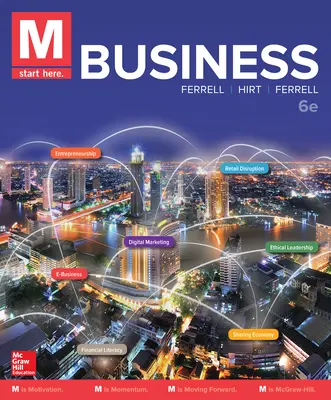 M: Business
6th Edition
By O. C. Ferrell and Geoffrey Hirt and Linda Ferrell
ISBN10: 1259929450
ISBN13: 9781259929458
Copyright:
2019
Product Details

+
- M: Business is designed to be brief, lean, and flexible, its cutting-edge approach enables you to cover topics at the depth you want with an unrivaled mixture of exciting fresh content and resources supporting active learning.
- What if students were able to understand concepts in a fun, and animated way? iSee it! video clips are the solution! As an assignment within Connect, students can understand concepts, and instructors have access to even more videos.
- Connect: A highly reliable, easy-to-use homework and learning management solution that embeds learning science and award-winning adaptive tools to improve student results.
Program Details
Part 1: Business in a Changing World
Chapter 1: The Dynamics of Business and Economics
Chapter 2: Business Ethics and Social Responsibility
Chapter 3: Business in a Borderless World
Part 2: Starting and Growing a Business
Chapter 4: Options for Organizing Business
Chapter 5: Small Business, Entrepreneurship, and Franchising
Part 3: Managing for Quality and Competitiveness
Chapter 6: The Nature of Management
Chapter 7: Organization, Teamwork, and Communication
Chapter 8: Managing Service and Manufacturing Operations
Part 4: Creating the Human Resource Advantage
Chapter 9: Motivating the Workforce
Chapter 10: Managing Human Resources
Part 5: Marketing: Developing Relationships
Chapter 11: Customer-Driven Marketing
Chapter 12: Dimensions of Marketing Strategy
Chapter 13: Digital Marketing and Social Networking
Part 6: Financing the Enterprise
Chapter 14: Accounting and Financial Statements
Chapter 15: Money and the Financial System
Chapter 16: Financial Management and Securities Markets
Bonus Chapters
A: The Legal and Regulatory Environment
B: Personal Financial Planning