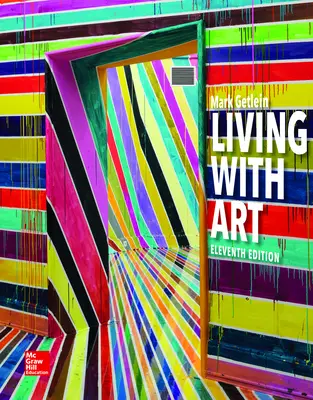 Living with Art
11th Edition
By Mark Getlein
ISBN10: 007337931X
ISBN13: 9780073379319
Copyright:
2016
Product Details

+
– Connect: A highly reliable, easy-to-use homework and learning management solution that embeds learning science and award-winning adaptive tools to improve student results.
- Fosters each student's unique path to appreciation through immersion in the vocabulary of art (for understanding) and through guided tools to talk about art (for analysis).
- Provides the foundation for a life-long appreciation of art, as well as critical thinking skills that will benefit students far beyond the classroom, into their chosen careers.
---
Instructors: choose ebook for fast access or receive a print copy.
---
Program Details
Part One: Introduction 1 Living with Art The Impulse for Art What Do Artists Do? Creating and Creativity Looking and Responding ARTISTS: Maya Lin ARTISTS: Vincent Van Gogh 2 What Is Art? Artist and Audience Art and Beauty Art and Appearances Art and Meaning Art and Objects THINKING ABOUT ART: Insiders and Outsiders ARTISTS: Louise Bourgeois THINKING ABOUT ART: Aesthetics 3 Themes of Art The Sacred Realm Politics and the Social Order Stories and Histories Looking Outward: The Here and Now Looking Inward: The Human Experience Invention and Fantasy The Natural World Art and Art THINKING ABOUT ART: Iconoclasm ARTISTS: Robert Rauschenberg ARTISTS: Katsushika Hokusai Part Two: The Vocabulary of Art 4 The Visual Elements Line Shape and Mass Light Color Texture and Pattern Space Time and Motion CROSSING CULTURES: Japanese Prints THINKING ABOUT ART: Conservation 5 Principles of Design Unity and Variety Balance Emphasis and Subordination Scale and Proportion Rhythm Elements and Principles: A Summary ARTISTS: Georgia O'Keeffe THINKING ABOUT ART: Points of View Part Three: Two-Dimensional Media 6 Drawing Materials for Drawing Drawing and Beyond: Paper as a Medium ARTISTS: Leonardo CROSSING CULTURES: Paper 7 Painting Encaustic Fresco Tempera Oil Watercolor, Gouache, and Similar Media Acrylic Painting and Beyond: Off the Wall! Sumptuous Images: Mosaic and Tapestry ARTISTS: Jacob Lawrence 8 Prints Relief Intaglio Lithography Screenprinting Monotype Inkjet Recent Directions: Printing on the World ARTISTS: Albrecht Durer ARTISTS: Kathe Kollwitz 9 Camera and Computer Arts Photography Film Video The Internet THINKING ABOUT ART: Censorship 10 Graphic Design Signs and Symbols Typography and Layout Word and Image Motion and Interactivity Graphic Design and Art Part Four: Three-Dimensional Media 11 Sculpture and Installation Methods and Materials of Sculpture The Human Figure in Sculpture Working with Time and Place CROSSING CULTURES: Primitivism ARTISTS: Christo and Jeanne-Claude 12 Arts of Ritual and Daily Life Clay Glass Metal Wood Fiber Ivory, Jade, and Lacquer Art, Craft, Design ARTISTS: Maria Martinez ARTISTS: Olowe of Ise CROSSING CULTURES: Export Arts 13 Architecture Structural Systems in Architecture New Technologies, New Materials, Current Concerns Imagining Architecture ARTISTS: Zaha Hadid ARTISTS: Frank Lloyd Wright Part Five: Arts in Time 14 Ancient Mediterranean Worlds The Oldest Art Mesopotamia Egypt The Aegean The Classical World: Greece and Rome THINKING ABOUT ART: Whose Grave? THINKING ABOUT ART: The Marbles and the Museums 15 Christianity and the Formation of Europe The Rise of Christianity Byzantium The Middle Ages in Europe Toward the Renaissance 16 The Renaissance The Early and High Renaissance in Italy The Renaissance in the North The Late Renaissance in Italy ARTISTS: Michelangelo 17 The 17th and 18th Centuries The Baroque Era The 18th Century Revolution ARTISTS: Artemisia Gentileschi ARTISTS: Rembrandt THINKING ABOUT ARTISTS: Academies ARTISTS: Elizabeth Vigee-Lebrun 18 Arts of Islam and of Africa Arts of Islam Arts of Africa CROSSING CULTURES: Africa Looks Back 19 Arts of Asia: India, China, and Japan Arts of India Arts of China Arts of Japan CROSSING CULTURES: The Early Buddha Image 20 Arts of the Pacific and of the Americas Pacific Cultures The Americas 21 The Modern World: 1800-1945 Neoclassicism and Romanticism Realism Manet and Impressionism Post-Impressionism Bridging the Atlantic: American in the 19th Century Into the 20th Century: The Avant-Garde World War I and After: Dada and Surrealism Between the Wars: Building New Societies THINKING ABOUT ART: Presenting the Past ARTISTS: Henri Matisse ARTISTS: Pablo Picasso 22 From Modern to Postmodern The New York School Into the Sixties: Assemblage and Happenings Art of the Sixties and Seventies Art since the Eighties: Postmodern World? ARTISTS: Jackson Pollock ARTISTS: Andy Warhol ARTISTS: Alice Neel THINKING ABOUT ART: The Guerrilla Girls 23 Opening Up to the World THINKING ABOUT ART: Visual Culture