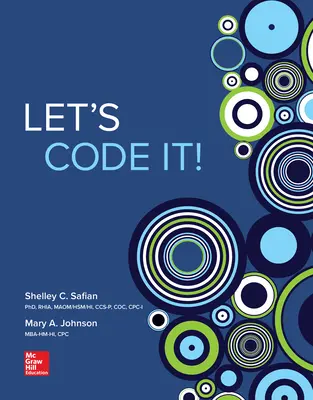 Let's Code It!
1st Edition
By Shelley Safian and Mary Johnson
ISBN10: 1259828735
ISBN13: 9781259828737
Copyright:
2019
Product Details

+
Prepare students for a career in medical coding. Instruction is presented in easy-to-understand language with numerous examples. Hands-on practice encourages critical thinking using realistic physician documentation from both outpatient and inpatient facilities. Students are carefully guided to select the most appropriate codes for diagnoses, procedures, and ancillary services. The complete program developments a solid foundation to build a successful career after graduation.
Program Details
PART 1: MEDICAL CODING FUNDAMENTALS
1—Introduction to the Languages of Coding
2—Abstracting Clinical Documentation
3—The Coding Process
PART 2: REPORTING DIAGNOSES
4 – Introduction to ICD-10-CM
5 - Coding Infectious Diseases
6 - Coding Neoplasms
7 – Coding Blood and Immunological Conditions
8—Coding Endocrine Conditions
9 – Coding Mental, Behavioral, and Nervous Conditions
10 – Coding Conditions of the Optical and Auditory Systems
11 – Coding Cardiovascular Conditions
12 - Coding Respiratory Conditions
13 – Coding Digestive Conditions
14 – Coding Integumentary Conditions
15—Coding Muscular and Skeletal Conditions
16 – Coding Injury, Poisoning, and External Causes
17 – Coding Genitourinary, Gynecology, Obstetrics, Congenital, and Pediatric Conditions
18 – Coding Factors Influencing Health Status (Z Codes)
19 – Inpatient (Hospital) Diagnosis Coding
20 - Diagnostic Coding Capstone
PART 3: REPORTING PHYSICIANS SERVICES AND OUTPATIENT
21 – Introduction to CPT
22 – CPT and HCPCS Level II Modifiers
23 - CPT Evaluation & Management Section
24 - CPT Anesthesia Section
25 - CPT Surgery Section
26 - CPT Radiology Section
27 - CPT Pathology & Lab Section
28 - CPT Medicine Section
29 – Physicians' Services Capstone
PART 4: DMEPOS & TRANSPORTATION
30–HCPCS Level II
31 – HCPCS Level II Capstone
PART 5: INPATIENT (HOSPITAL) REPORTING
32 – Introduction to ICD-10-PCS
33—ICD-10-PCS Medical and Surgical Section (0)
34—Obstetrics Section
35—Placement through Chiropractic Sections (2-9)
36—Imaging, Nuclear Medicine, and Radiation Therapies (B, C, D)
37—Physical Rehabilitation and Diagnostic Audiology through New Technology Sections (F-H)
38 – Inpatient Capstone
PART 6: LEGAL, ETHICAL, AND REIMBURSEMENT ISSUES
39 – Reimbursement
40—Introduction to Healthcare Law & Ethics
Let's Code It! ICD-10 CM: The Complete Medical Coding Solution, 1e
By Shelley C. Safian and Mary A. Johnson
PART 1: MEDICAL CODING FUNDAMENTALS
1—Introduction to the Languages of Coding
2—Abstracting Clinical Documentation
3—The Coding Process
PART 2: REPORTING DIAGNOSES
4 – Introduction to ICD-10-CM
5 - Coding Infectious Diseases
6 - Coding Neoplasms
7 – Coding Blood and Immunological Conditions
8—Coding Endocrine Conditions
9 – Coding Mental, Behavioral, and Nervous Conditions
10 – Coding Conditions of the Optical and Auditory Systems
11 – Coding Cardiovascular Conditions
12 - Coding Respiratory Conditions
13 – Coding Digestive Conditions
14 – Coding Integumentary Conditions
15—Coding Musculoskeletal Conditions
16 – Coding Injury, Poisoning, and External Causes
17 – Coding Genitourinary, Gynecology, Obstetrics, Congenital, and Pediatric Conditions
18 – Coding Factors Influencing Health Status (Z Codes)
19 – Inpatient (Hospital) Diagnosis Coding
20 - Diagnostic Coding Capstone
PART 6: LEGAL, ETHICAL, AND REIMBURSEMENT ISSUES
39 – Reimbursement
40—Introduction to Healthcare Law & Ethics