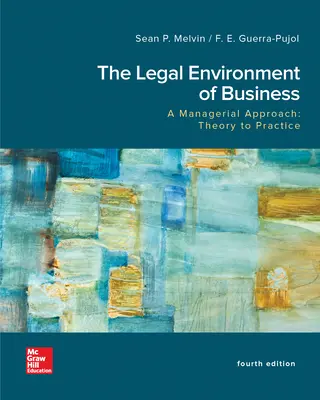 The Legal Environment of Business, A Managerial Approach: Theory to Practice
4th Edition
By Sean Melvin and Enrique Guerra-Pujol
ISBN10: 1260247805
ISBN13: 9781260247800
Copyright:
2021
Product Details

+
Bridges gap between understanding legal doctrines that impact business and how business owners/managers use legal insight to limit liability and manage risk.
Focuses on using features, simulations, case studies, examples, and case law that is accessible & engaging for business students.
Connect: A highly reliable, easy-to-use homework & learning management solution that embeds learning science and award-winning adaptive tools to improve student results.
Program Details
UNIT ONE: Fundamentals of the Legal Environment of Business
Chapter 1 Legal Foundations 2 Appendix to Chapter 1A Business Student's Guide to Understanding Cases and Finding the Law
Chapter 2 Business and the Constitution
Chapter 3 The American Judicial System, Jurisdiction, and Venue
Chapter 4 Resolving Disputes: Litigation and Alternative Dispute Resolution
Chapter 5 Business Ethics, Corporate Social Responsibility, and Law

UNIT TWO: Law and Commerce
Chapter 6 Overview and Formation of Contracts
Chapter 7 Contract Enforceability and Performance
Chapter 8 Contracts for the Sale of Goods
Chapter 9 Torts and Products Liability

Business Law Simulation Exercise 1

UNIT THREE: Regulation in the Workplace
Chapter 10 Agency
Chapter 11 Employment Relationships and Labor Law
Chapter 12 Employment Discrimination

Business Law Simulation Exercise 2

UNIT FOUR: Business Entities, Securities Regulation, and Corporate Governance
Chapter 13 Choice of Business Entity, Sole Proprietorships, and Partnerships
Chapter 14 Limited Liability Companies and Limited Liability Partnerships
Chapter 15 Corporations
Chapter 16 Regulation of Securities, Corporate Governance, and Financial Markets

UNIT FIVE: Regulatory Environment of Business
Chapter 17 Administrative Law
Chapter 18 Environmental Law
Chapter 19 Antitrust and Regulation of Competition
Chapter 20 Creditors' Rights and Bankruptcy
Chapter 21 Warranties and Consumer Protection Law
Chapter 22 Criminal Law and Procedure in Business
Chapter 23 Personal Property, Real Property, and Land Use Law
Chapter 24 Intellectual Property 756 Chapter 25International Law and Global Commerce

Business Law Simulation Exercise 3

CAPSTONE CASE STUDIES
1. Coffee Wars: Starbucks v. Charbucks
2. The Odwalla Juice Company Crisis
3. Fraud under the Arches: The McDonald's Game Piece Scandal

APPENDIX A: The Constitution of the United States of America
APPENDIX B: Excerpts from the Sarbanes-Oxley Act of 2002