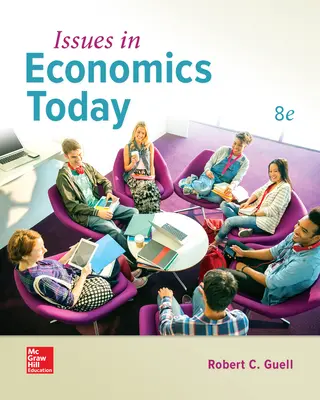 Issues in Economics Today
8th Edition
By Robert Guell
ISBN10: 1259746399
ISBN13: 9781259746390
Copyright:
2018
Product Details

+
– Connect: A highly reliable, easy-to-use homework and learning management solution that embeds learning science and award-winning adaptive tools to improve student results.
- Includes 8 theory chapters introducing the core topics in microeconomics and macroeconomics, and a selection of 40 short issues chapters, from which instructors can pick and choose - allowing maximum flexibility.
- Issues can be organized along themes such as social policy, health and education policy, election year issues, and business issues, or combined with outside content.
---
Instructors: choose ebook for fast access or receive a print copy.
---
Program Details
Chapter 1: Economics: The Study of Opportunity Cost
Chapter 2: Supply and Demand
Chapter 3: The Concept of Elasticity and Consumer and Producer Surplus
Chapter 4: Firm Production, Cost, and Revenue
Chapter 5: Perfect Competition, Monopoly, and Economic versus Normal Profit
Chapter 6: Every Macroeconomic Word You Ever Heard: Gross Domestic Product, Inflation, Unemployment, Recession, Depression
Chapter 7: Interest Rates and Present Value
Chapter 8: Aggregate Demand and Aggregate Supply
Chapter 9: Fiscal Policy
Chapter 10: Monetary Policy
Chapter 11: Federal Spending
Chapter 12: Federal Deficits, Surpluses, and the National Debt
Chapter 13: The Housing Bubble
Chapter 14: The Recession of 2007-2009: Causes and Policy Responses
Chapter 15: Is Economic Stagnation the New Normal?
Chapter 16: Is the (Fiscal) Sky Falling: An Examination of Unfunded Social Security, Medicare, and State and Local Pension Liabilities
Chapter 17: International Trade: Does it Jeopardize American Jobs?
Chapter 18: International Finance and Exchange Rates
Chapter 19: The European Debt Crisis
Chapter 20: Economic Growth and Development
Chapter 21: NAFTA, GATT, WTO: Are Trade Agreements Good for Us?
Chapter 22: The Line Between Legal and Illegal Goods
Chapter 23: Natural Resources, The Environment, and Climate Change
Chapter 24: Health Care
Chapter 25: Government-Provided Health Insurance: Medicaid, Medicare, and the Child Health Insurance Program
Chapter 26: The Economics of Prescription Drugs
Chapter 27: So You Want to Be a Lawyer: Economics and the Law
Chapter 28: The Economics of Crime
Chapter 29: Antitrust
Chapter 30: The Economics of Race and Discrimination
Chapter 31: Income and Wealth Inequality
Chapter 32: Farm Policy
Chapter 33: Minimum Wage
Chapter 34: Ticket Brokers and Ticket Scalping
Chapter 35: Rent Control
Chapter 36: Economics of K-12 Education
Chapter 37: Economics of College and University Education
Chapter 38: Poverty and Welfare
Chapter 39: Head Start
Chapter 40: Social Security
Chapter 41: Personal Income Taxes
Chapter 42: Energy Prices
Chapter 43: If We Build It, Will They Come? And Other Sports Questions
Chapter 44: The Stock Market Crashes
Chapter 45: Unions
Chapter 46: Walmart: Always Low Prices (and Low Wages) - Always
Chapter 47: The Economic Impact of Casino Gambling
Chapter 48: The Economics of Terrorism