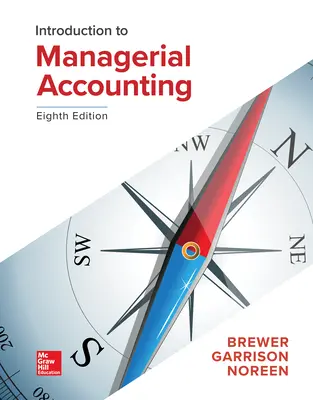 Introduction to Managerial Accounting
8th Edition
By Peter Brewer and Ray Garrison and Eric Noreen
ISBN10: 1259917061
ISBN13: 9781259917066
Copyright:
2019
Product Details

+
· What's Covered: All of the topics typically covered in an introduction to managerial accounting course.
· Teaching Approach: Briefer and more student-friendly coverage of these topics than in competitors.
· What Makes This Product Unique: Concept overview videos and integration exercises, guided examples and flagship end-of-chapter content, static and algo test bank, auto graded Excel simulations.
Program Details
Managerial Accounting: An Overview
1 Managerial Accounting and Cost Concepts
2 Job-Order Costing: Calculating Unit Product Costs
3 Job-Order Costing: Cost Flows and External Reporting
4 Activity-Based Costing
5 Process Costing6 Cost-Volume-Profit Relationships
7 Variable Costing and Segment Reporting: Tools for Management
8 Master Budgeting
9 Flexible Budgets, Standard Costs, and Variance Analysis
10 Performance Measurement in Decentralized Organizations
11 Differential Analysis: The Key to Decision Making
12 Capital Budgeting Decisions
13 Statement of Cash Flows
14 Financial Statement Analysis