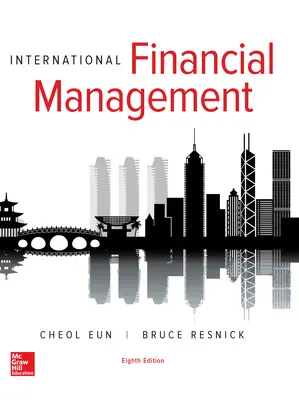 International Financial Management
8th Edition
By Cheol Eun and Bruce Resnick
ISBN10: 125971778X
ISBN13: 9781259717789
Copyright:
2018
Product Details

+
- Connect: A highly reliable, easy-to-use homework and learning management solution that embeds learning science and award-winning adaptive tools to improve student results.
- Provides students with a foundation for analysis that will serve them well in their careers ahead.
- The decision-making process is presented through the text with the goal of teaching students how to make informed managerial decisions in an evolving global financial landscape.
Program Details
Part One: Foundations of International Financial Management
Chapter 1: Globalization and the Multinational Firm
Chapter 2: International Monetary System
Chapter 3: Balance of Payments
Chapter 4: Corporate Governance Around the World
Part Two: The Foreign Exchange Market, Exchange Rate Determination, and Currency Derivatives
Chapter 5: The Market for Foreign Exchange
Chapter 6: International Parity Relationships and Forecasting Foreign Exchange Rates
Chapter 7: Futures and Options on Foreign Exchange
Part Three: Foreign Exchange Exposure and Management
Chapter 8: Management of Transaction Exposure
Chapter 9: Management of Economic Exposure
Chapter 10: Management of Translation Exposure
Part Four: World Financial Markets and Institutions
Chapter 11: International Banking and Money Market
Chapter 12: International Bond Market
Chapter 13: International Equity Markets
Chapter 14: Interest Rate and Currency Swaps
Chapter 15: International Portfolio Investment
Part Five: Financial Management of the Multinational Firm
Chapter 16: Foreign Direct Investment and Cross-Border Acquisitions
Chapter 17: International Capital Structure and the Cost of Capital
Chapter 18: International Capital Budgeting
Chapter 19: Multinational Cash Management
Chapter 20: International Trade Finance
Chapter 21: International Tax Environment and Transfer Pricing