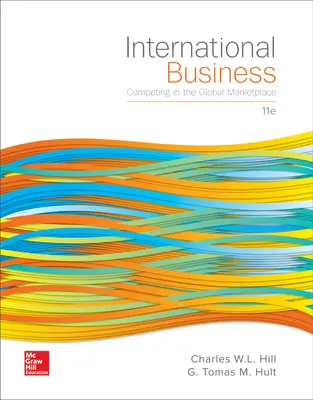 International Business: Competing in the Global Marketplace
11th Edition
By Charles Hill and G. Tomas M. Hult
ISBN10: 1259578119
ISBN13: 9781259578113
Copyright:
2017
Product Details

+
* This program features an integrated progression of topics and utilizes results-driven technology.
* Focused on practical applications of concepts, the content contains a timely, comprehensive coverage of theory.
* Connect: A highly reliable, easy-to-use homework and learning management solution that embeds learning science and award-winning adaptive tools to improve student results.
---
Instructors: choose ebook for fast access or receive a print copy.
---
Program Details
Part One- Introduction and Overview
Chapter 1: Globalization
Opening case: Medical Tourism and the Globalization of Health Care
Closing case: Building the Boeing 787
Part Two- National Differences
Chapter 2: National Differences in Political Economy, and legal systems
Opening case: Corruption in Brazil
Closing case: Putin's Russia
Chapter 3: National Differences in Economic Development
Opening case: Democracy and Economic Development in Sub-Saharan Africa
Closing case: Political and Economic Reform in Myanmar
Chapter 4: Differences in culture
Opening case: busy Buy and eBay in China
Closing case: World Expo 2020 in Dubai, UAE
Chapter 5: Ethics, Corporate Social Responsibility, and Sustainability
Opening case: Making toys globally
Closing case: Bitcoin as an Ethical Dilemma
Part Three- The Global Trade and Investment Environment
Chapter 6: International Trade Theory
Opening case: China and Australia Enter into a Free Trade Agreement
Closing case: Creating the World's Biggest Free Trade Zone
Chapter 7: Government Policy and International Trade
Opening case: U.S Tariffs on Chinese Solar Panels Benefit Malaysia
Closing case: Sugar Subsidies Drive Candy Makers Abroad
Chapter 8: Foreign Direct Investment
Opening case: Volkswagen in Russia
Closing case: Foreign Direct Investment in Nigeria
Chapter 9: Regional Trade Pacts Give the Mexican Auto Industry an Edge
Closing case: Tomato Wars
Part Four- The Global Monetary System
Chapter 10: The Foreign Exchange Market
Opening case: Subaru's Sales Boom Thanks to the Weaker Yen
Closing case: Embraer and the Wild Ride of the Brazilian Real
Chapter 11: The International Monetary System
Opening case: The IMF and Ukraine's Economic Crisis
Closing case: The IMF and Iceland's Economic Recovery
Chapter 12: The Global Capital Market
Opening case: Alibaba's Record-Setting IPO
Closing case: Declining Cross-Border Capital Flows-Retreat or Reset?
Part Five- The Strategy and Structure of International Business
Chapter 13: The Strategy of International Business
Opening case: IKEA's Global Strategy
Closing case: Global Strategy Levers
Chapter 14: The Organization of International Business
Opening case: P&G-Strength in Architecture
Closing case: Koninklijke Philips NV
Chapter 15: Entry Strategy and Strategic Alliances
Opening Case: Starbucks' Foreign Entry Strategy
Closing case: General Motors Corporation
Part Six- International Business Functions
Chapter 16: Exporting, Importing, and Countertrade
Opening case: Exporting Desserts
Closing case: Two Men and a Truck
Chapter 17: Global Production and Supply Chain Management
Opening case: Apple: The Best Supply Chains in the World?
Closing case: Two Men and a Truck
Chapter 18: Global Marketing and R&D
Opening case: Global Branding of Avengers and Iron Man
Closing case: Domino's Worldwide
Chapter 19: Global Human Resource Management
Opening case: A Global Team at Mary Kay Inc.
Closing case: IBM and Its Human Resources
Chapter 20: Accounting and Finance in the International Business
Opening case: Skype Now a Division of Microsoft
Closing case: Google and Its Tax Strategy
Part Seven- Integrative Cases
Making the Apple iPhone
Revolution in Egypt
Ghana: An African Dynamo?
Walmart Can't Conquer All Countries
Ethics of Exporting Used Batteries
The Rise of India's Drug Industry
I Want My Greek TV!
The Rise and Fall of the Japanese Yen
Currency Trouble in Malawi
The IPO of the Industrial and Commercial Bank of China
Making Ford Globally Competitive
Organizing Siemens for Global Competitiveness
JCB Pins Hopes on the Indian Market
MD International and Latin America
Amazon Kindle Evolution
Burberry's Global Brand
MMC China Joint Venture
Brazil's Gol Airlines