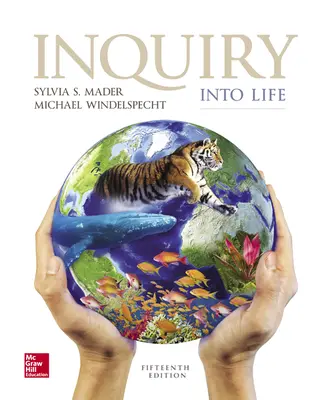 Inquiry into Life
15th Edition
By Sylvia Mader and Michael Windelspecht
ISBN10: 1259426165
ISBN13: 9781259426162
Copyright:
2017
Product Details

+
* Connect: A highly reliable, easy-to-use homework and learning management solution that embeds learning science and award-winning adaptive tools to improve student results.
* Emphasizes the application of all areas of biology to knowledge of human concerns, making it relatable for students.
* This distinctive text was developed to stand apart from all other non-majors texts with a unique approach, unparalleled art, and a straightforward, succinct writing style.
---
Instructors: choose ebook for fast access or receive a print copy.
---
Program Details
Chapter 1 The Study of Life
Unit 1 Cell Biology
Chapter 2 The Molecules of Cells
Chapter 3 Cell Structure and Function
Chapter 4 Membrane Structure and Function
Chapter 5 Cell Division
Chapter 6 Metabolism: Energy and Enzymes
Chapter 7 Cellular Respiration
Unit 2 Plant Biology
Chapter 8 Photosynthesis
Chapter 9 Plant Organization and Function
Chapter 10 Plant Reproduction and Responses
Unit 3 Maintenance of the Human Body
Chapter 11 Human Organization
Chapter 12 Cardiovascular System
Chapter 13 Lymphatic and Immune Systems
Chapter 14 Digestive System and Nutrition
Chapter 15 Respiratory System
Chapter 16 Urinary System and Excretion
Unit 4 Integration and Control of the Human Body
Chapter 17 Nervous System
Chapter 18 Senses
Chapter 19 Musculoskeletal System
Chapter 20 Endocrine System
Unit 5 Continuance of the Species
Chapter 21 Reproductive System
Chapter 22 Development and Aging
Chapter 23 Patterns of Gene Inheritance
Chapter 24 Chromosomal Inheritance and Genetic Disorders
Chapter 25 DNA Structure and Control of Gene Expression
Chapter 26 Biotechnology and Genomics
Unit 6 Evolution and Diversity
Chapter 27 Evolution of Life
Chapter 28 Viruses, Bacteria, and Archaea
Chapter 29 Protistans
Chapter 30 Plants
Chapter 31 Animals: Part I
Chapter 32 Animals: Part II
Unit 7 Behavior and Ecology
Chapter 33 Animal Behavior
Chapter 34 Population Ecology
Chapter 35 Nature of Ecosystems
Chapter 36 The Biosphere
Chapter 37 Environmental Concerns