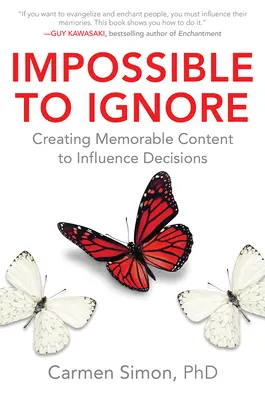 Impossible to Ignore: Creating Memorable Content to Influence Decisions
1st Edition
By Carmen Simon
ISBN10: 1259584135
ISBN13: 9781259584138
Copyright:
2016
---
Instructors: choose ebook for fast access or receive a print copy.
---
Program Details
CHAPTER 1: MEMORY IS A MEANS TO AN END
Why memory matters in decision-making
CHAPTER 2: A BUSINESS APPROACH TO MEMORY
Three steps to influence memory and decisions
CHAPTER 3: CONTROL WHAT YOUR AUDIENCE REMEMBERS
Practical ways to avoid the hazards of random memory
CHAPTER 4: MADE YOU LOOK
How cues pave the way to action
CHAPTER 5: THE PARADOX OF SURPRISE
The price we pay for extra attention, time, and engagement
CHAPTER 6: SWEET ANTICIPATION
How to build excitement for what happens next
CHAPTER 7: WHAT MAKES A MESSAGE REPEATABLE?
Techniques to convince others to share your words
CHAPTER 8: BECOME MEMORABLE WITH DISTINCTION
How to stay on people's minds long enough to spark action
CHAPTER 9: MEMORABLE STORYTELLING
The science of retrieving memories
CHAPTER 10: HOW MUCH CONTENT IS TOO MUCH?
How to handle content sacrifice
CHAPTER 11: HOW DOES THE BRAIN DECIDE?
The neurobiology and neuroeconomics of choice
8
CHAPTER 12: THE RIGHT TO BE FORGOTTEN AND THE INTENT TO BE REMEMBERED
How to balance accidental and purposeful forgetting