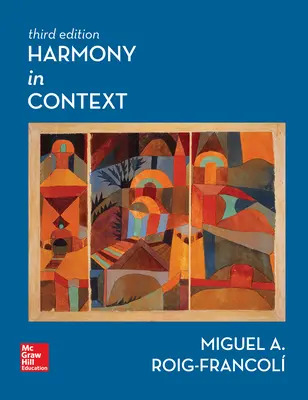 Harmony in Context
3rd Edition
By Miguel Roig-Francoli
ISBN10: 1260055760
ISBN13: 9781260055764
Copyright:
2020
Product Details

+
Designed for undergraduate music majors, Harmony in Context provides the richest possible musical context for the study of harmony, constantly encouraging students to translate what they are learning into better performances and better listening.
Program Details
Preface
A Message to the Student: Why Do We Study Music Theory?
Introduction: The Fundamentals of Music
Chapter A
Pitch: Notation and Intervals
Chapter B
Rhythm and Meter
Chapter C
Tonality: Scales and Keys
Chapter D
The Rudiments of Harmony I: Triads and Seventh Chords
Chapter E
The Rudiments of Harmony II: Labeling Chords. Musical Texture
Chapter F
Introduction to Species Counterpoint
Part I: Diatonic Harmony
Chapter 1
Harmonic Progression. The Connection of Chords
Chapter 2
The Fundamental Progression: The Tonic and Dominant Triads in Root Position.
Chapter 3
Harmonic Function; the Subdominant Triad in Root Position
Chapter 4
Triads in First Inversion
Chapter 5
The Supertonic: Melody Harmonization
Chapter 6
Nonchord Tones
Chapter 7
6/4 Chords
Chapter 8
The Dominant Seventh and Its Inversions
Chapter 9
The Leading-Tone Triad
Chapter 10
Cadences
Chapter 11
Building the Context for Harmony I: Phrase Structure
Chapter 12
Building the Context for Harmony II: Thematic Development
Chapter 13
Harmonic Rhythm; Metric Reduction
Chapter 14
The Mediant, Submediant, and Subtonic Triads
Chapter 15
Other Diatonic Seventh Chords
Chapter 16
Harmonic Sequences
Part II: Chromatic Harmony and Form
Chapter 17
Tonicization I
Chapter 18
Tonicization II
Chapter 19
Tonicization III: Secondary Leading-Tone Chords
Chapter 20
Modulation to Closely-Related Keys
Chapter 21
Small Forms: Binary and Ternary; Variation Forms
Chapter 22
Contrapuntal Genres: Invention and Fugue
Chapter 23
Modal Mixture
Chapter 24
The Neapolitan Chord
Chapter 25
Augmented Sixth Chords
Chapter 26
Chromatic Modulatory Techniques:Modulation to Distantly Related Keys I
Chapter 27
Modulation to Distantly-Related Keys II; Linear Chromaticism I
Chapter 28
Introduction to Large Forms
Chapter 29
Expanding Functional Tonality: Extended Tertian Chords; Linear Chromaticism II;
Chapter 30
The German Romantic Lied: Chromatic Harmony in Context
Chapter 31
Toward (and Beyond) the Limits of Functional Tonality
Appendix: Transposing Instruments
Musical Example Index
Subject Index