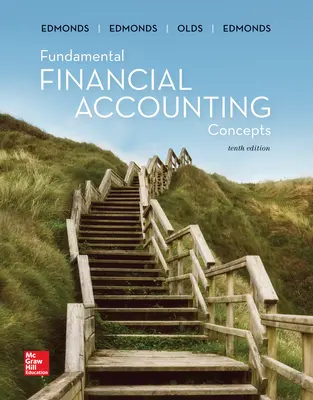 Fundamental Financial Accounting Concepts
10th Edition
By Thomas Edmonds and Christopher Edmonds and Frances McNair and Philip Olds
ISBN10: 1259918181
ISBN13: 9781259918186
Copyright:
2019
Product Details

+
- Connect Accounting: Reliable, intuitive, and rigorous learning management system – the market-leading digital solution.
- Training Decision Makers: Emphasizes how financial information is used today in the real world by tying each business event back to the big picture.
- Lecture Videos: Highly engaging author-created videos covering each learning objective – great for Flipped classroom experience.


Program Details
Chapter 1 An Introduction to Accounting
Chapter 2 Accounting for Accruals and Deferrals
Chapter 3 The Double-Entry Accounting System
Chapter 4 Accounting for Merchandising Businesses
Chapter 5 Accounting for Inventories
Chapter 6 Internal Control and Accounting for Cash
Chapter 7 Accounting for Receivables
Chapter 8 Accounting for Long-Term Operational Assets
Chapter 9 Accounting for Current Liabilities and Payroll
Chapter 10 Accounting for Long-Term Debt
Chapter 11 Proprietorships, Partnerships, and Corporations
Chapter 12 Statement of Cash Flows
Chapter 13 Financial Statement Analysis (Available online in the Connect Library )
Appendix A Accessing the EDGAR Database through the Internet
Appendix B Portion of the Form 10-K for Target Corporation
Appendix C Summary of Financial Ratios
Appendix D Annual Report and Financial Statement Analysis Projects
Appendix E Accounting for Investment Securities
Appendix F Time Value of Money