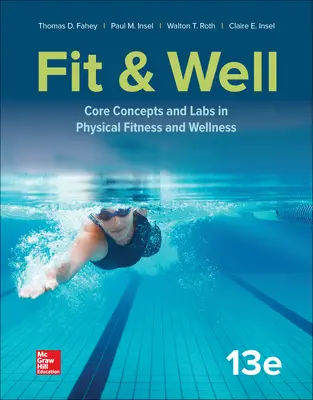 Fit & Well: Core Concepts and Labs in Physical Fitness and Wellness
13th Edition
By Thomas Fahey and Paul Insel and Walton Roth
ISBN10: 1260397130
ISBN13: 9781260397130
Copyright:
2019
Product Details

+
What's covered: Comprehensive coverage of all the topics common to fitness, wellness, and personal health courses.
Teaching Approach: Hands-on, science-based approach weaves current data and statistics in accessible formats that speak to different learning styles.
Digital Tools Available: Connect, LearnSmart Prep, LearnSmart Labs include unique assets such as documentary videos and Diversity Matters assessment activities.
Program Details
1 Introduction to Wellness, Fitness, and Lifestyle Management
2 Principles of Physical Fitness
3 Cardiorespiratory Endurance
4 Muscular Strength and Endurance
5 Flexibility and Low-Back Health
6 Body Composition
7 Putting Together a Complete Fitness Program
8 Nutrition
9 Weight Management
10 Stress Management and Sleep
11 Cardiovascular Health and Diabetes
12 Cancer
13 Substance Use and Misuse
14 Sexually Transmitted Infections
15 Environmental Health
Appendixes
A Injury Prevention and Personal Safety
B Monitoring Your Progress