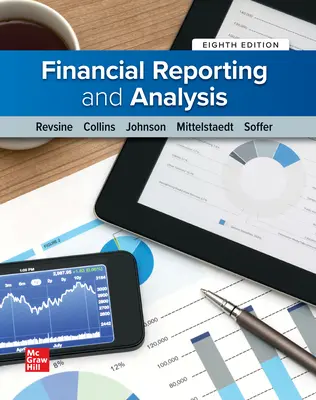 Financial Reporting and Analysis
8th Edition
By Lawrence Revsine and Daniel Collins and Bruce Johnson and Fred Mittelstaedt and Leonard Soffer
ISBN10: 1260247848
ISBN13: 9781260247848
Copyright:
2021
Product Details

+
SmartBook 2.0 provides the most popular adaptive reading tool available to hold students accountable for assignments, improve retention, and decrease knowledge gaps.
Connect: A highly reliable, easy-to-use homework and learning management solution that embeds learning science and award-winning adaptive tools to improve student results.
Fully updated for new FASB standards in Leases and Revenue Recognition, and to reflect latest tax laws introduced by the TCJA.
Program Details
Chapter 1: The Economic and Institutional Setting for Financial Reporting
Chapter 2: Accrual Accounting and Income Determination
Chapter 3: Revenue Recognition
Chapter 4: Structure of the Balance Sheet and Statement of Cash Flows
Chapter 5: Accounting Changes and Restatements, Financial Statement Notes, and Non-GAAP Metrics
Chapter 6: Essentials of Financial Statement Analysis
Chapter 7: The Role of Financial Information in Valuation and Credit Risk Assessment
Chapter 8: The Role of Financial Information in Contracting
Chapter 9: Receivables
Chapter 10: Inventories
Chapter 11: Long-Lived Assets
Chapter 12:Financial Instruments and Liabilities
Chapter 13: Financial Reporting for Leases
Chapter 14: Income Tax Reporting
Chapter 15: Pensions and Postretirement Benefits
Chapter 16: Financial Reporting for Owners' Equity
Chapter 17: Intercorporate Investments
Chapter 18: Accounting for Foreign Operations and Segment Reporting
Chapter 19: Derivatives and Hedging
Chapter 20: Statement of Cash Flows
Appendix A: Time Value of Money
Appendix B: U.S. GAAP and IFRS Authoritative Literature
Appendix C: Common Financial Ratios