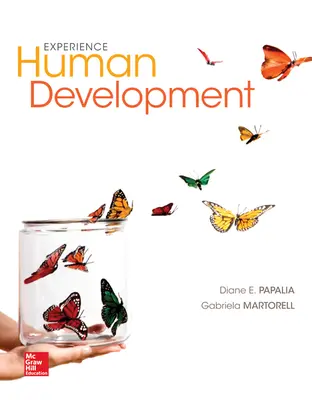 Experience Human Development
13th Edition
By Diane Papalia and Ruth Feldman and Gabriela Martorell
ISBN10: 0077861841
ISBN13: 9780077861841
Copyright:
2015
Product Details

+
Experience the human side of development.
Papalia helps students experience the human side of development by exposing them to culture and diversity, immersing them in practical application, and helping them study smarter through personalized learning and reporting.
Also available with this edition is McGraw-Hill's Connect, the only integrated learning system that empowers students by continuously adapting to deliver precisely what they need, when they need it, and how th
---
Instructors: choose ebook for fast access or receive a print copy.
---
Program Details
Part 1 About Human Development
1 The Study of Human Development
2 Theory and Research
Part 2 Beginnings
3 Forming a New Life
4 Birth and Physical Development during the First Three Years
5 Cognitive Development during the First Three Years
6 Psychosocial Development during the First Three Years
Part 3 Early Childhood
7 Physical and Cognitive Development in Early Childhood
8 Psychosocial Development in Early Childhood
Part 4 Middle Childhood
9 Physical and Cognitive Development in Middle Childhood
10 Psychosocial Development in Middle Childhood
Part 5 Adolescence
11 Physical and Cognitive Development in Adolescence
12 Psychosocial Development in Adolescence
Part 6 Emerging and Young Adulthood
13 Physical and Cognitive Development in Emerging and Young Adulthood
14 Psychosocial Development in Emerging and Young Adulthood
Part 7 Middle Adulthood
15 Physical and Cognitive Development in Middle Adulthood
16 Psychosocial Development in Middle Adulthood
Part 8 Late Adulthood
17 Physical and Cognitive Development in Late Adulthood
18 Psychosocial Development in Late Adulthood
Part 9 The End of Life
19 Dealing with Death and Bereavement