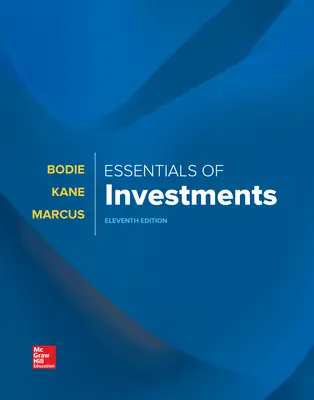 Essentials of Investments
11th Edition
By Zvi Bodie and Alex Kane and Alan Marcus
ISBN10: 1260013928
ISBN13: 9781260013924
Copyright:
2019
Product Details

+
This program emphasizes the intuition and insights that will be useful to practitioners throughout their careers as new ideas and challenges emerge from the financial marketplace.
We continue to organize the book around one basic theme—that security markets are nearly efficient, meaning that you should expect to find few obvious bargains in these markets.
Program Details
Part 1: ELEMENTS OF INVESTMENTS
1.
Investments: Background and Issues
2.
Asset Classes and Financial Instruments
4.
Mutual Funds and Other Investment Companies
Part 2: PORTFOLIO THEORY
5.
Risk, Return, and the Historical Record
6.
Efficient Diversification
7.
Capital Asset Pricing and Arbitrage Pricing Theory
8.
The Efficient Market Hypothesis
9.
Behavioral Finance and Technical Analysis
Part 3: DEBT SECURITIES
10.
Bond Prices and Yields
11.
Managing Bond Portfolios
Part 4: SECURITY ANALYSIS
12.
Macroeconomic and Industry Analysis
14.
Financial Statement Analysis
Part 5: DERIVATIVE MARKETS
17.
Futures Markets and Risk Management
Part 6: ACTIVE INVESTMENT MANAGEMENT
18.
Evaluating Investment Performance
19.
International Diversification
21.
Taxes, Inflation, and Investment Strategy
22.
Investors and the Investment Process
Appendixes
2.
References to CFA Questions