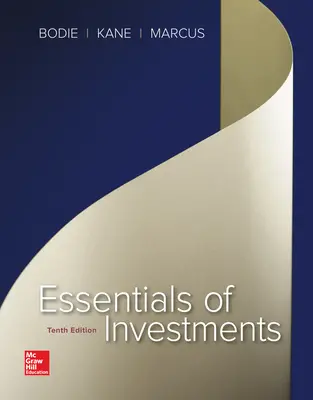 Essentials of Investments
10th Edition
By Zvi Bodie and Alex Kane and Alan Marcus
ISBN10: 0077835425
ISBN13: 9780077835422
Copyright:
2017
Product Details

+
* Connect: A highly reliable, easy-to-use homework and learning management solution that embeds learning science and award-winning adaptive tools to improve student results.
* This program emphasizes the intuition and insights that will be useful to practitioners throughout their careers as new ideas and challenges emerge from the financial marketplace.
* This edition boasts an increased attention to changes in market structure and trading technology, while it continues to be organized around one basic theme - that security markets are nearly efficient.
---
Instructors: choose ebook for fast access or receive a print copy.
---
Program Details
Part 1: Elements of Investments 1- Investments: Background and Issues 2- Asset Classes and Financial Instruments 3- Securities Markets 4- Mutual Funds and Other Investment Companies Part 2: Portfolio Theory 5- Risk and Return: Past and Prologue 6- Efficient Diversification 7- Capital Asset Pricing and Arbitrage Pricing Theory 8- The Efficient Market Hypothesis 9- Behavioral Finance and Technical Analysis Part 3: Debt Securities 10- Bond Prices and Yields 11- Managing Bond Portfolios Part 4: Security Analysis 12- Macroeconomic and Industry Analysis 13- Equity Valuation 14- Financial Statement Analysis Part 5: Derivative Markets 15- Options Markets 16- Option Valuation 17- Futures Markets and Risk Management Part 6: Active Investment Management 18- Portfolio Performance Evaluation 19- Globalization and International Investing 20- Hedge Funds 21- Taxes, Inflation, and Investment Strategy 22- Investors and the Investment Process