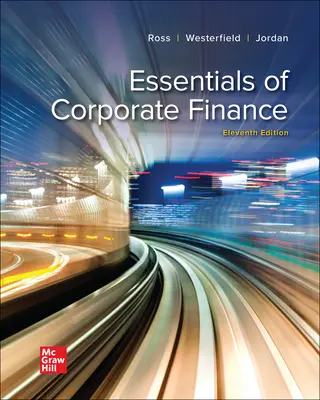 Essentials of Corporate Finance
11th Edition
By Stephen Ross and Randolph Westerfield and Bradford Jordan
ISBN10: 1264101570
ISBN13: 9781264101573
Copyright:
2023
Product Details

+
- Focuses on conveying the most important concepts of a core finance course in a way that is approachable for the widest possible audience.
- 3 basic themes as a central focus: an emphasis on intuition, a unified valuation approach, and a managerial focus.
- Written in a relaxed, conversational style that invites the students to join in the learning process rather than being a passive information absorber.
Read more +
Program Details
Part One: Overview of Financial Management
Chapter 1: Introduction to Financial Management

Part Two: Understanding Financial Statements and Cash Flow
Chapter 2: Financial Statements, Taxes, and Cash Flow
Chapter 3: Working with Financial Statements

Part Three: Valuation of Future Cash Flows
Chapter 4: Introduction to Valuation: The Time Value of Money
Chapter 5: Discounted Cash Flow Valuation

Part Four: Valuing Stocks and Bonds
Chapter 6: Interest Rates and Bond Valuation
Chapter 7: Equity Markets and Stock Valuation

Part Five: Capital Budgeting
Chapter 8: Net Present Value and Other Investment Criteria
Chapter 9: Making Capital Investment Decisions

Part Six: Risk and Return
Chapter 10: Some Lessons from Capital Market History
Chapter 11: Risk and Return

Part Seven: Long-Term Financing
Chapter 12: Cost of Capital
Chapter 13: Leverage and Capital Structure
Chapter 14: Dividends and Dividend Policy
Chapter 15: Raising Capital

Part Eight: Short-Term Financial Management
Chapter 16: Short-Term Financial Planning
Chapter 17: Working Capital Management
Part Nine: Topics in Business Finance
Chapter 18: International Aspects of Financial Management

Appendices
Appendix A: Mathematical Tables
Appendix B: Key Equations
Appendix C: Answers to Selected End-of-Chapter Problems
Appendix D: Using the HP-10B and TI BA II Plus Financial Calculators