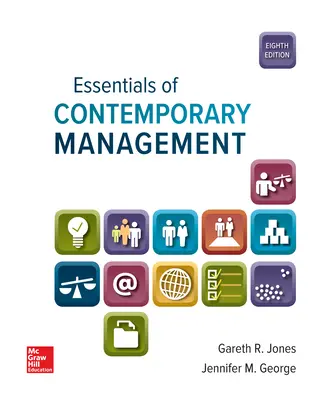 Essentials of Contemporary Management
8th Edition
By Gareth Jones and Jennifer George
ISBN10: 1259927652
ISBN13: 9781259927652
Copyright:
2019
Product Details

+
• Is written specifically for college sophomores and juniors.
• Provides the most up-to-date account of the changes taking place in business management.
• Focuses on challenges and opportunities facing businesses to bring management issues to life.
• Features Connect Management Application Exercises to help students demonstrate critical-thinking, decision-making, and problem-solving skills in real-world situations.
Program Details
Part One Management and Managers1: The Management Process Today


Part Two: Values, Attitudes, Emotions, and Culture: The Manager as a Person
3: Managing Ethics and Diversity
4: Managing in the Global Environment


Part Three Planning, Decision Making, and Competitive Advantage
5: Decision Making, Learning, Creativity, and Entrepreneurship
6: Planning, Strategy, and Competitive Advantage


Part Four Organizing and Changes
7: Designing Organizational Structure
8: Control, Change, and Entrepreneurship


Part Five Leading Individuals and Groups
9: Motivation
10: Leaders and Leadership
11: Effective Team Management
12: Building and Managing Human Resources


Part Six Controlling Essential Activities and Processes
13: Effective Communication and IT Management
14: Operations Management: Managing Vital Operations and Processes


Appendix B: Career Development
Glossary/Subject Index
Name Index
Company Index