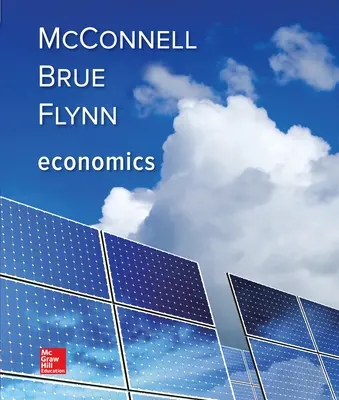 Economics
21st Edition
By Campbell McConnell and Stanley Brue and Sean Flynn
ISBN10: 1259723224
ISBN13: 9781259723223
Copyright:
2018
Product Details

+
– Connect: A highly reliable, easy-to-use homework and learning management solution that embeds learning science and award-winning adaptive tools to improve student results.  
- New discussions on strategic behavior, game theory, unconventional monetary policy and interest rate normalization.
- Split the material on monopolistic competition and oligopoly that had together comprised a single chapter in previous editions into two separate chapters. This should be particularly helpful to instructors who want to spend more time on oligopoly.
Program Details
PART ONE Introduction to Economics and the Economy
Chapter 1 Limits, Alternatives, and Choices
Chapter 2 The Market System and the Circular Flow
PART TWO Price, Quantity, and Efficiency
Chapter 3 Demand, Supply, and Market Equilibrium
Chapter 4 Market Failures: Public Goods and Externalities
Chapter 5 Government's Role and Government Failure
PART THREE Consumer Behavior
Chapter 6 Elasticity
Chapter 7 Utility Maximization
Chapter 8 Behavioral Economics
PART FOUR Microeconomics of Product Markets
Chapter 9 Businesses and the Costs of Production
Chapter 10 Pure Competition in the Short Run
Chapter 11 Pure Competition in the Long Run
Chapter 12 Pure Monopoly
Chapter 13 Monopolistic Competition
Chapter 14 Oligopoly and Strategic Behavior
Chapter 15 Technology, R&D, and Efficiency
PART FIVE Microeconomics of Resource Markets and Government
Chapter 16 The Demand for Resources
Chapter 17 Wage Determination
Chapter 18 Rent, Interest, and Profit
Chapter 19 Natural Resource and Energy Economics
Chapter 20 Public Finance: Expenditures and Taxes
PART SIX Microeconomic Issues and Policies
Chapter 21 Antitrust Policy and Regulation
Chapter 22 Agriculture: Economics and Policy
Chapter 23 Income Inequality, Poverty, and Discrimination
Chapter 24 Health Care
Chapter 25 Immigration
PART SEVEN GDP, Growth, and Instability
Chapter 26 An Introduction to Macroeconomics
Chapter 27 Measuring Domestic Output and National Income
Chapter 28 Economic Growth
Chapter 29 Business Cycles, Unemployment, and Inflation
PART EIGHT Macroeconomic Models and Fiscal Policy
Chapter 30 Basic Macroeconomic Relationships
Chapter 31 The Aggregate Expenditures Model
Chapter 32 Aggregate Demand and Aggregate Supply
Chapter 33 Fiscal Policy, Deficits, and Debt
PART NINE Money, Banking, and Monetary Policy
Chapter 34 Money, Banking, and Financial Institutions
Chapter 35 Money Creation
Chapter 36 Interest Rates and Monetary Policy
Chapter 37 Financial Economics
PART TEN Extensions and Issues
Chapter 38 Extending the Analysis of Aggregate Supply
Chapter 39 Current Issues in Macro Theory and Policy
PART ELEVEN International Economics
Chapter 40 International Trade
Chapter 41 The Balance of Payments, Exchange Rates, and Trade Deficits
Chapter 42 The Economics of Developing Countries