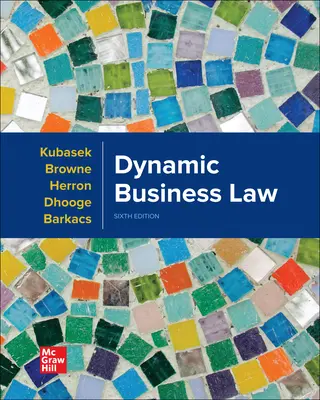 Dynamic Business Law
6th Edition
By Nancy Kubasek and M. Neil Browne and Lucien Dhooge and Linda Barkacs
ISBN10: 1260733971
ISBN13: 9781260733976
Copyright:
2023
Product Details

+
Business Relevance: This text is designed for business majors taking a two semester Business Law course.

Critical thinking: An ethical decision making framework and an emphasis on critical thinking provides a cohesive theme throughout text and cases.

Connect: An easy-to-use homework and learning management solution that embeds learning science and award-winning adaptive tools to improve student results.

Read more +
Program Details
Part One: THE LEGAL ENVIRONMENT OF BUSINESS
Chapter 1: An Introduction to Dynamic Business Law 
Chapter 2: Business Ethics 
Chapter 3: The US Legal System
Chapter 4: Alternative Dispute Resolution
Chapter 5: Constitutional Principles 
Chapter 6: International and Comparative Law 
Chapter 7: Crime and the Business Community 
Chapter 8: Tort Law 
Chapter 9: Negligence and Strict Liability 
Chapter 10: Product Liability 
Chapter 11: Liability of Accountants and Other Professionals 
Chapter 12: Intellectual Property
 
Part Two: CONTRACTS
Chapter 13: Introduction to Contracts 
Chapter 14: Agreement 
Chapter 15: Consideration 
Chapter 16: Capacity and Legality 
Chapter 17: Legal Assent 
Chapter 18: Contracts in Writing 
Chapter 19: Third-Party Rights to Contracts 
Chapter 20: Discharge and Remedies 

Part Three: DOMESTIC AND INTERNATIONAL SALES LAW
Chapter 21: Introduction to Sales and Lease Contracts 
Chapter 22: Title, Risk of Loss, and Insurable Interest 
Chapter 23: Performance and Obligations under Sales and Leases 
Chapter 24: Remedies for Breach of Sales and Lease Contracts 
Chapter 25: Warranties 

Part Four: NEGOTIABLE INSTRUMENTS AND BANKING
Chapter 26: Negotiable Instruments: Negotiability and Transferability 
Chapter 27: Negotiation, Holder in Due Course, and Defenses 
Chapter 28: Liability, Defenses, and Discharge 
Chapter 29: Checks and Electronic Fund Transfers 

Part Five: CREDITORS' RIGHTS AND BANKRUPTCY
Chapter 30: Secured Transactions 
Chapter 31: Other Creditors' Remedies and Suretyship 
Chapter 32: Bankruptcy and Reorganization 

Part Six: AGENCY
Chapter 33: Agency Formation and Duties 
Chapter 34: Liability to Third Parties and Termination
 
Part Seven: BUSINESS ORGANIZATIONS
Chapter 35: Forms of Business Organization 
Chapter 36: Partnerships: Nature, Formation, and Operation 
Chapter 37: Partnerships: Termination and Limited Partnerships 
Chapter 38: Corporations: Formation and Financing 
Chapter 39: Corporations: Directors, Officers, and Shareholders 
Chapter 40: Corporations: Mergers, Consolidations, Terminations 
Chapter 41: Corporations: Securities and Investor Protection 

Part Eight: EMPLOYMENT AND LABOR RELATIONS
Chapter 42: Employment and Labor Law
Chapter 43: Employment Discrimination 

Part Nine: GOVERNMENT REGULATION
Chapter 44: Administrative Law 
Chapter 45: Consumer Law 
Chapter 46: Environmental Law 
Chapter 47: Antitrust Law 

Part Ten: PROPERTY
Chapter 48: The Nature of Property, Personal Property, and Bailments
Chapter 49: Real Property 
Chapter 50: Landlord-Tenant Law 
Chapter 51: Insurance Law 
Chapter 52: Wills and Trusts 

APPENDIXES
Appendix A: The Constitution of the United States of America  
Appendix B: Uniform Commercial Code  
Appendix C: Title VII of the Civil Rights Act of 1964  
Appendix D: The Civil Rights Act of 1991