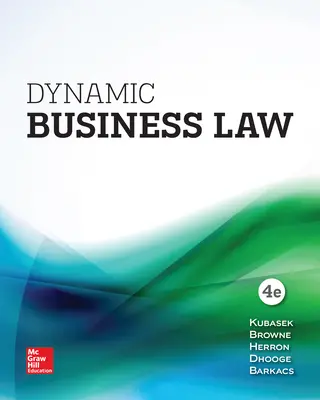 Dynamic Business Law
4th Edition
By Nancy Kubasek and M. Neil Browne and Linda Barkacs and Daniel Herron and Carrie Williamson and Lucien Dhooge
ISBN10: 1260110699
ISBN13: 9781260110692
Copyright:
2017
Product Details

+
- Connect – By prompting students to engage with key concepts, while continually adapting to their individual needs, Connect activates learning and empowers students to take control resulting in better grades and increased retention rates. Proven online content integrates seamlessly with our adaptive technology, and helps build student confidence outside of the classroom.
- SmartBook – Available within Connect, SmartBook actively tailors content to the individual student- The more a student interacts with SmartBook, the better it gets to know what they know and what they don't know, helping students to maximize study time. By providing students with a safe place to make mistakes, showing them the areas they need to work on most, and by giving them consistent, personalized feedback at the exact moment they need it, SmartBook helps them to bridge their knowledge gaps and come to class prepared.
- Interactive Applications – provided for each chapter, instructors can assign application-focused interactive activities, stimulate critical thinking, and reinforce key concepts. Students apply what they've learned and receive immediate feedback, while instructors can monitor student progress.
---
Instructors: choose ebook for fast access or receive a print copy.
---
Program Details
Chapter 1 An Introduction to Dynamic Business Law
Chapter 2 Business Ethics
Chapter 3 The U.S. Legal System
Chapter 4 Alternative Dispute Resolution
Chapter 5 Constitutional Principles
Chapter 6 International and Comparative Law
Chapter 7 Crime and the Business Community
Chapter 8 Tort Law
Chapter 9 Negligence and Strict Liability
Chapter 10 Product Liability
Chapter 11 Liability of Accountants and Other Professionals
Chapter 12 Intellectual Property
Chapter 13 Introduction to Contracts
Chapter 14 Agreement
Chapter 15 Consideration
Chapter 16 Capacity and Legality
Chapter 17 Legal Assent
Chapter 18 Contracts in Writing
Chapter 19 Third-Party Rights to Contracts
Chapter 20 Discharge and Remedies
Chapter 21 Introduction to Sales and Lease Contracts
Chapter 22 Title, Risk of Loss, and Insurable Interest
Chapter 23 Performance and Obligations under Sales and Leases
Chapter 24 Remedies for Breach of Sales and Lease Contracts
Chapter 25 Warranties
Chapter 26 Negotiable Instruments: Negotiability and Transferability
Chapter 27 Negotiation, Holder in Due Course, and Defenses
Chapter 28 Liability,Defenses, and Discharge
Chapter 29 Checks and Electronic Fund Transfers
Chapter 30 Secured Transactions
Chapter 31 Other Creditors' Remedies and Suretyship
Chapter 32 Bankruptcy and Reorganization
Chapter 33 AgencyFormation and Duties
Chapter 34 Liability to Third Parties and Termination
Chapter 35 Forms of Business Organization
Chapter 36 Partnerships: Nature, Formation, and Operation
Chapter 37 Partnerships: Termination and Limited Partnerships
Chapter 38 Corporations: Formation and Financing
Chapter 39 Corporations: Directors, Officers, and Shareholders
Chapter 40 Corporations: Mergers, Consolidations, Terminations
Chapter 41 Corporations: Securities and Investor Protection
Chapter 42 Employment and Labor Law
Chapter 43 Employment Discrimination
Chapter 44 Administrative Law
Chapter 45 Consumer Law
Chapter 46 Environmental Law
Chapter 47 Antitrust Law
Chapter 48 The Nature of Property, Personal Property, and Bailments
Chapter 49 Real Property
Chapter 50 Landlord-Tenant Law
Chapter 51 Insurance Law
Chapter 52 Wills and Trusts