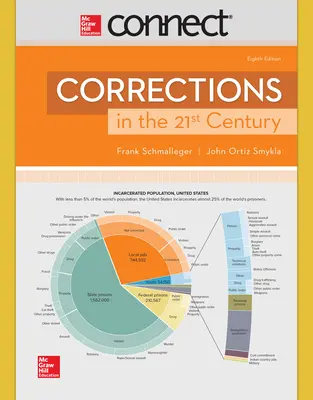 Connect Online Access for Corrections in the 21st Century
8th Edition
By Frank Schmalleger and John Smykla
ISBN10: 1259846121
ISBN13: 9781259846120
Copyright:
2017
---
Instructors: choose ebook for fast access or receive a print copy.
---
Program Details
Dedication
About the Authors
Brief Contents
Expanded Contents
Boxed Features
Preface
Part 1 Introduction to Corrections
Chapter 1 Corrections: An Overview
Chapter 2 Punishments: A Brief History
Chapter 3 Sentencing: To Punish or to Reform?
Part 2 Community Corrections
Chapter 4 Diversion and Probation: How Most Offenders Are Punished
Chapter 5 Intermediate Sanctions: Between Probation and Incarceration
Part 3 Institutional Corrections
Chapter 6 Jails: Way Stations Along the Justice Highway
Chapter 7 Prisons Today: Change Stations or Warehouses?
Chapter 8 Parole: Early Release and Reentry
Part 4 The Prison World
Chapter 9 The Staff World: Managing the Prison Population
Chapter 10 The Inmate World: Living Behind Bars
Chapter 11 The Legal World: Prisoners' Rights
Chapter 12 Special Prison Populations: Prisoners Who Are Substance Abusers, Who Have HIV/AIDS, Who Are Mentally Challenged, and Who Are Elderly
Part 5 Issues in Corrections
Chapter 13 Prison Issues and Concerns: Overcrowding, Security, Accreditation, Privatization,and Technology
Chapter 14 The Victim: Helping Those in Need
Chapter 15 Death: The Ultimate Sanction
Chapter 16 Juvenile Corrections: End of an Era?
Endnotes
Glossary
Credits
Case Index
Subject Index