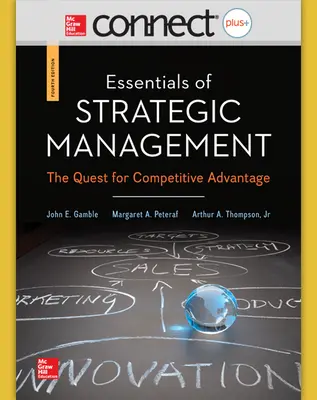 Connect 1-Semester Online Access for Essentials of Strategic Management
4th Edition
By John Gamble and Arthur Thompson Jr. and Margaret Peteraf
ISBN10: 1259164748
ISBN13: 9781259164743
Copyright: 2015
Program Details
PART ONE: CONCEPTS AND TECHNIQUES FOR CRAFTING AND EXECUTING STRATEGY
Section A: Introduction and Overview
Chapter 1: Strategy, Business Models, and Competitive Advantage
Chapter 2: Charting a Company's Direction: Vision and Mission, Objectives, and Strategy
Section B: Core Concepts and Analytical Tools
Chapter 3: Evaluating a Company's External Environment
Chapter 4: Evaluating a Company's Resources, Capabilities, and Competitiveness
Section C: Crafting a Strategy
Chapter 5: The Five Generic Competitive Strategies
Chapter 6: Strengthening a Company's Competitive Position: Strategic Moves, Timing, and Scope of Operations
Chapter 7: Strategies for Competing in International Markets
Chapter 8: Corporate Strategy: Diversification and the Multibusiness Company
Chapter 9: Ethics, Corporate Social Responsibility, Environmental Sustainability, and Strategy
Section D: Executing the Strategy
Chapter 10: Superior Strategy Execution - Another Path to Competitive Advantage
PART TWO: CASES IN CRAFTING AND EXECUTING STRATEGY
Case 1: Mystic Monk Coffee
Case 2: Under Armour's Strategy in 2013 - Good Enough to Win Market Share from Nike and adidas?
Case 3: lululemon athletica, Inc.
Case 4: Coach Inc. in 2012: Its Strategy in the "Accessible" Luxury Goods Market
Case 5: Chipolte Mexican Grill in 2013: Can It Hit a Second Home Run?
Case 6: Google's Strategy in 2013
Case 7: Nucor Corporation in 2012: Using Economic Downturns as an Opportunity to Grow Stronger
Case 8: Tata Motors: Can It Become a Global Contender in the Automobile Industry?
Case 9: The Walt Disney Company: Its Diversification Strategy in 2012
Case 10: Robin Hood
Case 11: Herman Miller Inc.: Unrelenting Pursuit of Reinvention and Renewal
Case 12: Frog's Leap Winery in 2011 - the Sustainability Agenda