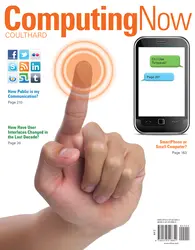 Computing Now
1st Edition
Product Details

+
Computing Now! 2012 offers students of today an engaging resource designed to provide current, intriguing information about computing concepts. With society's ever-changing technology, isolating need-to-know information is imperative so that only accurate, realistic concepts are emphasized. Computing Now! provides a fresh new design via its magazine-style approach to enhance student learning and bring these important concepts to life!
Program Details
Computing Now! 2012
Chapter 1: Introduction to Computers
Lesson 1A: Computers and Their Uses
LO 1.1 – What Is a Computer?
LO 1.2 – Types of Digital Computers
LO 1.3 – Computers in Society
Lesson 1B: Looking Inside the Computer
LO 1.4 – The Parts of a Computer
LO 1.5 – Essential Computer Hardware
LO 1.6 – Software Brings the Machine to Life
LO 1.7 – Data and Users
Chapter 2: The Ins and Outs of Computing
Lesson 2A: Input Devices
LO 2.1 – User Interfaces
LO 2.2 – Common Input Devices
LO 2.3 – Inputting Data in Other Ways
LO 2.4 – Ergonomics and Input Devices
Lesson 2B: Output Devices
LO 2.5 – Monitors
LO 2.6 – Sound Systems
LO 2.7 – Printers
LO 2.8 – Other Output Devices
Chapter 3: Operating Systems and Application Software
Lesson 3A: Operating System Basics
LO 3.1 – Operating System Types and Functions
LO 3.2 – Moving Data Around the Computer
LO 3.3 – Common Operating Systems
LO 3.4 – Data, Files, and Utility Programs
Lesson 3B: Application Software
LO 3.5 – Acquiring and Installing Software
LO 3.6 – Productivity Software
LO 3.7 – Graphics Software
Chapter 4: Meeting Your Computing Needs
Lesson 4A: Choosing the Right Computer
LO 4.1 – Determining Your Computing Needs
LO 4.2 – Storage Devices and Options
LO 4.3 – Selecting a Manufacturer and Vendor
Lesson 4B: Mobile Gear
LO 4.4 – Mobile Devices
LO 4.5 – Handheld Devices
LO 4.6 – Mobile Networks and Communications
LO 4.7 – Mobile Access to Your Data
Chapter 5: Bringing the World to You
Lesson 5A: The Internet
LO 5.1 – The Internet's History and Structure
LO 5.2 – Overview of Internet Services
LO 5.3 – The Internet at Home
LO 5.4 – The Internet at School
Lesson 5B: The Mobile User
LO 5.5 – Mobile Software
LO 5.6 – Effective Mobile Business
LO 5.7 – Safe and Courteous Computing
Chapter 6: Safe Computing in a Connected World
Lesson 6A: Social Media and Cloud Computing
LO 6.1 – Making Your Mark on the Web
LO 6.2 – Online Income and E-Commerce
LO 6.3 – Cloud Computing for Individuals and Businesses
Lesson 6B: Computer Security and Online Privacy
LO 6.4 – Basic Security Concepts
LO 6.5 – Safeguarding Your Hardware
LO 6.6 – Keeping Your Data Secure
LO 6.7 – Protecting Yourself and Your Identity
Chapter 7: Making Connections
Lesson 7A: Networking and Information Systems
LO 7.1 – Computer Networks
LO 7.2 – Information Systems: What and Why
LO 7.3 – Types of Information Systems
LO 7.4 –Networks, Hardware, and Data Management
Lesson 7B: Computing Ethics
LO 7.5 – Digital Piracy
LO 7.6 – Personal Computing Ethics
LO 7.7 – Professional Computing Ethics
Chapter 8: Your Future in Computing
Lesson 8A: Computing and Careers
LO 8.1 – Computing in Your Field
LO 8.2 – Telecommuting
LO 8.3 – Emerging Careers
Lesson 8B: The Future of Computing
LO 8.4 – Advancements in Computing and Technology
LO 8.5 – Effects of Computing
LO 8.6 – What's Next