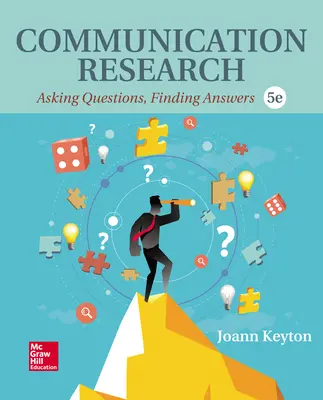 Communication Research: Asking Questions, Finding Answers
5th Edition
By Joann Keyton
ISBN10: 1259870553
ISBN13: 9781259870552
Copyright:
2019
Product Details

+
Communication Research: Asking Questions, Finding Answers covers basic research issues and processes, both quantitative and qualitative, appropriate for communication students with little or no previous research methods experience. The text's guiding principle is that methodological choices are made from one's research questions or hypotheses. This avoids the pitfall in which students learn one methodology or one methodological skill and then force that method to answer all types of questions. Instead of working with one methodology to answer all types of questions, students come away understanding a variety of methods and how to apply them appropriately.
Instructors and students can now access their course content through the Connect digital learning platform by purchasing either standalone Connect access or a bundle of print and Connect access. McGraw-Hill Connect® is a subscription-based learning service accessible online through your personal computer or tablet. Choose this option if your instructor will require Connect to be used in the course. Your subscription to Connect includes the following:
SmartBook® - an adaptive digital version of the course textbook that personalizes your reading experience based on how well you are learning the content.
Access to your instructor's homework assignments, quizzes, syllabus, notes, reminders, and other important files for the course.
Progress dashboards that quickly show how you are performing on your assignments and tips for improvement.
The option to purchase (for a small fee) a print version of the book. This binder-ready, loose-leaf version includes free shipping.
Complete system requirements to use Connect can be found here:
Program Details
Communication Research: Asking Questions, Finding Answers, 5e

Section 1 Research Basics

CHAPTER 1: Introduction to Communication Research
CHAPTER 2: The Research Process: Getting Started
CHAPTER 3: Research Ethics

Section 2 Quantitative Communication Research

CHAPTER 4: Introduction to Quantitative Research
CHAPTER 5: Measurement
CHAPTER 6: Populations, Samples, and Sample Size
CHAPTER 7: Quantitative Research Designs
CHAPTER 8: Surveys and Questionnaires
CHAPTER 9: Descriptive Statistics, Significance Levels, and Hypothesis Testing
CHAPTER 10: Testing for Differences
CHAPTER 11: Testing for Relationships
CHAPTER 12: Quantitative Analysis of Text
CHAPTER 13: Reading and Writing the Quantitative Research Report

Section 3 Qualitative Communication Research

CHAPTER 14: Introduction to Qualitative Research
CHAPTER 15: Designing Qualitative Research
CHAPTER 16: Qualitative Methods of Data Collection
CHAPTER 17: Analyzing Qualitative Data
CHAPTER 18: Reading and Writing the Qualitative Research Report