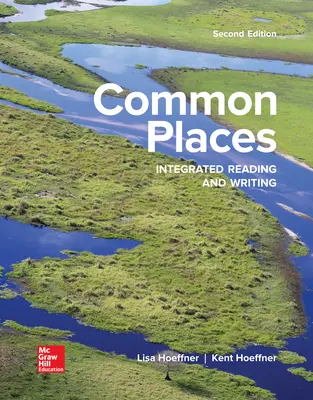 Common Places: Integrated Reading and Writing
2nd Edition
By Lisa Hoeffner and Kent Hoeffner
ISBN10: 1259795640
ISBN13: 9781259795640
Copyright: 2019
Product Details

+
• Teaches reading and writing in one course to help students read from a writer's viewpoint and write with a reader in mind.
• Engages students in real-world, college-level projects to gain the literacy skills they needed to succeed.
• Provides a cohesive instructional framework to accelerate college readiness through author-created resources and Connect Integrated Reading and Writing.
Program Details
QUICK START GUIDE to Integrated Reading and Writing Assignments
PART 1 Reading and Writing as Integrated Processes
CHAPTER 1 Emotional Intelligence and Your Pathway to Success
CHAPTER 2 Annotating Texts and Developing Vocabulary
CHAPTER 3 Previewing Texts and Working with Topics
CHAPTER 4 Main Ideas
CHAPTER 5 Support for Main Ideas
CHAPTER 6 Text Purposes and Text Patterns
CHAPTER 7 Organizing, Drafting, and Summarizing
CHAPTER 8 Titles, Introductions, and Conclusions
CHAPTER 9 Inferences and Tone
CHAPTER 10 Revising and Editing 
PART 2 Integrated Reading and Writing Projects
CHAPTER 11 Three Integrated Reading and Writing Projects
PART 3 Additional Skills
CHAPTER 12 Using Sources
PART 4 Well-Crafted Sentences
UNIT 1 Sentence Combining: Phrases and Clauses
UNIT 2 Spelling and Word Choice
UNIT 3 Punctuation and Mechanics 
PART 5 Thematic Anthology of Readings
THEME Triumphing over Adversity
THEME Self-Segregation
THEME Food for Thought
THEME Planning for the Future