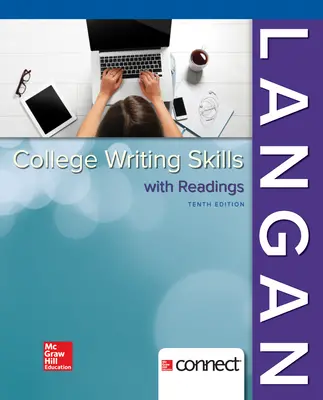 College Writing Skills with Readings
10th Edition
By John Langan and Zoe Albright
ISBN10: 1259680932
ISBN13: 9781259680939
Copyright:
2019
Product Details

+
• What's Covered: John Langan's tried-and-true test approach to developing essay-level skills with students. Clear, easy-to-follow lesson materials and a large built-in reader help support reading comprehension.
• Teaching Approach: College Writing Skills with Readings, Tenth Edition, is flexible, student friendly, and emphasizes personal learning, academic learning, and workplace preparation.
• Digital Tools Available: Connect Writing with LearnSmart Achieve.
Program Details
PART 1

Essay Writing

1. An Introduction to Writing

3. The First and Second Steps in Essay Writing

4. The Third Step in Essay Writing

5. The Fourth Step in Essay Writing

6. Four Bases for Revising Essays




PART 2

Patterns of Essay Development

13. Comparison and/or Contrast

15. Division-Classification




PART 3

Researching, Writing and Documenting

18. Summarizing and Paraphrasing

19. Writing a Source-Based Essay

20. Writing a Research Essay




Part 4

Handbook of Sentence Skills

Section I: Grammar

24. Regular and Irregular Verbs

25. Subject-Verb Agreement

27. Pronoun Agreement and Reference

29. Adjectives and Adverbs




Section II: Mechanics and Punctuation

33. Numbers and Abbreviations




Section III: Word Use

37. Commonly Confused Words

38. Effective Word Choice




Section IV: Tests




PART 5

Readers for Writers
















Cultivating a Resilient Spirit







One Hundred Years of the Secret Garden

Gretchen Holbrook Gerzina







Single-Sex Schools: An Old Idea Whose Time Has Come




How to Make it in College, Now That You're Here




College Lectures: Is Anybody Listening?







Is Google Making Us Stupid?




The Quiet Struggle of College Students with Kids




Challenging Societal Values

The Professor Is a Dropout




Chief Seattle's Speech of 1854













When a Classmate Is a Former Inmate

Juleyka Lantigua-Williams







INDEX