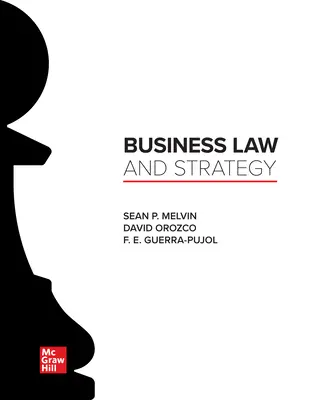 Business Law and Strategy
1st Edition
By Sean Melvin and David Orozco and Enrique Guerra-Pujol
ISBN10: 0078023823
ISBN13: 9780078023828
Copyright:
2021
Product Details

+
Strategic Framework helps undergrad business students examine how companies can proactively use the law to craft and execute strategy.
Pedagogical features center on strategy, critical thinking, real-world examples and reinforcement to emphasize that every business decision has legal implications.
Connect: A highly reliable, easy-to-use homework and learning management solution that embeds learning science and adaptive tools to improve student results.
Program Details
UNIT ONE: Fundamentals of the Legal Environment of Business
Chapter 1 Legal Foundations and Thinking Strategically
Chapter 2 Business, Societal, and Ethical Contexts of Law
Chapter 3 Business and the Constitution
Chapter 4 The American Judicial System, Jurisdiction, and Venue
Chapter 5 Resolving Disputes: Litigation and Alternative Dispute Resolution

UNIT TWO: Contracts, Sales, and Leases
Chapter 6 Contracts: Overview, Definition, Categories, and Source of Law
Chapter 7 Mutual Assent: Agreement and Consideration
Chapter 8 Capacity and Legality
Chapter 9 Enforceability
Chapter 10 Performance
Chapter 11 Breach and Remedies
Chapter 12 Contracts for the Sale of Goods: Overview of Article 2
Chapter 13 Sales Contracts: Agreement, Consideration, and the Statute of Frauds
Chapter 14 Title, Allocation of Risk, and Insurable Interest
Chapter 15 Performance and Cure in Sales Contracts
Chapter 16 Breach and Remedies in a Sales Transaction
Chapter 17 UCC Article 2A: Lease Contracts
Chapter 18 Sales Warranties

UNIT THREE: Commercial Paper and Secured Transactions
Chapter 19 Definition, Creation, and Categories of Negotiable Instruments
Chapter 20 Negotiation, Endorsements, and Holder in Due Course
Chapter 21 Liability, Defenses, and Discharge
Chapter 22 Checks, Deposits, and Financial Institutions
Chapter 23 Secured Transactions
Chapter 24 Creditors' Rights
Chapter 25 Alternatives for Insolvent Borrowers
Chapter 26 Bankruptcy

UNIT FOUR: Business Entities
Chapter 27 Choice of Business Entity and Sole Proprietorships
Chapter 28 Partnerships
Chapter 29 Limited Liability Partnerships and Limited Liability Companies
Chapter 30 Corporations: Formation and Organization
Chapter 31 Corporate Transactions: Acquisitions and Mergers

UNIT FIVE: Regulation of Securities, Corporate Governance, and Financial Markets
Chapter 32 Overview of the Securities Market: Definition, Categories, and Regulation
Chapter 33 Regulation of Issuance: The Securities Act of 1933
Chapter 34 Regulation of Trading: The Securities Exchange Act of 1934
Chapter 35 Regulation of Corporate Governance
Chapter 36 Regulation of Financial Markets

UNIT SIX: Agency and Employment Law
Chapter 37 Agency Formation, Categories, and Authority
Chapter 38 Duties and Liabilities of Principals and Agents
Chapter 39 Employment at Will
Chapter 40 Employment Regulation and Labor Law
Chapter 41 Employment Discrimination

UNIT SEVEN: Regulatory Environment of Business
Chapter 42 Torts and Products Liability
Chapter 43 Administrative Law
Chapter 44 Consumer Protection
Chapter 45 Criminal Law and Procedure
Chapter 46 Insurance Law
Chapter 47 Environmental Law

UNIT EIGHT: Property
Chapter 48 Personal Property, Real Property, and Land Use Law
Chapter 49 Wills, Trusts, and Estates
Chapter 50 Intellectual Property