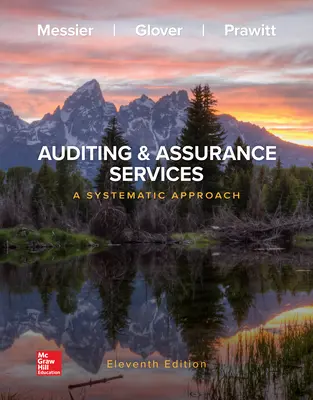 Auditing & Assurance Services: A Systematic Approach
11th Edition
By William Messier Jr and Steven Glover and Douglas Prawitt
ISBN10: 1259969444
ISBN13: 9781259969447
Copyright:
2019
Product Details

+
The fundamental values central to the Messier Jr./Glover/Prawitt text include: student engagement, a systematic approach, and decision making.
Read more +
Program Details
Part 1 Introduction to Assurance and Financial Statement Auditing
Chapter 1: An Introduction to Assurance and Financial Statement Auditing
Chapter 2: The Financial Statement Auditing Environment

Part 2 Audit Planning and Basic Auditing Concepts
Chapter 3: Audit Planning, Types of Audit Tests, and Materiality
Chapter 4: Risk Assessment
Chapter 5: Evidence and Documentation

Part 3 Understanding and Auditing Internal Control
Chapter 6: Internal Control in a Financial Statement Audit
Chapter 7: Auditing Internal Control over Financial Reporting

Part 4 Statistical and Nonstatistical Sampling Tools for Auditing
Chapter 8: Audit Sampling: An Overview and Application to Tests of Controls
Chapter 9: Audit Sampling: An Application to Substantive Tests of Account Balances

Part 5 Auditing Business Processes
Chapter 10: Auditing the Revenue Process
Chapter 11: Auditing the Purchasing Process
Chapter 12: Auditing the Human Resource Management Process
Chapter 13: Auditing the Inventory Management Process
Chapter 14: Auditing the Financing/Investing Process: Prepaid Expenses, Intangible Assets, and Property, Plant and Equipment
Chapter 15: Auditing the Financing/Investing Process: Long-Term Liabilities, Stockholders' Equity, and Income Statement Accounts
Chapter 16: Auditing the Financing/Investing Process: Cash and Investments

Part 6 Completing the Audit and Reporting Responsibilities
Chapter 17: Completing the Audit Engagement
Chapter 18: Reports on Audited Financial Statements

Part 7 Professional Responsibilities
Chapter 19: Professional Conduct, Independence, and Quality Control
Chapter 20: Legal Liability

Part 8 Assurance, Attestation, and Internal Auditing Services
Chapter 21: Assurance, Attestation, and Internal Auditing Services
Appendix 1: Professional Judgment Framework - Understanding and Developing Professional Judgment in Auditing
Appendix 2: An introduction to Data Analytics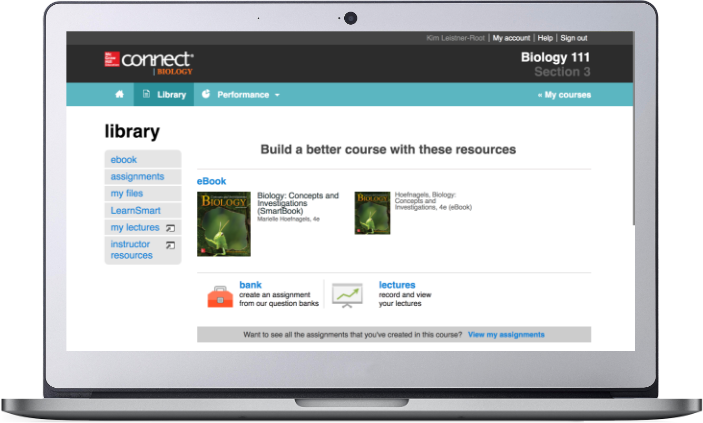 By prompting students to engage with key concepts, while continually adapting to their individual needs, Connect activates learning and empowers students to take control resulting in better grades and increased retention rates. Proven online content integrates seamlessly with our adaptive technology, and helps build student confidence outside of the classroom.
Learn more
Equip students with adaptive, mobile study resources. They'll be better prepared in less time. They'll thank you.
Learn more
The Audit Data Analytics Appendix
provides an overview of the confluence of events that has brought the practice to its current state. It then goes into detailed discussion of the 5-step process of performing audit data analytics as proposed by the AICPA's Audit Data Analytics Guide. The Appendix also has detailed examples of how audit data analytics can be used in risk assessment and as substantive tests. Connect also has new content that provides students with links to other web-based resources to help them learn and expand their analytics skills into new areas beyond the scope of the text. Given the importance of audit data analytics in practice, this Appendix will help instructors and students stay up-to-date on the latest trends.
Roger CPA Review
provides students with a smooth transition from the accounting classroom to successful completion of the CPA Exam. Students using the 11th edition of Messier will have access to sample CPA Exam multiple-choice questions and Task-based Simulations from Roger CPA Review, with expert-written explanations and solutions. All questions are either directly from the AICPA or are modeled on AICPA questions that appear in the exam. Instructors may assign the auto-gradable Roger CPA Review Multiple-choice Questions in Connect, and Task-based Simulations are delivered via the Roger CPA Review platform, which mirrors the look, feel, and functionality of the actual exam.
Tableau:
New to this edition is the use of Tableau, a marketing-leading data analytics and visualization software that students can download for free. The authors provide instruction on how to download Tableau and access basic tutorials created by the software provider. Additionally, the authors created new data visualiation and audit data analytics problems in Connect for the majority of the chapters using Tableau. This new functionality exposes students to cutting-edge technology used in practice. Solution files and guides are available online for instructors.
IDEA Data Analysis Software
is a powerful and user-friendly data analysis tool designed to help auditors perform audit data analytics, audit sampling, and other audit procedures efficiently and effectively. Students are introduced to IDEA in the text and through hands-on tutorials, exercises, and problems, including new problems for 11e regarding visualization and data analytics. Please note that the underlying dataset has been fundamentally changed for 11e, reducing concern about students using prior year solutions.
Student Engagement:
The authors believe students are best served by acquiring a strong understanding of the basic concepts that underlie the audit process and how to apply those concepts to various audit and assurance services. The text is accessible to students through straightforward writing and the use of engaging, relevant real-world examples, illustrations, and analogies. The text explicitly encourages students to "stop and think" at important points in the text to help them apply principles covered and also helps students see the application of concepts in a practical setting through "practice insight" boxes.
A Systematic Approach:
The text continues to take a systematic approach to the audit process by first introducing the three underlying concepts: audit risk, materiality, and evidence. This is followed by a discussion of audit planning, the assessment of control risk, and a discussion of the nature, timing, and extent of evidence necessary to reach the appropriate level of detection risk. These concepts are then applied to each major business process and related account balances using a risk-based approach. The text has been revised to
Decision Making:
Since much of auditing practice involves the application of auditor judgment, the authors focus on critical judgments and decision-making processes. If a student understands these basic concepts and how to apply them to an audit engagement, he or she will be more effective in today's dynamic audit environment. The new edition even includes a full advanced module on Professional Judgment.
How to Access Instructor Tools for your Course
Your text has great instructor tools – like presentation slides, instructor manuals, test banks and more. Follow the steps below to access your instructor resources or watch the step-by-step video.
To get started, you'll need to visit connect.mheducation.com to sign in. (If you do not have an account, you'll need to request one from your MH rep. To find your rep – visit the Find Your Rep page).
Then, under "Find a Title," you'll search by title, author or subject.
Select your desired title and create a course. (Note – you do not have to create assignments, just a course instance)
Then go to your Connect course homepage.
In the top navigation, select library to access the instructor resources that accompany the title.