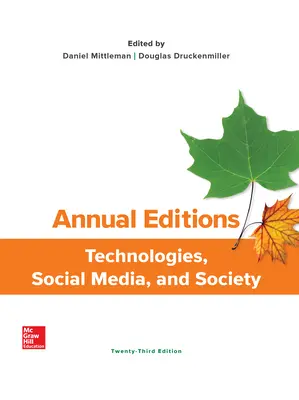 Annual Editions: Technologies, Social Media, and Society
23rd Edition
By Daniel Mittleman and Douglas Druckenmiller
ISBN10: 126018028X
ISBN13: 9781260180282
Copyright:
2019
---
Instructors: choose ebook for fast access or receive a print copy.
---
Program Details
Unit 1: Introduction
What World Are We Building, Danah Boyd, Data & Society: Points, 2016
"It's easy to love or hate technology, to blame it for social ills, or to imagine that it will do what people cannot. But technology is made by people. In a society. And it has a tendency to mirror and magnify the issues that affect everyday life. The good, bad, and ugly."
The Fourth Industrial Revolution: What It Means and How to Respond, Klaus Schwab, Foreign Affairs, 2015
Of the many diverse and fascinating challenges we face today, the most intense and important is how to understand and shape the new technology revolution, which entails nothing less than a transformation of humankind.
The "Internet of Restaurants" Is Coming for Your Info, David M. Perry, Pacific Standard, 2017
"At the National Restaurant Association, many of the hot technology companies are selling surveillance, not supper."
Is Nothing about Your Life Private? Cory Franklin, The Chicago Tribune, 2017
"In 2010, top Google executive Eric Schmidt told The Atlantic magazine, 'Google policy is to get right up to the creepy line and not cross it. . . . We know where you are. We know where you've been. We can more or less know what you're thinking about'."
The Tech Humanist Manifesto, Kate O'Neill, Medium, 2017
"We need to encode technology with the best of our humanity."
Unit 2: Shift in Retail
What in the World Is Causing the Retail Meltdown of 2017? Derek Thompson, The Atlantic, 2017
"In the middle of an economic recovery, hundreds of shops and malls are shuttering. The reasons why go far beyond Amazon."
How Online Shopping Makes Suckers of Us All, Jerry Useem, The Atlantic, 2017
"Will you pay more for those shoes before 7 p.m.? Would the price tag be different if you lived in the suburbs? Standard prices and simple discounts are giving way to far more exotic strategies, designed to extract every last dollar from the consumer."
Imagining the Retail Store of the Future, Elizabeth Paton, The New York Times, 2017
Will it have robots? No checkout counters? Virtual fitting rooms? Almost anything seems possible.
Four Ways Junk Food Brands Befriend Kids Online, Teresa Davis, The Conversation, 2017
"Kids are inundated with advertising for junk food on social media."
Unit 3: Impact of Technology on Work
How Technology Is Destroying Jobs, David Rotman, MIT Technology Review, 2013
"Automation is reducing the need for people in many jobs. Are we facing a future of stagnant income and worsening inequality?"
How Artificial Intelligence and Robots Will Radically Transform the Economy, Kevin Maney, Newsweek, 2016
"All those dire predictions about the automated economy sound like a sci-fi horror film from the '50s: Robots are coming to take your jobs, your homes, and your children. Except it's real. And it has a happy ending."
Cognitive Collaboration: Why Humans and Computers Think Better Together, Jim Guszcza, Harvey Lewis, and Peter Evans-Greenwood, Deloitte University Press, 2017
"Some have voiced fears that artificial intelligence could replace humans altogether. But that isn't likely. A more valuable approach may be to view machine and human intelligence as complementary, with each bringing its own strengths to the table."
Robots Stealing Human Jobs Isn't the Problem. This Is., Alia E. Dastagir, USA Today, 2017
"A new report from Paysa suggests automation jobs will put 10,000 people to work, and big companies will spend $650 million on annual salaries to make it happen."
Unit 4: Big Data, Analytics, and AI
Customized or Creepy? How Websites Tow the Line with User Data, Steven Melendez, Fast Company, 2016
"A Princeton 'web census' sheds new light on how websites are customizing and testing content for different users and audience segments."
Will Democracy Survive Big Data and Artificial Intelligence? Dirk Helbing et al., Scientific American, 2017
"We are in the middle of a technological upheaval that will transform the way society is organized. We must make the right decisions now."
Algorithms Supercharged Gerrymandering. We Should Use Them to Fix It, Daniel Oberhaus, Motherboard, 2017
"A new suite of open source redistricting software can help citizens reclaim democracy."
Unit 5: Internet Governance, Privacy, and Security
10 Ways to Make the Internet Safe from Cyber Attacks, Patrick Tucker, Defense One, 2014
Dan Geer, the chief information security officer for the CIA's venture capital company, said at a cyber security conference, " . . . that a single well-designed cyber weapon could take down the entire Internet . . . ." He proposed 10 policies for particularly the Internet, in protecting from cyberattacks. "Everything that is a critical infrastructure component must show (and prove) that it can run without the Internet."
America Is "Dropping Cyberbombs"—But How Do They Work? Richard Forno and Anupam Joshi, The Conversation, 2016
"Cyber weapons and the policies governing their use likely will remain shrouded in secrecy. However, the recent public mentions of cyber warfare by national leaders suggest that these capabilities are, and will remain, prominent and evolving ways to support intelligence and military operations when needed."
Cybersecurity: The Age of the Megabreach, David Talbot, MIT Technology Review, 2016
"We haven't stopped huge breaches. The focus now is on resilience, with smarter ways to detect attacks and faster ways to respond to them."
Google's European Conundrum: When Does Privacy Mean Censorship? Zack Whittaker, CNET News, 2013
Europe has not embraced America's love for "free speech" instead opting for a policy of "fair speech." This difference has opened the door to a "right to be forgotten" on the Internet, and Google has been ordered to remove material from its search database. Is this new right wise? Is it censorship? Is it even possible?
How Courts Avoid Ruling on Issues of Technology and Privacy, Jill Priluck, Slate, 2017
"When it comes to technology privacy cases, judges often focus on side issues instead of tackling the big questions."
Own a Vizio Smart TV? It's Watching You, Julia Angwin, ProPublica, 2015
"TV makers are constantly crowing about the tricks their smart TVs can do. But one of the most popular brands has a feature that it's not advertising: Vizio's Smart TVs track your viewing habits and share it with advertisers, who can then find you on your phone and other devices."
Know Your Rights! Hanni Fakhoury and Nadia Kayyali, Electronic Frontier Foundation, 2014
"Your computer, your phone, and your other digital devices hold vast amounts of personal information about you and your family. This is sensitive data that's worth protecting from prying eyes—including those of the government." These are your rights.
Unit 6: Technology and Health-care Ethics
The Secret Things You Give Away through Your Phone Metadata, Nsikan Akpan, PBS.org, 2016
"This study shows that sensitive information, like health services or lifestyle choices, is easily discernible from metadata with little digging."
Treating Addiction with an App, Nanette Byrnes, MIT Technology Review, 2017
"Using smartphone data and artificial intelligence to track and interpret behavior, a Chicago startup is attempting something extraordinary: predicting and preventing relapse into drug use."
Stung by Yelp Reviews, Health Providers Spill Patient Secrets, Charles Ornstein, ProPublica, 2016
"The vast majority of reviews on Yelp are positive. But in trying to respond to critical ones, some doctors, dentists, and chiropractors appear to be violating the federal patient privacy law known as HIPAA."
Four Reasons Why Healthcare Needs a Digital Code of Ethics, Eric S. Swirsky, CSO, 2016
"As health information technology continues to transform health care and doctor–patient relationships, the resulting ethical dilemmas are making the need for a digital code of ethics more critical than ever."
Unit 7: The Internet of Things
The Internet of Things We Don't Own? Jason Schultz, Communications of the ACM, 2016
"IoT manufacturers and distributors are quietly attempting to shift the rules of ownership."
To Automate Everything, Solve These Three Challenges, Alison Bruzek, Nova Next/PBS, 2015
"Smart objects are slowly transitioning from pioneering to practical. Yet just as the internet of things is poised to remake our homes and offices, it's facing perhaps its most critical test: adoption by the average consumer. The intelligent future promised by entrepreneurs won't catch on if those devices can't connect to each other automatically, lack intuitive programmability, or aren't appealing designed."
The Murky Ethics of Driverless Cars, Tom Jacobs, Pacific Standard, 2016
"A new study explores a moral dilemma facing the creators of self-driving vehicles: In an accident, whose lives should they prioritize?"
Your Smart Home Is Trying to Reprogram You, Murray Goulden, The Conversation, 2017
"How can technologies that sell themselves on convenience be taught the complexities and nuances of our private worlds?"
Unit 8: Social Networking and Identity
Caution: Identity under Construction, Pam Jarvis, The Psychologist, 2017
"Over the past decade, technological advance has deeply impacted upon modes of human communication."
Rules for Social Media, Created by Kids, Devorah Heitner, The New York Times, 2017
"While parents sometimes impose guidelines, the most important ones are those that children make. They are often unspoken and can be dizzying."
Twitter's New Order, Will Oremus, Slate, 2017
"Inside the changes that could save its business—and reshape civil discourse."
Unit 9: Politics and Social Media
What's Propaganda Got to Do with It? Caroline Jack, Data & Society: Points, 2017
"Calling out news — whether real or fake — as propaganda expresses anxieties over media power, but is it helping us a get a grip on the media landscape?"
The Filter Bubble Revisited, Will Oremus, Slate, 2017
"A new study suggests online media aren't to blame for political polarization—yet."
Are There Limits to Online Free Speech? Alice Tiara, Data & Society: Points, 2017
"When technologists defend free speech above all other values, they play directly into the hands of white nationalists."