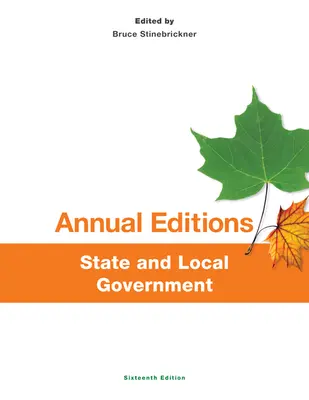 Annual Editions: State and Local Government, 16/e
16th Edition
By Bruce Stinebrickner
ISBN10: 1259175448
ISBN13: 9781259175442
Copyright:
2015
Product Details

+
The Taking Sides Collection includes current controversial issues in debate-style forma designed to stimulate student interest and develop critical thinking skills. This Collection contains a multitude of current and classic issues to enhance and customize your course. You can browse the entire collection on Create or search by topic, author, or keywords. Each Taking Sides issue is thoughtfully framed with Learning Outcomes, Issue Summary, Introduction, and Exploring the Issue section.
---
Instructors: choose ebook for fast access or receive a print copy.
---
Program Details
UNIT: Early Commentaries
Federalist No. 17, Alexander Hamilton, The Federalist Papers, 1787
According to Alexander Hamilton, a number of factors make it highly unlikely for the national government to become too powerful in the new federal system proposed in the constitution drafted during the summer of 1787.
Federalist No. 45, James Madison, The Federalist Papers, 1788
James Madison writes that the authority of the state governments will not be endangered by the central government in the proposed new federal system. He argues that history, the nature and role of state governments, and the relatively few powers delegated to the national government in the new constitution support his conclusion.
Nature of the American State, James Bryce, The American Commonwealth, 1888
After noting that there is considerable diversity among the states, James Bryce focuses on the factors that promote uniformity among them. He also discusses the constitutional and legal standing of the states in the American federal system.
The American System of Townships . . ., Alexis de Tocqueville, Democracy in America, 1835
Alexis de Tocqueville discusses the important role of local institutions in preserving the spirit of liberty. He describes how New England townships are governed and how they contribute to American democracy.
Local Government: Observations, James Bryce, The American Commonwealth, 1888
James Bryce identifies the origins of the three systems of rural local government in the United States and distinguishes the three systems according to the roles of towns and counties. He discusses the absence of representative assemblies in local government, the chief functions of local government, and the roles that political parties play.
UNIT: Intergovernmental Relations
Taking Stock, Alan Ehrenhalt, Governing, 2010
Alan Ehrenhalt traces changes over the past two decades in the balance of power and initiatives between state governments and local governments and offers explanations for the ebb and flow that he reports.
The United States of America, Dylan Scott, Governing, 2013
Dylan Scott reports that states have become increasingly active and more divergent from one another in their policies. He explores the reasons for this development and whether it is likely to continue.
States vs. Feds, Carl Tubbesing, State Legislatures, 2013
Carl Tubbesing identifies five "cracks" in contemporary national government—state government relations and three reasons why, despite these problems, state officials will continue to have a role in shaping policy in the United States.
Devolution and Arrogance, Alan Ehrenhalt, Governing, 2013
Alan Ehrenhalt addresses devolution of authority in national-state-local government relations and the temptation for higher levels of government to allow lower levels of government less independence than they should.
UNIT: Linkages between Citizens and Governments
Part A. Elections and Parties
Voting Matters, Wendy Underhill, State Legislatures, 2013
Wendy Underhill summarizes eight recommendations to state legislators on how they can improve the way elections are run.
5 Trends Shaping Redistricting, Morgan Cullen and Michelle Davis, State Legislatures, 2012
Morgan Cullen and Michelle Davis identify five new factors that changed the redistricting done by state governments after the 2010 U.S. Census.
Caperton's Coal: The Battle over an Appalachian Mine Exposes a Nasty Vein in Bench Politics, John Gibeaut, ABA Journal, 2009
John Gibeaut reports how a corporation backing a West Virginia Supreme Court of Appeals candidate for election was later rewarded in a pivotal court ruling. He also discusses the more general problem of corruption, bias, and the like among judges, especially elected ones.
The No-Tax Pledge, Jonathan Walters, Governing, 2010
Jonathan Walters discusses the powerful role of anti-income tax fervor in election campaigns in the nine states that do not collect an income tax.
States of Conservatism, John Hood, National Review, 2013
John Hood reports Republicans' successes in state and local government elections in November 2012 and their resulting control of a clear majority of governorships and state legislative chambers. Moreover, he explores why Republicans have fared better in state and local elections than at the national level.
Part B. Referenda and Public Meetings
The Progressive Tax Rebellion, Sasha Abramsky, The Nation, 2013
Sasha Abramsky reports and praises recent referendum results in which voters in Florida, Michigan, and especially California voted to enhance—or at least not restrict—revenue-raising by their states.
Portland Fluoride: For the Fourth Time since 1956, Portland Voters Reject Fluoridation, Ryan Kost, The Oregonian, 2013
Ryan Kost addresses the 2013 referendum in Portland, Oregon, in which voters rejected a proposal to fluoridate their city water.
Public Meetings and the Democratic Process, Brian Adams, Public Administration Review, 2004
Brian Adams considers the roles of public meetings in local government decision making. He concludes that they seem to play different roles from those commonly attributed to them.
Part C. Media
Embracing the Future, Paul Steinle and Sara Brown, American Journalism Review, 2012
The authors address what successful newspapers in the 50 states have done to survive and the problems and opportunities they face.
Cross Examination, Steve Weinberg, Quill Magazine, 2004
Steve Weinberg argues that journalists have not adequately covered the activities of local prosecutors, despite the very important government powers they exercise. He also reports some interesting and important findings about prosecutors that resulted from the work of a few journalists who covered them seriously.
Ready, Set, PAN, Steven Walters, State Legislatures, 2013
Steven Walters explores the network or broadcast systems that provide coverage of state legislatures in almost every state. He also addresses the importance and challenges of providing such coverage.
UNIT 4 Government Institutions and Officeholders
Part A. Legislatures
The Legislature as Sausage Factory: It's about Time We Examine This Metaphor, Alan Rosenthal, State Legislatures, 2001
Alan Rosenthal systematically evaluates Otto von Bismark's well-known observation that likens the legislative process to sausage making.
What Legislatures Need Now, Karl Kurtz and Brian Weberg, State Legislatures, 2010
The authors report that some of the problems in state legislatures highlighted in a 1970s report have been resolved, but that new problems need to be addressed. In turn, the authors pose twelve questions aimed at determining how well a state legislature is functioning.
Legislatures: All Over the Map, Karl Kurtz and Brenda Erickson, State Legislatures, 2013
The authors provide comparative data on state legislators' salaries, the size of state legislatures, average staff per legislator, legislators' time spent on the job, and other such variables.
Newbies, Alan Greenblatt, Governing, 2013
Alan Greenblatt reports the unusually high proportion of new members in state legislatures across the country and discusses the pros and cons of having so many newcomers.
Are City Councils a Relic of the Past? Rob Gurwitt, Governing, 2003
Rob Gurwitt examines the way city councils in America's major cities are functioning today. He suggests that individual city council members have become increasingly parochial in their concerns and that city councils as a whole have become dysfunctional.
Should School Boards Be Expelled? Dylan Scott, Governing, 2013
Dylan Scott addresses the growing support for reforming the structure of school governance in the United States, including the abolition of school boards, the traditional local governing structures.
Part B. Executives
Altered States, Ronald Brownstein and Stephanie Czekalinski, National Journal, 2013
The authors report changes in the orientations of many governors—from pragmatic, moderate problem-solvers to partisan and ideological activists.
The Last Democrat in Dixie, J.B. Wogan, Governing, 2013
J.B. Wogan reports on Mississippi's Attorney General Jim Hood, one of the very few elected statewide Democratic office-holders in the Deep South.
The Badgered State: Wisconsin Governor Scott Walker Is the Left's Public Enemy No. 1, Robert Costa, National Review, 2011
Robert Costa describes and assesses the heated controversy that occurred in the state of Wisconsin in early 2011 and the role of Governor Scott Walker in the events.
Counter Cultures, Marty Linsky, State Legislatures, 2011
Marty Linsky presents and explores four key differences that distinguish success in business and success in government.
The Life of the Mayor-for-Life, Alan Ehrenhalt, Washington Monthly, 2013
Alan Ehrenhalt reports on the successes and failures of Richard M. Daley, who served as Chicago's mayor for 22 years. Agreeing with a Daley biographer, Ehrenhalt concludes that the mayor's accomplishments outweighed his mistakes.
The Millennials in the Mayor's Seat, Dylan Scott, Governing, 2013
Dylan Scott reports on four young city mayors and examines the opportunities and challenges that they face.
Part C. Courts
Justice by Numbers, Lois G. Forer, Washington Monthly,1992
A former Philadelphia judge discusses mandatory sentencing laws and their negative effects on the criminal justice system and on her own career.
Under the Gaydar, Alison Gash, Washington Monthly, 2012
Alison Gash contrasts the lack of controversy with which gays and lesbians' rights to child custody and adoption were achieved with the public struggle and conflict over same-sex marriage.
UNIT: Cities and Suburbs, Counties and Towns
Merger Inertia, Mike Maciag, Governing, 2013
This selection addresses the consolidation of local governments and related matters: the low number of mergers in recent years; the large number of local governments per capita in the United States, especially in rural states, and the consequences of fragmentation of government at the local level.
The Sentient City, Zach Patton, Governing, 2010
Zach Patton reports how newly available technology enables city governments to use real-time data to monitor everything from traffic flow to air pollution to sewerage flow, and, in turn, to govern more effectively.
Rebel Towns, Barry Yeoman, The Nation, 2013
Barry Yeoman reports on the phenomenon of "municipal disobedience," wherein local governments use confrontational tactics to resist encroachments on their communities' environmental well-being.
267 Years and Counting: The Town Hall Meeting Is Alive and Well in Pelham, Mass, Tod Newcombe, Governing, 2010
Tod Newcombe describes Town Hall in Pelham, Massachusetts, the town meetings that occur there, and the role of town meetings in contemporary local government in the New England states.
UNIT: Fiscal Matters and Economic Development
The 'B' Word, Liz Farmer, Governing, 2013
Liz Farmer addresses municipal bankruptcies, exploring their causes, consequences, and implications for local governments, labor unions, government employees, and taxpayers.
Two Cheers for the Property Tax, Steven Ginsberg, Washington Monthly, 1997
Steven Ginsberg discusses the low regard with which Americans generally view the property tax and argues that this tax has several positive attributes.
The (New) Rules of the Road, Fawn Johnson, National Journal, 2013
Fawn Johnson examines the growing use of public-private partnerships to upgrade and maintain highways, build tunnels, repair bridges, and so forth. She also explores the pros and cons of such arrangements.
Snookered, William Fulton, Governing, 2013
William Fulton examines state and local governments' economic development efforts and notes the lack of accountability and evaluation that accompany them.
The Enticement Window, William Fulton, Governing, 2012
William Fulton explains the importance of millennials' quality-of-life preferences in the context of economic development.
The Secret Tax Explosion, Frank Shafroth, Governing, 2013
Frank Shafroth observes that the rapid growth in the number of special districts in recent years raises troubling questions about tax burdens and transparency.
UNIT: Policy Issues
Raising Children: It Takes State and Local Governments, Too, Bruce Stinebrickner, 2013
The author observes that state and local governments engage in five different clusters of policies that significantly shape the lives of children in the United States.
One Size Doesn't Fit All, Steven M. Teles, Washington Monthly, 2011
Steven Teles reviews an important new book that critiques the way that public education is governed at the state and local government levels and suggests a new approach that favors liberty over democracy in governing schools.
License to Kill, Adam Weinstein, Mother Jones, 2012
Adam Weinstein puts the tragic Trayvon Martin–George Zimmerman case into a larger policy perspective by examining the spread of Florida-style Stand Your Ground laws to other states since 2005.
The Conservative War on Prisons, David Dagan and Steven M. Teles, Washington Monthly, 2012
The authors report the big change in the positions of many conservatives, especially religious conservatives, on incarceration and prisons in recent decades. They also note conservatives' remarkable success in their efforts to reform the U.S. prison system.
Fixing the Rotten Corporate Barrel, John Cavanagh and Jerry Mander, The Nation, 2002
The authors argue that state governments, which are responsible for chartering corporations, should take steps to control corporate irresponsibility.
Gagging on the Ag-Gag Laws, Jim Hightower, The Progressive, 2013
Jim Hightower offers a highly critical assessment of so-called ag-gag laws, which make whistleblowers subject to criminal prosecution for photographing the treatment of animals on factory farms.