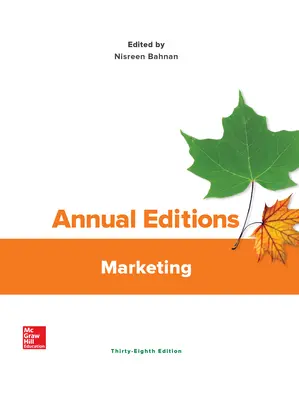 Annual Editions: Marketing
38th Edition
By Nisreen Bahnan
ISBN10: 1259922693
ISBN13: 9781259922695
Copyright:
2018
---
Instructors: choose ebook for fast access or receive a print copy.
---
Program Details
Unit 1: Marketing in the 2000s and Beyond
Marketing in 2012: The End of the Middle? Christine Birkner, Marketing News, 2012
Marketplace watchers proclaim that the recession in the American economy may call for a new definition of the middle class, prompting many marketers to shift everything within their marketing mixes.
10 Digital Marketing Trends to Watch in 2016 and Beyond, Natalia Angulo, Marketing Drive, 2016
Marketers in 2016 and beyond will need to focus on improving the customer experience, enhancing content marketing, and embracing growing trends—such as augmented virtual reality—in a digital-first world.
Future Tech: The Trends to Watch in 2014, Mark Sullivan, PC World, 2014
2014 will witness technologies ramping up toward a tipping point, resulting in significant changes to consumer lifestyles. The author presents several developments that will make headlines very soon.
How Millennials Are Defining the Sharing Economy, Daniel Arthursson, Entrepreneur, 2016
Today, the peer-to-peer sharing economy makes up a significant part of consumption, especially among the millennial generation. This article reviews the forces and technologies driving this rapidly growing movement.
Revisiting the Marketing Mix, Don E. Schultz and Chekitan Dev, Marketing Power, 2012
By simply viewing the traditional marketing mix from the customers' perspective, this article suggests an alternative marketing planning system called SIVA (Solution, Information, Value and Access).
75 Years of Marketing History, Elisabeth A. Sullivan, Marketing News, 2012
To recognize the dynamic nature of the marketing over the past several decades, the American Marketing Association (AMA) has assembled a compilation of historical highlights from both the evolution of the marketing industry and the growth of the AMA.
Putting Customers First: Nine Surefire Ways to Increase Brand Loyalty, Kyle LaMalfa, Sales & Marketing Management, 2008
Kyle LaMalfa explores nine surefire ways to increase customers' brand loyalty.
The Past, Present and Future of AI in Marketing, Hal Conick, Marketing News, 2016
Artificial intelligence (AI) has dominated popular culture for years, and it may soon dominate marketing. AI, robots, and automation will make marketing more efficient, prompting marketing managers to proactively respond to these technologies.
The Purchasing Power of Entertainment, Patrick Cauley, Response Magazine, 2013
While it's often said that entertainment spending tends to stay up in a down economy given the escapism element it provides, ironically, no product category's distribution and purchase methods have been altered or affected more radically by recent media and technology advancements.
Fundamental Tenets of Service Excellence, Lance A. Bettencourt, Marketing Power, 2012
A look at the company's internal strengths and weaknesses in five key areas can greatly improve customer service.
Walking the Talk, Katherine Ling, Marketing News, 2012
Eco-minded retailer, Patagonia, caused a stir with its recent "conscious-consumption" holiday campaign that told consumers not to buy the featured product.
Walmart Wants You to Believe Its Green Makeover Is Changing the World. Just One Hitch: China, Andy Kroll, Mother Jones, 2012
In 2005, Walmart announced plans to transform itself into one of the greenest corporations in the world. The company has been especially vocal about shrinking its environmental footprint in China, its manufacturing hub.
Brands in Politics: Implicit Responsibility or Unnecessary Risk? Nana T. Baffour-Awuah, Brand Quarterly, 2017
In this thought-provoking article, the author debates the role brands play in politics. With promotional access to mass audiences, a political statement made by a brand is more likely to resonate if it is in line with the brand's perceived identity.
Unit 2: Research, Markets, and Consumer Behavior
How Millennials Signal Personal Identity through Brand Preference, Anna Redmond, Entrepreneur, 2017
The link between branding and identity is deep and long-established. Millennial consumers seek self-congruity through products that they buy, and through the extensive brand activity they engage in with peers on social media.
Why Traditional Market Research is a Waste of Time, Gavin Symanowitz, Finweek, 2014
Traditional marketing research suffers from several inherent problems, the biggest of which is that it is unavoidably artificial and hypothetical. Also, research can often be interpreted in a way that is consistent with the researcher's prior beliefs. This article suggests some alternative approaches that alleviate these concerns.
Closer to the Truth, Molly Soat, Marketing News, 2012
Supporting digitally driven research methods such as online surveys with observational data collection methods (like behavioral tracking) can better help companies hone in on their target market.
Respect Your Elders, Tom Stein and Tim Devaney, Marketing News, 2012
Digital marketing techniques may be young and flashy, but conventional marketing strategies have not lost their impact. The ideal modern marketing mix makes room for both.
To Track a Customer Digital Tracking Technologies: A Primer, Michelle Markelz, Marketing News, 2016
Companies have access to a plethora of online and digital tracking technologies that can help them identify the best targets for their ads. This article provides marketers with guidance on how to navigate these technologies to adopt an optimal strategic combination for their brand.
Targeting Demographics in Beverage Marketing, Stephanie Hildebrandt, Beverage Industry Magazine, 2012
Many consumer-packaged goods companies invest a lot of time and research into learning about their consumers and how their ethnicities, genders, values, and geographic locations impact their shopping decisions. As a result, companies have the opportunity to strengthen their marketing programs to better reach these consumers.
Can More Information Be a Bad Thing? Robert S. Duboff, Marketing Management, 2012
Despite researchers' best efforts, consumer decision-making will always have subjective components.
Our Brands, Ourselves: The Power of Attachment, Laurence Vincent, The Conference Board Review, 2012
Brand attachment measures how much consumers view the brand as an extension of themselves, how much people will say that a brand is like them, reflects their values, and resembles the way they see themselves.
Can You "Feel" It? How to Use Emotional Decision-making in Marketing, Nathan Chan, Entrepreneur, 2017
Marketing strategies that don't make us feel anything are boring and forgettable - two things that you never want your brand to be. To be successful, brands should create a deeper connection with consumers on an emotional level.
Retailers Are Leaving a Trillion-dollar Market Segment Untapped, Michael Hodin, The Fiscal Times, 2017
The more than one billion consumers over age 60 have unique needs, tastes, and demands. Curiously though, this aging segment with its expected longevity is receiving very little attention from marketers.
Unit 3: Developing and Implementing Marketing Strategies
Tapping the Untapped, Diana Derval, Marketing Management, 2012
Marketers can learn from product preferences that are simply linked to consumers' physiology.
The CMO and the Future of Marketing, George S. Day and Robert Malcolm, Marketing Management, 2012
This article examines how the roles, responsibilities, and influence of the chief marketing officer will evolve in the future.
The Future of Cash: Should Marketers Plan for Mobile Payments? Hal Conick, Marketing News, 2016
The author documents the successful adoption of mobile payment within the food industry, and argues how other markets may have a tough time catching up in the near future due to a lack of infrastructure in the United States.
Lessons in App Building, Jennifer Wang, Entrepreneur, 2012
The article traces the product development process for apps—from design to trouble-shooting to marketing—and presents valuable knowledge every small business should have before going mobile.
Marketers are no Longer in the "Mad Men" Era, Jack Holt, Entrepreneur, 2015
Companies are no longer in the Mad Men 1960's era, and marketing should reflect this. Segmentation and targeting strategies emphasizing psychographics, rather than demographics, will result in higher consumer engagement and more brand visibility.
Branding's Big Guns, Paula Andruss, Entrepreneur, 2012
This article chronicles the success of the 10 most trusted U.S. brands that have become household names.
Playing Well Together, Jason Daley, Entrepreneur, 2012
Emerging co-branding concepts prove that strategic business combinations can cut costs and broaden the customer base.
Ad Campaigns are Finally Reflecting Diversity of U.S., Natalie Zmuda, Advertising Age, 2014
The advertising world has not kept up with America's progressive social liberalism. Companies are just starting to embrace inclusiveness in their promotion campaigns.
Customer Experience: Measure What People Do, Not What They Say, Gerry McGovern, Brand Quarterly, 2017
When engaged in online buying, the customer is active while the brand is reactive. The article explains why it is essential for brands to closely observe online users' behaviors if they want to understand the true customer experience.
Made in America? Consumer Reports, 2013
This report deciphers labeling laws and explains why a product that features an American flag can still be produced abroad, helping consumers determine which brands that tout the "made in America" claim are truly American.
How Package Size and Shelf Space Can Affect Price Sensitivity, Kirk Hendrickson, Brand Quarterly, 2017
Package size and product retail placement are key in influencing shopper price sensitivity. This phenomenon can be precisely measured using eye-tracking technology.
Big Promises, Small Promises: Can Your Organization Keep Both? Kerry Bodine, Brand Quarterly, 2017
An organization makes thousands of promises every day, integrated into all customer experience touch-points. Marketers need to make these promises thoughtfully and with a full understanding of the kind of experience the organization is prepared to deliver.
Social Gathering, Kara Ohngren, Entrepreneur, 2012
Smart franchises enlist social media to enhance the brand, engage customers, and seek out new business.
Advertising's New Campaign, Jennifer Wang, Entrepreneur, 2012
The author discusses BlogFrog's new advertising campaign which capitalizes on the massive influence of mom bloggers with its brand-sponsored communities.
Unit 4: Global Marketing
New World Order for Global Brands, J. Walker Smith, Andrew Curry, and Stokes Jones, Market Leader, 2013
After the global economic collapse of 2008, some of the key features of globalization are being called into question,
particularly those that affect the future of global brands.
Global Scale Meets Local Color: How to Balance Global Scale with Local Differentiation in Marketing, David Krajicek, Marketing News, 2016
This article examines a long-standing debate on whether multinational companies should have a global or local perspective and strategy in different world markets.
China's New Multibillion-dollar Target Market: LGBT Youth, Joanna Chiu, Business Insider, 2017
During this year's China's Spring Festival, several leading Chinese companies broke cultural norms by reaching out to the growing and profitable LGBT segment through controversial promotional campaigns.
Don't Get Lost in Translation: Multicultural Market Research, Tom Webster, Brand Quarterly, 2016
Multicultural market research, though essential in today's global economy, poses various challengesbeyond the obvious language barriers.