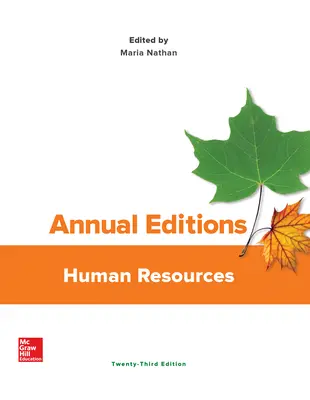 Annual Editions: Human Resources
23rd Edition
By Maria Nathan
ISBN10: 1259873447
ISBN13: 9781259873447
Copyright:
2018
Product Details

+
Annual Editions is designed to provide convenient, inexpensive access to a wide range of current articles from respected magazines, newspapers and journals. The articles selected are authored by prominent scholars, researchers, and commentators. Each volume has features designed to make them especially valuable for classroom use; including a brief overview for each unit, as well as Learning Outcomes, Critical Thinking questions, and Internet References for each article.
Read more +
---
Instructors: choose ebook for fast access or receive a print copy.
---
Program Details
Unit 1: Human Resource Management in Perspective
Is HR at Its Breaking Point? Todd Henneman, Workforce Management, 2013
Some companies are choosing to do away with traditional HR departments and divvy up the duties to other departments, but not everyone agrees that's such a good idea.
The Leadership Challenges Facing HR: Top CHROs Share Learnings and Advice on What's Next, Steve Steckler, HR People and Strategy, 2010
This is a report of the round-table discussion of several current and past Chief Human Resource Officers and what they consider to be their most difficult challenges.
Grooming the Next Generation, Kasthuri V. Henry, Strategic Finance, 2011
The workforce is changing and the baby boomers are retiring. Organizations need to be prepared for this eventuality by being proactive in hiring individuals in the labor force. Hiring the best people means going after the best people and this article presents one company's strategy for doing that.
What Does the Gig Economy Mean for HR? Cath Everett, Personnel Today, 2016
The "gig economy" has firmly entered employment vocabulary, becoming a catchall term for anything from Uber taxi drivers to freelance professionals. But what does this hyperflexible way of working mean for HR?
Are You a Leader or a Laggard?: HR's Role in Creating a Sustainability Culture, Robert Sroufe, Jay Liebowitz, and Nagaraj Sivasubramaniam, HR People and Strategy, 2010
How can HR be involved and lead in the quest for sustainability? It starts with a guiding philosophy to minimize the organization's impact on the planet, which recognizes the role of human capital in that effort. HR can facilitate that effort through a strategic rather than a piecemeal approach that will assist, if not lead, the organization's sustainability effort.
Unit 2: Human Resource Recruitment, Selection, and Retention
The Contingent Quandary, Andrew R. McIlvaine, Human Resource Executive Online, 2015
Today's HR leaders must recognize and understand the opportunities the so-called gig economy presents to their organizations, but must steer clear of potential legal problems it poses, too.
Love It and Leave It, Pat Tomlinson and Marcelo Modica, Human Resource Executive Online, 2016
HR has a big role in parsing and contending with the job-engagement paradox. The authors address that role.
Hiring Right, Carolyn Heinze, EquiManagement, 2011
Hiring is a difficult and time-consuming process that is often given inadequate resources. Knowing what you are looking for in a hire, knowing what is really important for that hire to be successful, even among professionals like veterinarians, is discussed here.
Beat the Overqualified Rap, Julie Ann Sims, HOW Magazine, 2010
In this economy, it is difficult to be looking for a job when you are unemployed. It is particularly difficult for many people with a great deal of experience. These people are often viewed as being overqualified for many of the positions that are available. Overcoming this perception is the topic of this article.
Unit 3: Performance Management for Employee Productivity
Rewarding Outstanding Performance: Don't Break the Bank, Elizabeth (Betsy) Murray and Robyn Rusignuolo, Franchising World, 2010
There are many ways to reward outstanding performance other than money. This article presents some interesting, low-cost ways to reward outstanding employee performance.
Ahead of the Curve: The Future of Performance Management, Boris Ewenstein, Bryan Hancock, and Asmus Komm, McKinsey Quarterly, 2016
What happens when companies jettison traditional year-end evaluations? This article addresses that question.
Motivating Employees: What Works? What Doesn't Work? Woodruff Imberman, Foundry Management and Technology, 2012
Injured by the Great Recession, scarred by the recovery, and fearful of the future, metal-casting workers can be motivated to improve their efforts when they find their rewards in their paychecks.
The Endless Conversation, Julie Cook Ramirez, Human Resource Executive Online, 2015
Many employers are adopting real-time dialogues in place of traditional performance-management approaches. But are they really working? And what's the best approach?
Unit 4: Training and Developing Human Resources
Gamification: Win, Lose, or Draw for HR? Bill Roberts, Society for Human Resource Management, 2014
Many companies are experimenting with using games and social media challenges to facilitate learning. Could gamification be a win–win for HR and employees?
Hidden Bias, Carol Patton, Human Resource Executive Online, 2016
This article observes that some employers are implementing training programs that address employee bias head-on—to everyone's benefit.
7 E-Learning Best Practices for Maximum Global Workforce Training ROI, Bill English, Training Magazine, 2012
This article points out that bad training can end up costing more than good training when you calculate the time, resources, and opportunity cost wasted on training that does not provide the desired ROI.
Language Diversity in America: Challenges and Opportunities for Management, Bahaudin G. Mujtaba, Frank J. Cavico, and Stephen C. Muffler, SAM Advanced Management Journal, 2012
This article explores the challenges and opportunities of language diversity, especially the legal and practical ramifications when employers establish language policies for the workplace.
Unit 5: Implementing Compensation, Benefits, and Workplace Safety
Making Benefits Matter, Torry Dell, Management Accounting Quarterly, 2010
It is not just salary that will attract and keep employees. The total compensation package becomes important, and a big part of that package is the benefits offered by the employer. Health care, retirement, and life insurance all play a role in the total compensation package, and more and more, workers look at the total picture.
Cash-Back Program Puts Money into Workers' 401(k)s, Andrea Davis, Employee Benefit News, 2013
This online program doesn't require employees to change behavior or make other sacrifices to save for retirement.
Individual and Social Factors Associated with Workplace Injuries, Ashwin Kumar, International Journal of Human Sciences, 2011
While individual worker factors, such as gender, age, personality, ethnicity, and substance use, do contribute to workplace injuries and fatalities, broader social and organizational workplace factors, such as workload, work hours, work environment, safety culture, provision of quality supervision, and provision of occupational health and safety training, socially structure and influence individual worker attitudes and behaviors in workplace injury and fatalities.
Unit 6: HR and Sustainable Organizations
The Importance of Human Resource Management in Strategic Sustainability: An Art and Science Perspective, Harold Schroeder, Journal of Environmental Sustainability, 2012
Strategic sustainability is associated with significant business benefits and positive environmental impacts, yet many organizations fail to recognize the potential of this approach, and neglect the factors necessary for its successful implementation. This article recommends an art and science based approach to strategic sustainability and discusses the important role of human resource professionals in contributing to the success of this approach. A number of key areas of responsibility for the HR department in relation to strategic sustainability are discussed and the importance of a more proactive approach on the part of HR professionals is noted.
Building Sustainable Organizations: The Human Factor, Jeffrey Pfeffer, Academy of Management Journal, 2010
There has been much talk and research on the sustainability of the physical environment. Corporations are going to great lengths to "GO GREEN." But there has been relatively little discussion about how to sustain the organization's single greatest asset—its human resources. This is explored here.
Discrimination and the Aging American Workforce: Recommendations and Strategies for Management, Frank J. Cavico and Bahaudin G. Mujtaba, SAM Advanced Management Journal, 2011
This article seeks to provide managers with practical strategies, tactics, and recommendations to comply with age discrimination laws, to maintain fair employment practices, and to handle an actual age-based discrimination lawsuit.
Generational Differences in the Workplace: Personal Values, Behaviors, and Popular Beliefs, Jane Whitney Gibson, Regina A. Greenwood, and Edward F. Murphy, Jr., Journal of Diversity Management, 2009
This paper uses popular and academic literature to describe the distinguishing characteristics that differentiate baby boomers, Gen X and Gen Y. The authors then further examine these differences by comparing the results of a survey of 5,057 members of these cohorts, using the Rokeach Value Survey, to the previously generated profiles. Both terminal and instrumental values of the respondents were analyzed. Results generally confirm the popular profiles and suggest that managers should take these profiles into consideration when leading, motivating, and communicating with employees belonging to these generations.
Eye of the Beholder: Does Culture Shape Perceptions of Workplace Bullying? Stuart D. Sidle, Academy of Management Perspectives, 2010
Would someone considered to be a belligerent bully by workers in one division of a global company be viewed the same way by employees in other geographic locations of the same company?
Investigating Sexual Harassment Complaints: An Update for Managers and Employers, Richard Trotter and Susan Rawson Zacur, SAM Advanced Management Journal, 2012
This paper focuses on procedural issues that can cause a court or jury to find an employer liable for failing to conduct a proper investigation.
Recognizing and Overcoming Toxic Leadership, George A. Zangaro, Kelly Yager, and Joseph Proulx, Journal of Nursing, 2009
Toxic leaders can be devastating to personnel at all levels in an organization and can ultimately lead to the dismantling of the organization.
Finding and Fixing Corporate Misconduct, Dan Currell and Tracy Davis Bradley, Risk Management Magazine, 2010
One of the chief conditions concerning corporate misconduct is the corporate culture. A corporate culture that turns a blind eye to misconduct will have misconduct. A culture that does not tolerate misconduct is far less likely to have it.
Inclusive Thinking, Grievances, Amending Policies, Shari Lau, HR Magazine, 2012
How can we get our managers to think about and create more inclusive work environments?
Values-Driven HR, Bill Roberts, HR Magazine, 2012
Juniper Networks is turning words on the wall into behaviors in action.
Unit 7: International Human Resource Management
HR Best Practices Can Lead to a Better Expat Experience, Kathy Gurchiek, Society for Human Resource Management, 2016
Mentoring employees before and during an expat assignment is among the effective preparation strategies for adjusting to a new country.
Offshored Headquarters, Allen Smith, HR Magazine, 2009
One of the trends in the global economy is the purchase of U.S. firms by non-U.S. firms. When this happens, the human resource problems are often compounded by cultural as well as the normal problems that would occur in a domestic business merger.
"People Analytics" Are Helping Employers Make Savvier Hires, Jeffrey J. Selingo, The Washington Post, 2016
Increasingly, companies are embracing new technology and data analytics to make their hiring decisions.
Unit 8: Human Resource Information Systems, Metrics, and Analytics
HR Dashboard and Useful Metrics: Bringing More Insight and Life to Your Dashboard, Darcy Jacobsen, Globoforce.com, 2013
This article offers useful HR metrics for use on HR professionals' dashboards.
Human Resource Information System as a Strategic Tool in Human Resource Management, Ebenezer Ankrah and Evans Sokro, Problems of Management in the 21st Century, 2012
This research identifies how the use of Human Resource Information Systems (HRIS) contributes to the effectiveness of strategic human resource management in the workplace.
Playing IT Big Brother: When Is Employee Monitoring Warranted? Bruce Gain, Canadian Manager, 2009
What is the appropriate use of monitoring when it comes to the personal use of IT equipment by employees? With few exceptions, employees have little in the way of rights when it comes to the personal use of corporate property, including computers. But many of them still use them and often for reasonable purposes. What is the appropriate policy?
Bring Your Own Device, Dave Zielinski, HR Magazine, 2012
More employers are allowing employees to use their own technology in the workplace.