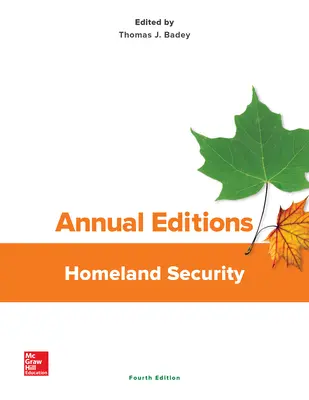 Annual Editions: Homeland Security
4th Edition
By Thomas Badey
ISBN10: 1259882969
ISBN13: 9781259882968
Copyright:
2018
---
Instructors: choose ebook for fast access or receive a print copy.
---
Program Details
Unit 1: What Is Homeland Security?
"Homeland Security": The Trillion-Dollar Concept That No One Can Define, Mattea Kramer and Chris Hellman, The Nation, 2013
Kramer and Hellman argue that despite the fact that there is no agreed-upon definition of homeland security the government spends billions of dollars each year. They suggest that by addressing waste, duplication and poor management in the DHS we could spend far less and be much safer.
The Two Faces of DHS: Balancing the Department's Responsibilities, Jerome H. Kahan, Homeland Security Affairs, 2013
Jerome H. Kahan believes that the Department of Homeland Security's efforts to manage non-homeland security activities could compromise its primary mission. He recommends changes that may enable the DHS to execute its primary responsibilities, while carrying out its other obligations.
DHS: The Department of Everything? Joan Johnson-Freese, Breaking Defense, 2015
Joan Johnson-Freese identifies three fundamental problems in the Department of Homeland Security. She argues that divergent organizational cultures, poor personnel management, and an overly broad mission have led to the creation of an inefficient and dysfunctional.
Senate Appropriations Committee Addresses President's FY 2017 DHS Budget Request, Olivia Colbert, Homeland Security Today, 2016
Homeland Security Secretary Jeh Johnson presented the DHS 2017 budget request to the Senate Appropriations Committee Homeland Security Subcommittee in February of 2016. He outlined the agency's priorities in support of his request for $40.6 billion in appropriated funds and a total spending authority of $66.8 billion.
Unit 2: Threats to Homeland Security
Homeland Security at a Crossroads: Evolving DHS to Meet the Next Generation of Threats, Rick "Ozzie" Nelson and Rob Wise, Center for Strategic & International Studies Commentary, 2013
Nelson and Wise contend that the DHS must evolve to focus on the next generation of threats before they can inflict significant damage to the United States. They believe that a shift in priorities, structures, and missions is needed in order to focus on cyber-security, screening and credentialing, and information sharing.
How Dangerous Are Domestic Terror Plotters with Foreign Fighter Experience? The Case of Home-grown Jihadis in the United States, Christopher J. Wright, Perspectives on Terrorism, 2016
Wright attempts to analyze the potential threat posed by domestic terror plotters with foreign-fighter experience. His study indicates that plots carried out with American returnees from Islamist insurgencies abroad decrease the likelihood that a plot will come to fruition and that the presence of a returnee decreases the likelihood that an executed plot will cause mass casualties.
Family-Affiliated Terrorism: From Paris to San Bernadino and Beyond, Dean C. Alexander, Security Magazine, 2016
Dean Alexander suggests that Terrorism by family units is an increasing threat. The three sets of brothers who served as hijackers on 9/11, Boston Marathon bombers Tamerlan and Dzhokhar Tsarnaev, and the San Bernardino attacks carried out by husband and wife, Syed Rizwan Farook and Tashfeen Malik indicate that family-affiliated political violence will likely continue.
Four Reasons ISIS Is a Threat to the American Homeland, Stuart Gottlieb, The National Interest, 2014
According to Gottlieb, there are four reasons ISIS is a threat to the American Homeland; the potential increase in quality of fighters, the expansion of ISIS "friendly" territories, asymmetric advantages, and the perception of strength.
Age of the Wolf, Ryan Lenz and Mar Potok, Southern Poverty Law Center, 2015
Lenz and Potok study terrorism in the United States. They conclude that the vast majority terrorist attacks are carried out by "lone wolves" or "leaderless resistance" groups.
Unit 3: Vulnerabilities
Can the Power Grid Survive a Cyberattack? Michael McElfresh, The Conversation, 2015
Michael McElfresh warns that the U.S. power grid, essential to maintain critical infrastructure, such as communications, water, and banking may be vulnerable to cyberattacks. He argues that as society becomes increasingly reliant on the power grid and an array of devices are connected to the Internet, security and protection must be a high priority.
Brussels Terrorists Struck Soft Underbelly of Airport Security, Alan Levin, Bloomberg.com, 2016
Terrorist attacks at the airport terminal in Brussels highlight the limits of airport security. Levin argues that even with tighter security and sophisticated detection equipment there will always be areas of vulnerability.
Terrorism 3.0 and the Need for 100 Percent Cargo Scanning, Daniel Gouré, Lexington Institute, 2015
Daniel Gouré argues that "less than one percent of cargo containers" coming into the United States by air or on ships are actually inspected. He suggests that it is only a matter of time before terrorist exploit this vulnerability unless we get ahead of the threat.
The United States Is "Significantly Underprepared" to Deal with Biological Terrorism, Kevin Loria, Tech Insider, 2015
In October of 2015, Blue Ribbon Panel concluded that the United States is "significantly underprepared" to deal with biological terrorism. According to the panel the main problem is the lack of clear leadership and a coordinated response plan to stop spread of a dangerous illness.
Obama Warns of Nuclear Terrorism Threat, Pamela Dockins, Voice of America (VOA), 2016
President Obama's address at the Nuclear Security Summit in Washington in April of 2016 identifies "terrorists getting their hands on a weapon of mass destruction" as "one of the greatest threats to global security." Pamela Dockins highlights some of the critical issues discussed at the summit.
Unit 4: The Federal Government and Homeland Security
Exposing Waste and Mismanagement at the Department of Homeland Security, Rep. Scott Perry, The Daily Signal, 2016
Rep. Scott Perry discusses deficiencies in the Department of Homeland Security identified by the Subcommittee on Oversight and Management Efficiency. He offers suggestions for more efficient management and spending.
TSA's Idea: End Screening at Some Airports, Heather Caygle, The Politico, 2016
Heather Caygle discusses the strongly debated proposals to alter the Transportation Security Administration's (TSA) security screening practices at smaller airports. Some politicians have raised safety concerns in light of the Brussels airport attack.
Border Control Needs to Crack Down on Internal Corruption, Report Says, Brian Bennett, Los Angeles Times, 2015
A 2015 Department of Homeland Security report concluded that the CBP, the nation's largest law enforcement agency, is vulnerable to "systematic corruption." The Homeland Security Advisory Council suggests that 350 criminal investigators should be added to address this issue.
Obama: Guantanamo Bay Undermines Security, Must Be Closed, Lolita C. Baldor and Kathleen Hennessey, The Associated Press, 2016
President Obama's plans to close Guantanamo Bay prison which is viewed by some as a recruitment tool for terrorists, continues to face strong opposition, particularly from states being considered to house the new potential prison facility.
Unit 5: State and Local Governments and Homeland Security
Homeland Security in Small Law Enforcement Agencies: Preparedness and Proximity to Big-City Peers, George W. Burruss, et al., National Institute of Justice, 2014
Researchers from Southern Illinois University Carbondale focused on the ability of small law enforcement agencies to handle this broader range of homeland security threats. Their findings suggest that local jurisdictions are better prepared when they work closely with nearby larger agencies.
Fusion Centers: What's Working and What Isn't, Jason Barnosky, The Brookings Institution, 2015
Barnosky discusses some of the positive and negative aspects of fusion centers—state and local run organizations dedicated to information sharing and analysis—that according to him "play an important role in addressing problems identified after the 9/11 attacks."
Left of Boom: The Fire/EMS Role in Terrorism Prevention, Greggory J. Favre, Medium, 2015
Farve makes the case for the importance of pre-incident indicator training for local fire and EMS responders. He argues that first responders are essential partners in efforts related to homeland security both pre- and post-incident.
Politics of Border Security Hamper Immigration Reform, Bob Ortega and Erin Kelly, The Arizona Republic, 2014
Ortega and Erin examine the often one-dimensional political discussion of U.S. Border security. Making immigration reform contingent on border security ignores the fact that an estimated 40 percent of illegal immigrants in the United States entered legally through official ports of entry.
Unit 6: Emergency Management and Response
After Hurricane Sandy: Time to Learn and Implement the Lessons in Preparedness, Response, and Resilience, Steven Bucci, et al., The Heritage Foundation, 2013
This report prepared by the Heritage Foundation Emergency Preparedness Working Group focuses on the lessons learned from Hurricane Sandy in 2012. The report makes important recommendations to improve preparation for and response to natural disasters.
Before the Storm, Shifting Federal Disaster Policy Toward Mitigation, Jason Barnosky, The Brookings Institution, 2015
Barnosky argues that shifting federal disaster policy and grants toward mitigation is beneficial to emergency management post disaster recovery and relief. He believes that focusing on mitigation can reduce the amount of recovery and relief needed post disaster.
Counter-Terrorism and Emergency Management: Keeping a Proper Balance, Jibum Chung, The Brookings Institution, 2013
Chung suggests that while preventing future terrorist attacks should be a leading priority for the government, reducing resources, preparation, and skills needed for management of other types of disasters could pose an even greater risk to the population. He believes keeping proper balance counter-terrorism and emergency management is essential.
Emergency Preparedness Plans Must Involve Preparation for All Disasters, Including Cyber, Amanda Vicinanzo, Homeland Security Today, 2014
The increased reliance upon computer systems to drive critical infrastructure has increased the likelihood that the next major disaster may be a catastrophic cyberattack. Amanda Vicinanzo argues that emergency preparedness plans should include preparation for cyberattacks.
Unit 7: New Technologies in Homeland Security
The New Tech of Disaster Response, from Apps to Aqua-Drones, Tim Moynihan, Wired, 2015
Tim Moynihan cites some of the failure of FEMA in its response to Hurricane Katrina as he suggests that the change in attitude and policy coupled with the use and integration of new technology has made FEMA more efficient.
Surveillance Strategies: Closing Intelligence Gaps with Smarter Surveillance, Bob Liscouski, Security Magazine, 2015
The lack of technological integration across agencies continues to be a critical security issue. Bob Liscouski suggests that there is a need for "a holistic system that correlates threats with vulnerabilities" to "deliver situational awareness…and response resources."
DHS Testing Border Biometric Program in Hunt to Identify Terrorists, Anthony Kimery, Homeland Security Today, 2015
Anthony Kimery discusses the launch of a new pilot program called Identity Intelligence Biometrics. This automated face and fingerprint biometric identification system will be used to keep known and suspected terrorists and "Special Interest Aliens" from entering the United States.
New Approach to Biological Threat Detection Promises Savings for Defense, Stew Magnuson, National Defense, 2014
Magnuson points out some of the difficulties in detecting biological agents in the field. He believes that a recently developed chemical-biological-explosive detector provides a more effective approach to biological threat detection but also may result in significant savings.
Unit 8: Intelligence and Homeland Security
The U.S. Intelligence Community Is Bigger Than Ever, But Is It Worth the Cost? Michael German, defenseone.com, 2015
Michael German argues that the United States spends nearly $1 trillion on national security programs and agencies each year. He believes that excessive secrecy undermines Americans ability to evaluate whether the intelligence enterprise is worth the investment.
Data Transparency—A Solution to the FBI's Surveillance Dilemma, Marshall Erwin, Overt Action, 2015
Access to encrypted data has been a major point of conflict between FBI and U.S. technology firms. Marshall Erwin argues that the FBI should focus on ways to streamline the process of requesting and accessing user data that is available rather than fighting for access to secure data.
DHS Actions Needed to Address DHS Intelligence Analysis, Workforce Challenges, Homeland Security Staff Writer, Homeland Security Today, 2014
A recent GAO report assert that in order to be more effective the DHS Under Secretary for Intelligence and Analysis needs to establish clear strategic priorities and use them to inform analytic activities throughout the department.
Unit 9: Civil Liberties and Homeland Security
Liberty versus Security: An Old Debate Renewed in the Age of Terror, David D. Haynes, Milwaukee Wisconsin Journal Sentinel, 2015
The collection of massive amounts of personal data by the National Security Agency (NSA) continues to be a point of controversy. David Haynes argues that there has to be a balance between the protection of civil liberties and the need for national security.
Public Advocate: FBI's Use of PRISM Surveillance Data Is Unconstitutional, Ellen Nakashima, The Washington Post, 2016
A challenge to the constitutionality of a provision of the PRISM program that enables the FBI to query foreign intelligence information for evidence of domestic crime was recently rejected by the Foreign Intelligence Surveillance Court. The judge noted that there was no statutory requirement that all activities involving PRISM data serve "solely a foreign intelligence requirement."
The New Culture of Security and Surveillance, Hille Haker, Journal of Political Sciences and Public Affairs, 2015
Haker asserts that after 9/11 the emerging paradigm of "human security" was replaced by "homeland" security. She argues that a reorientation toward social freedom, deliberative democracy, and a human rights-oriented concept of justice is needed.
I Am a Black Woman; That Doesn't Mean I Have a Bomb in My Hair, Taja Lindley, Salon, 2016
Taja Lindley recounts her personal experiences with TSA security protocols and raises questions of the efficiency of those efforts. Lindley opens the door for a discussion of the effectiveness and appropriateness of TSA's security screening activities.
Unit 10: The Future of Homeland Security
A Vision for Homeland Security in the Year 2025, Darrell M. West, The Brookings Institution, 2012
West summarizes key ideas that emerged during discussions of a group of leading experts trying to formulate a vision for homeland security in 2025.These ideas include future threats, integration challenges, and resulting considerations.
Mission Creep: Homeland Security a "Runaway Train," Michael Coleman, Albuquerque Journal, N.M., 2014
Michael Coleman contends that the Department of Homeland Security has strayed from its primary mission to "prevent terrorist attacks within the United States." He believes that mission creep has resulted in murky missions, a lack of leadership, low morale, and inefficient oversight.
Collaboration Enables Operational and Cultural Change on a Shoestring, Kriste J. Smith, The Public Manager, 2013
Kriste Smith argues that by build trust, listening to and empowering change advocates, and building on what's already there the TSA could break through the inertia and transform for aviation security.
Homeland Security Chief Discusses Changing Nature of Terrorism, Jim Garamone, U.S. Department of Defense, 2015
Secretary of Homeland Security Jeh Johnson at the Association of the U.S. Army annual meeting, argues that "The global terrorist threat has evolved." He believes that the nature of terrorism has shifted to radicalized home-grown terrorists and that the best defense is to counter the extremist message in at risk communities.