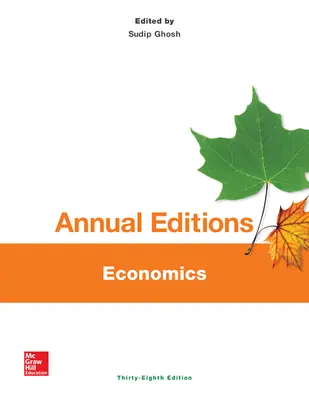 Annual Editions: Economics, 38/e
38th Edition
By Sudip Ghosh
ISBN10: 1259176940
ISBN13: 9781259176944
Copyright:
2015
---
Instructors: choose ebook for fast access or receive a print copy.
---
Program Details
UNIT: Introduction
Can Medicare Costs Be Tamed? Mark Trumbull, The Christian Science Monitor, 2013
Since 2010, the United States spent about $8,233 per-person on medical costs which is more than double that of other developed nations such as Germany, Canada, and Japan. As baby boomers continue to retire, rising medical costs seems unsustainable given the fiscal crisis we are in. To contain costs one has to find ways to nudge prices down, incentivize the health care delivery system, engage consumer participation, and use antitrust law to boost competition by improving both quality and reducing costs.
After $75,000, Money Can't Buy Day-to-Day Happiness, Jennifer Goodwin, Bloomberg BusinessWeek, 2010
A recent study shows that emotional happiness increases along with annual household incomes up to about $75,000. However, earning more than that has no effect on day-to-day happiness. Although social scientists and psychologists have long grappled with how to measure happiness, its findings are consistent with lots of other studies. On the other hand, as income drops the happiness declines and there is an increase of sadness and stress.
Immigration and Happiness, Bryce Bytheway, Diplomatic Courier, 2014
In an interesting study, David Bartram explained how immigrants looking for a better economic situation are often unlikely to achieve greater happiness in their new homeland. This is because immigrants often have low economic status in the new country compromising their happiness. His study focuses on immigrants moving from Eastern Europe and compared them to those who stayed back. The results were varied in terms of happiness; Polish migrants were less happy while Russian and Romanian counterparts experienced more happiness. Happiness was influenced by the opportunity to climb the social ladder and personal priorities.
UNIT: Microeconomics
Who Lives Longest?—Healthy, Wealthy—and Famous, Kent Sepkowitz, Newsweek, 2013
The author shows the importance of obituaries and its importance in the social diaspora. Two Australian researchers used 999 consecutive obituaries from the New York Times between 2009 and 2011 and provided vital statistics of this famous bunch. This study reveals a larger truth about health care: famous men in the study lived significantly longer—about four years—than "normal" men.
Colorado in Jeopardy from Childhood Obesity Challenges, Gabriel Guillaume, Denver Post, 2014
Article published by JAMA Pediatrics, a medical journal confirmed increase in childhood obesity in the last 14 years contradicting CDC find that preschool obesity rate declined. Kids who are obese at age 5 are five times more likely to become obese adults. Colorado has the third fastest-rising rates rate of childhood poverty in the U.S. and childhood obesity grows with it especially for minority and low-income kids. Access to video games, television time, junk food and lack of physical activity coupled with schools lax attitude on physical education make it especially challenging for Colorado.
Price Tag for Childhood Obesity: $19,000 Per Kid, Michelle Healy, USA Today Newspaper, 2014
According to an article in the journal Pediatrics, the medical costs associated with childhood obesity is roughly around $19,000 per child due to additional doctors' visits and medication. Childhood obesity leads to adult health problems when these kids grow up and that lifetime medical costs for the now 10-year old obese could alone reach around $14 billion.
Why Colorado and Washington Were Wise to Legalize Pot, Scott Shane, Entrepreneur, 2014
Historically, savvy entrepreneurs always find ways to tap into newer markets and new products, and marijuana is certainly not an exception. Lately legalization of marijuana is the milieu of cultural attitudes, fairness, economics, politics, and entrepreneurial opportunities. Making pot legal has economic benefits e.g., additional $70 million in new taxes to Colorado. Legalizing pot will free up police time to tackle other forms of crimes. Both CATO Institute study and Forbes reports favor legalization of recreational pot.
UNIT: The Economics of Work and Income
Freezing Paradise: an Update on Global Gender Equality, Michael Aiken, Diplomatic Courier, 2014
Northern Europe is paradise in matters of gender equality. The article uses different matrices to measure gender equality such as labor force participation rate, income equality, career advancement, female access to education, literacy rate, life expectancy etc. Iceland, Finland, Norway, and Sweden are the top four countries. The 136 countries in the index have made progress in closing the health/survival and education attainment gender gaps. Overall, global trends indicate a slow and steady shift toward gender equality. However, in the Middle East, the education gap between men and women, have failed to reduce the gap in economic participation, leading to a similar result.
There's a Fly in My Soup: Can Insects Satisfy World Food Needs? Stewart M. Patrick, Council on Foreign Relations, 2013
The author provides an eclectic range of delectable bugs. Several travel channels and its hosts have made traveling to exotic destinations and enjoying the local delicacy very appealing to the public. Most insect eaters live in less developed nations as identified by the U.N.'s Food and Agriculture Organization. If designed strategically, eating bugs could be a solution to end hunger and enjoy protein for the poorest of the poor in this world.
Shortchanged, Peter Coy and Elizabeth Dwoskin, Bloomberg BusinessWeek, 2012
Statistics show that men get paid more than women for equal work. For same work, women earned only 77 percent of what men earned in 2010. Since the Kennedy administration, attempts have been made to lessen pay discrimination with not much success. The Paycheck Fairness Act was signed into law by Obama in 2009. But critics of the law questioned the data on fair pay. By re-grouping employees in different ways such as gender, job title, and so on, expert witnesses in lawsuits brought against Boeing, Wal-Mart etc., have drawn opposite conclusion.
Gender Pay and Leadership Gaps Are Real—and Impact Our Economy, Ilene H. Lang, The Hill, 2010
The author observes that despite the recent improvements in the equality of women's pay—women still face workplace challenges. In a study 4,100 women and men with international MBA degrees from Europe, Asia, Canada and the United States were interviewed. The study shows that the earnings gap between men and women still looms at 23 percent. Only 3 percent of the Fortune 500 companies have woman CEOs while 14 percent are board members.
The Effect of Immigrants on U.S. Employment and Productivity, Giovanni Peri, FRBSF Economic Letter (Federal Reserve Bank of San Francisco), 2010
There is no consensus among economists about whether immigrants shrink the job opportunities of U.S. born workers or fill essential jobs that are shunned by other workers. Results show that immigrants expand the economy's productive capacity and promote specialization. This produces efficiency gains and boosts income per worker.
Virtual Health Care Gaining Ground, Carol Gorga Williams, USA Today Newspaper, 2013
According to the Centers for Disease Control and Prevention data, 72 percent of office-based physicians used electronic medical records. Technology such as making online appointments or using Skype, Facetime or email shows inroads in the medical field. Further, what we perceive as a typical visit to the doctor's office will change forever. According to experts, the more radical applications of Telemedicine are probably ten years away and will change the way medical services are provided in states and regions that are largely rural.
Reaching Out to Dropouts, Stacy Teicher Khadaroo, The Christian Science Monitor, 2013
The author concludes that a high school diploma still matters. In recent years, dropout prevention has been in the spotlight where school districts are realizing that they can do more to encourage students (dropped out) into the fold using different strategies. High School Graduation Initiative introduced in 2010 and designed to achieve dropout prevention is targeting at risk students. It is providing new opportunities for them to receive college credits while finishing their high school diplomas.
The GED Test Gets a Makeover, Stacy Teicher Khadaroo, The Christian Science Monitor, 2013
GED-holders tend to fare about as well as high school dropouts with no GED stirring controversy. Therefore, GED is getting a makeover where test-takers will be required to solve real-world problems from what they have learned thus adding a layer of complexity. Concerns have been raised about new cost structures and involvement of a private company in the new makeover.
13 States Raising Pay for Minimum-Wage Workers, Paul Davidson, USA Today Newspaper, 2013
Increasing minimum wage has been a politically charged issue and 2014 is poised to a turning point for it to occur. Proponents of minimum wage note that it is time for lower income people to earn income which will keep them in pace with inflation, While opponents say the increase raise employer expenses and will lead to layoffs.
UNIT: Macroeconomics
Unemployment Rate, Kimberly Amadeo, About.com, 2013
The author provides an extensive commentary the issues surrounding unemployment calculations in the US. It is argued that real unemployment rate tends to be much higher because of discouraged workers in the economy. Unemployment estimate is very important it gives a quick peek at the state of the economy. Unemployment rate often dictates both monetary policy and fiscal policy. Studies have shown that extended unemployment benefits are the best way to boost the economy during deep recessions.
What Threat Do the Monetary Policies of Developed Nations Pose to Emerging Economies? Ronan Keenan, G8 Summit 2013, 2013
In this article the author explained how G7 and G-20 monetary policies have created havoc for emerging economies. A relatively weaker currency is a key way for emerging economies to boost its exports. The Fed's quantitative easing followed by similar move by central banks of Japan and Bank of England created double digit inflation in some emerging markets. Thus a drop in Chinese demand and inflation threats in both Brazil and India will be precarious for global economy as such.
Can Better Regulation Boost Growth? Mark Weinberger, World Economic Forum, 2014
The author questions how regulations impact private sector progress. In today's complex world enforcement is very tricky as well as very complicated. To see through this complex web and implement these changes are extremely challenging. However, a well-designed regulation plays an important role in helping the markets function well.
Is the Border Secure? Lourdes Medrano, The Christian Science Monitor, 2013.
Author questions the success of the US border patrol in the light of new immigration reform. Anecdotal evidence shows that the surge of border patrol agents during George W. Bush's administration has helped reduce influx of illegal immigrants to the United States. As Washington gets ready to overhaul the immigration system once again the focus is on the border patrol. Others disagree with this approach they say now is the time to turn attention inward toward the estimated eleven million people living illegally in the United States and pay more attention to bus stations, airports, etc.
Panic Over US Tapering, China Growth Overdone, Insists IIF, Thierry Ogier, Lucien Chauvin, and Jenny Lowe, Emerging Markets, 2014
Spiking US rates and a sharp Chinese slowdown is creating economic hardship for "fragile five" group of emerging markets in Latin America. Latin American would grow around 3% whereas the expectations were about 6%. Most of this is due to negative impact on exporting countries coupled with US monetary policy.
Weakly Capitalized Banks Slowed Lending Recovery After Recession, J.B. Cooke and Christoffer Koch, Federal Reserve Bank of Dallas (Economic Letter), 2014
Capitalization impacts all banks. Indeed, weakly capitalized banks really slow lending efforts to resuscitate the economy. With the aid of charts and graphs the authors offer a convincing argument that in the last two years although lending picked up for least-capitalized banks, but it is still off from pre-recession days.
Immigration Reform Could Boost U.S. Economy, Lauren Fox, U.S. News & World Report, 2013
A study on immigration reform would boost 14,000 jobs for every congressional district as shown by a study. It is clearly not a "job killer" but a stimulus of some sort that would jumpstart the stagnant economy. Additionally immigration reform will also boost state and local tax revenues by $2 billion a year and hence reduce the budget deficit.
Economic Shocks Reverberate in World of Interconnected Trade Ties, Matthieu Bussière, Alexander Chudik, and Giulia Sestieri, Federal Reserve Bank of Dallas (Economic Letter), 2013
The authors try to address the issue of global trade slowdown despite slow recovery of the global economy after the recent recession. At the very onset, increased US output encouraged global trade. However, appreciation of US dollars clearly put a lid on global trade. Also country shocks such as the debt crisis in Greece, slowdown in China and other country shocks has actually limited the growth of global trade quite significantly.
RPT-Obamacare Is on the Horizon, but Will Enough People Sign Up? David Morgan, Barron's Business News, 2013
Democrats worry as fall enrollment period draws near. The plan presents a threat of potential repercussions for Congress, and the Obama presidency. With the `Affordable Care Act' looming, Democrats are nervous because the success of `Obamacare' is contingent upon the number of Americans that sign up at exchanges. Exchanges will offer private coverage at federally subsidized rates to individuals and families with low-to-moderate incomes, with enrollment set to begin Oct. 1. Some of the law's main advocates fear a moral hazard problem where new insurance plans may not be attractive to young, healthy consumers who will avoid registering but would encourage only the elderly and infection prone age group to enroll. Once instituted, the law is expected to cover 15 million Americans next year through the exchanges and an expansion of Medicaid. The overall number is forecast to jump to 38 million by 2022.
Economy Will Benefit from Immigration Reform, Robert L. Caret and Paul Guzzi, The Hill, 2014
The authors provide an interesting perspective as to how real immigration reform will benefit American Universities and American businesses. First, comprehensive immigration bill will help retain global talents, help universities to foster STEM fields, provide skilled workers, and create more entrepreneurs. All these done in the right dosage will be a panacea for US economic growth and prosperity by keeping US markets competitive.
UNIT: The Changing Global Economy
Bitcoin Only Worth What People Think It Is Worth, Brian Brus, Oklahoma City Journal Record, 2014
From Surgery Centers to flower vendors are accepting Bitcoin as a medium of exchange. Unfortunately, businesses have no intention of holding onto Bitcoin as an investment and they convert it to real dollars almost instantaneously. Therefore, a crash in the Bitcoin exchange will have negligible effect on the business that chooses to accept it. Bitcoin's value and its legitimacy as currency is totally dependent on what people believe it to be. Experts pointed out that Bitcoin do not subscribe to the so called fractional banking which is problematic. Bitcoin is just the beginning of cryptocurrency, and we will experience more in the future.
Austerity on the Side: EU Hits Restaurateurs with Olive Oil Law, Robert Bridge, Russia Today (RT.com), 2013
The author highlights how Brussels is trying to micro-manage eateries in the European Union. Instead of tackling pressing economic issues in EU nations the ministers are planning to prohibit eateries from serving olive oil in the traditional glass jugs to be replaced by pre-sealed, non-refillable non- recycled containers due to health concern. However, Europe once led the world in setting the standards on environmental issues; is acting like an unruly child to the annoyance of the EU residents.
Crowdfunding Diplomacy: the Next Frontier for Government, Daniella Foster, Diplomatic Courier, 2014
Crowdfunding has become the common mantra for budding entrepreneurs to raise funds in innovative ways beyond their national boundaries. The government agencies use crowdfunding as a savvy way to promote creativity via prize competitions. Typically crowdfunding platform (CFP) enables people to foster and incubate all sorts of ideas from local to global. However, crowdsourcing is mainly restricted to U.S., U.K., and Australia because of the prevailing legal system and protection of small investors against fraud. It has met other challenges such as lack of expert backing, people with technical skills, network and capital to implement funded projects in a sustainable or scalable way. It definitely has potential and needs a second look.
Should China Worry About a GDP Slowdown? Matt Schiavenza, The Atlantic, 2013
The author provides interesting perspectives on the recent economic slowdown in China. Starting in 2012, the Chinese economy grew at a modest 7.8 percent rate with 2013:Q1 numbers lower yet. To make matters worse, some economists are questioning these numbers indicating numbers may be even lower. For one thing, the decline in working age population adds to the slowdown. A bigger risk to political stability in China may be a sudden economic collapse mimicking the recent US financial crisis. This could unleash far more public anger than a slight drop in GDP growth. On the bright side, GDP slowdown will allow the Chinese government to tackle a number of pressing issues that threaten the country's long-term health—income inequality and environmental concerns.
Interest in Pot Revenue at New High, Joel Connelly, Seattle Post-Intelligencer, 2013
The author highlights the potential of raising hundreds of millions of tax revenue from a marijuana tax. Even the Washington Times, a conservative capital paper published by followers of the Rev. Sun Myung Moon, is writing about marijuana's tax potential. However, critics are skeptical about a marijuana tax because marijuana is seen as a gateway drug to more severe forms of addiction. To others, the revenue potential is rather limited when the social cost of addiction is taken into account.
Bitcoin: why Businesses are Buying in, Despite Critics and Start-Up Woes, Gloria Goodale, The Christian Science Monitor, 2014
The crypto currency known as Bitcoin is becoming very attractive to both small and large businesses who are embracing online and off-line. It is a blessing for new entrants. Acceptance of Bitcoin helps drive innovation but experts suggest that like any new technology, Bitcoin will come with disruptions and pains for many. Most businesses that accept Bitcoins are able to convert the highly volatile currency into cash using exchanges such as BitPay almost instantaneously. Although failure of Mt. Gox the largest Bitcoin exchange is unnerving, the Bitcoint community is still very optimistic.
Is 'Amnesty' a Possibility Now? David Grant, The Christian Science Monitor, 2012
In 2013, Congress is considering comprehensive immigration reform, but the task is not easy because it involves weighing the wishes of different types of industries ranging from agriculture to high-tech especially at a time when US unemployment is at historical highs. With Democrats in the driver's seat, Latino advocacy groups and labor unions are joining hands for immigration reform to move forward by 2013.
New Study Suggests eBooks Could Negatively Affect How We Comprehend What We Read, Memet Walker, USA Today Newspaper, 2014
For many students, eBooks are a godsend. They are inexpensive and readily accessible from anywhere. However, a recent study shows that eBooks come with flashy gimmicks and fun interactive designs which tend to hamper real learning as readers tend to get distracted. Thus the success may be short-lived for eBooks.