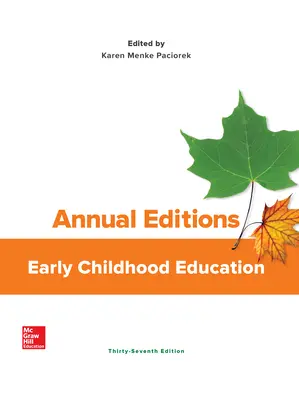 Annual Editions: Early Childhood Education
37th Edition
By Karen Menke Paciorek
ISBN10: 1260196941
ISBN13: 9781260196948
Copyright:
2019
---
Instructors: choose ebook for fast access or receive a print copy.
---
Program Details
Unit 1: Building a Strong Foundation
Kindergartners Get Little Time to Play. Why Does It Matter? Christopher Brown, The Conversation, 2016
Forty years ago legendary early childhood educator Jimmy Hymes called it the dribble down disease, the practice of pushing down the curriculum from first grade to kindergarten. It's not that the curriculum is more academic than it was in the past, it is the removal of opportunities to freely explore, create and test out hypothesis that are causing great concern. Children need ample time to engage in activities that foster the academics.
Head Start: A Bridge from Past to Future, Blythe S.F. Hinitz, Young Children, 2014
Head Start celebrated its 50th anniversary in the summer of 2014. We can learn from this historic program and the work done across the country to help families in poverty and their children at-risk of future success in school.
Running a Pre-K Program Is Hard. So Why Do Some States Require Almost No Qualifications? Abbie Lieberman and Laura Bornfreund, Slate.com, 2017
Administering a building where care and education take place for young children unable to verbally communicate their needs is different in many ways from the role of a K-12 building principal, yet very similar in many other ways. Staff evaluations, managing the physical environment and communicating with families are all job responsibilities in both settings. However those responsible for early childhood settings are required to have far fewer qualifications and often receive compensation much lower than the K-12 setting.
Play Is the Way . . ., Stuart Brown and Kristen Cozad, SGI Quarterly, 2013
Despite the overwhelming and very striking research on the benefits of play on current and future learning for children, there are those who argue play time is wasted time. The authors describe characteristics; they call signatures, which indicate an activity is play. They also point to the evidence that people of all ages who are allowed to engage in freely chosen play are more creative and productive. Those focused solely on academic achievement would do well to read the research on the benefits of play in all areas of development. Early childhood educators must advocate for adequate play opportunities for all children.
The Importance of Equal Pay between Pre-K and K-3rd Teachers, Anna Sillers, New America, 2017
Teachers working with young children in state funded Pre-K programs earn on average 80p percent of what Kindergarten teachers receive in the same community. The inequity of compensation in early childhood education is a significant issue that affects the profession. All teachers deserve to be compensates appropriately.
6 Policies to Support the Early Childhood Workforce, Rebecca Ullrich, Katie Hamm, and Leila Schochet, Center for American Progress, 2017
Working in early childhood education is one of the lowest paying, least respected but most needed professions according to multiple surveys. There are policies that would assist those who spend their days caring for and educate our youngest learners. They include, developing a comprehensive professional development system, move toward parity with kindergarten teachers for compensation and benefits, and provide scholarships and rewards to make earning professional degrees attainable.
The Hell of American Day Care: An Investigation into the Barely Regulated, Unsafe Business of Looking After Our Children, Jonathan Cohn, The New Republic, 2013
Ask any soon-to-be or working parent what concerns they have about the pending birth and often the number one concern centers on childcare. Finding and paying for quality child care hangs heavy on the mind of parents. Licensing rules vary significantly from state to state and as a country we have made little progress over the years to help parents make wise choices for the care and education of their most precious possession in a safe and stimulating environment.
Unit 2: Supporting the Development of Young Children and Their Families
Making the Right Choice Simple: Selecting Materials for Infants and Toddlers, Ani N. Shabazian and Caroline Li Soga, Young Children, 2014
Providing the appropriate toys and materials for exploration and play by infants and toddlers is critical. The health and safety of this age-group must be taken into consideration when adding materials to the environment. The authors provide key points to consider by families and teachers.
Parent Partnerships: Reciprocal Relationships with Families, Christine Snyder, HighScope ReSource, 2017
There are simple and free strategies teachers can implement to build relationships with families as they care for and educate their children. Making children and their families feel welcome and comfortable in the setting as well as finding methods of communication that reach all of the families is a critical first step each year. The education of young children is a two way street between the program and the home.
Connecting with Families: Tips for Those Difficult Conversations, Jodi Whiteman, Young Children, 2013
No teacher feels comfortable initiating a conversation with a family member about a difficult behavior or guidance situation involving their child. Whiteman provides some suggestions which will help teachers develop a relationship, approach parents, and ask open-ended questions followed by active listening to gather information that will best help the child.
Unit 3: Research Practices Affecting the Field
How Severe, Ongoing Stress Can Affect a Child's Brain, Lindsey Tanner, The Associated Press, 2017
Young children who experience continuous stress from issues such as poverty, neglect, abuse, parental substance abuse or other harmful conditions are affected in many ways. Cognitive ability and physical conditions are impacted by what is called toxic stress. Therapy can help children who have experienced stress in their young lives.
Can Parents' Tech Obsessions Contribute to a Child's Bad Behavior? Beata Mostafavi, Michigan Medicine-University of Michigan, 2017
Parents who spend a significant amount of time on digital devices are finding more negative behaviors in their children. Researchers call the practice "technoference" to refer to the disrupted family life as a result of the parents spending too much time on electronics. Three or more interruptions a day were reported by almost 50 percent of parents.
Do Girls See Themselves as Less Smart than Boys? Study Says Yes, Lois M. Collins, Deseret News, 2017
By the time many girls enter first grade they see themselves as less capable of intellectual tasks and jobs that may keep girls from entering the STEM and other fields. This article is based on a study published in the journal Science. It is important adults share with children that both sexes are smart and have the ability to tackle all problems that come their way.
New Report from SRCD on What PreK-3rd Means for Instruction, Anna Sillers, New America, 2017
The Society for Research in Child Development (SRCD) released a report focusing on alignment and the importance of staff in Pre-K programs and K-3 programs continuously communicating. There are social and emotional benefits when there is alignment in curricular content and classroom guidance practices between grade levels and within grade levels.
Even with More Research, Many Q's Remain about QRIS, Abbie Lieberman, New America, 2017
Quality Rating and Improvement Systems (QRIS) are used to assess the quality of programs for young children in 49 states. What researchers are finding is not all QRIS provide the information needed to implement real improvements across all programs. Resources and training are in short supply in programs serving young children.
How Teachers' Stress Affects Students: A Research Roundup, Sarah D. Sparks, Education Edweek.org, 2017
Teachers' chronic stress can affect their students' achievement according to research. Teachers who feel well equipped to meet the needs of their students are less stressed. How teachers perceived the demands on them and the availability of resources affected their levels of stress.
Unit 4: Diverse Learners
ADHD: From Stereotype to Science, Thomas E. Brown, Educational Leadership, 2015
The breadth and depth of recent research on attention deficit hyperactivity disorder (ADHD) continues to inform the way professionals interact with and meet the needs of children. Current research sheds more light on the best ways for educators to better understand and serve children who have been diagnosed with ADHD.
4 Disturbing Facts about Preschool Suspension, Rasheed Malik, Center for American Progress, 2017
There is limited data on the numbers or reasons preschoolers are suspended but the data that do exist show many more African American children are suspended each year. Educators need to be aware of the data and develop effective and appropriate guidance practices that will best serve all young children but especially those in private preschools with an expulsion rate double that of pubic preschools.
Teach Up for Excellence, Carol Ann Tomlinson and Edwin Lou Javius, Educational Leadership, 2012
The phrase "engage their minds" is a powerful reminder to all teachers of what we need to do to foster the love of and joy in learning. Setting the academic achievement bar high and then providing the support and services to help diverse learners achieve is one of the most important jobs for a teacher. The authors provide principles for teaching up to afford all students, especially those at-risk, the opportunities to learn in an excellent environment.
Response to Intervention and Early Childhood Best Practices: Working Hand in Hand So All Children Can Learn, Karen Wise Lindeman, Young Children, 2013
Teachers of all levels of children must be familiar with Response to Intervention tiers and the strategies to prevent future failure. When educators look for ways to differentiate the learning so every child can learn, success will happen. Resources for additional information are also included.
Unit 5: Practices that Help Children Thrive in School
Quality 101: Identifying the Core Components of a High-quality Early Childhood Program, Simon Workman and Rebecca Ullrich, Center for American Progress, 2017
Choosing childcare is one of the most complicated tasks parents face. Understanding the components of high-quality care and navigating the many types of programs available require knowledge of how children best learn and the qualities necessary in these who care for and educate young children.
It's Play Time! Joan Almon, Principal, 2013
There exists great discrepancy between what researchers know are best practices for children and what actually happens in schools and classrooms. The importance of play-based learning is well-documented, yet informed administrators, teachers, and parents work tirelessly to spread the work about the importance of allowing children of all ages quality time to play.
Good Thinking! Fostering Children's Reasoning and Problem Solving, Jessica Vick Whittaker, Young Children, 2014
New research on cognitive development and how children develop critical thinking skills is resonating with teachers. Inquiry-based learning experiences in the classroom allow children to develop the necessary problem-solving skills for approaching future learning. These practices can be developmentally appropriate and important to the early childhood curriculum.
10 Ways Kindergarten Can Stop Failing Our Kids, Laurie Levy, AlterNet, 2014
There is great discrepancy between what actually happens in kindergartens and what should happen in a child-centered kindergarten based on our knowledge of child development and best practices for five year olds. Teachers need to be strong advocates for the learning styles of the children in their class. Levy provides a specific list of 10 developmentally appropriate practices.
Supporting Children's Learning While Meeting State Standards, Lisa S. Goldstein and Michelle Bauml, Young Children, 2012
Teachers are professional decision makers supporting their students' learning with daily decisions concerning classroom activities and lessons. Goldstein and Bauml suggest three traits necessary for teachers to balance the needs of the students and the rigorous demand of state standards and district-mandated curriculum.
Time to Play: Recognizing the Benefits of Recess, Catherine Ramstetter and Robert Murray, American Educator, 2017
According to research by the CDC only 54 percent of educators are prohibited from using recess as a privilege to be earned based on appropriate behavior leaving children in other classrooms to be denied the opportunity to engage in free play due to their lack of work completion or behavior. The American Academy of Pediatrics recommends at least 60 minutes of active play each day. That is most often obtained during recess time. Many believe recess is a waste of time that could be better used in direct instruction.
Let's Get Messy! Exploring Sensory and Art Activities with Infants and Toddlers, Trudi Schwarz and Julia Luckenbill, Young Children, 2012
Schwarz and Luckenbill include over a dozen possible creative play-based activities for adults to plan for infants and toddlers to engage them in diverse sensorial experiences and list many materials that can easily be collected. A discussion about adults being culturally sensitive in the materials offered to young children is also included.
Time for Play, Stephanie Hanes, The Christian Science Monitor, 2012
Defending the benefits of play and the importance of children having access to learning experiences that allow for active learning is an ongoing challenge for early childhood educators who follow best practice. Development in all areas including social and emotional, physical, cognitive, and creative can be achieved through freely chosen play.
Happy 100th Birthday, Unit Blocks! Karyn W. Tunks, Young Children, 2013
Long been a staple in quality early childhood programs; the sturdy and reliable unit block is 100 years old. Known as a must have material by most teachers the opportunities for creative, cognitive, physical, and social skills to develop by participating in block play are endless. Blocks, other than the 100 year-old unit block, are described along with the importance of block play.
Animal Attraction: Including Animals in Early Childhood Classrooms, Clarissa M. Uttley, Young Children, 2013
The decision to include animals in an early childhood classroom should not be made lightly. Teachers must be committed to the care of the animal throughout the year and incorporate the animal into the daily activities of the classroom. Family concerns and allergies must be taken into consideration along with the access to animals the children may have in their homes and community. The author includes many points to aid the teacher in making the decision.
Food Allergy Concerns in Primary Classrooms: Keeping Children Safe, Peggy Thelen and Elizabeth Ann Cameron, Young Children, 2012
Thelen and Cameron provide a comprehensive overview for primary grade teachers and other school personnel to provide a food safe environment. It begins with staff knowledgeable about eating behaviors, specific allergies, and how to recognize and respond to an emergency due to exposure to allergens. Staff should work to establish a safe environment for all.
Unit 6: Curricular Issues
Starting Out Practices to Use in K-3, Nell K. Duke, Educational Leadership, 2013
The Common Core State Standards are changing the way teachers teach reading. Gone are the materials comprised of mostly fiction with cute sounding names like Flossie Flamingo replaced instead with more informational text. Teachers must make their classrooms informational text rich and provide multiple opportunities for early literacy experiences to inform as well as entertain.
Social Studies in Preschool? Yes! Ann S. Epstein, Young Children, 2014
Social Studies is one curricular content area that is often neglected in the early childhood classroom. Epstein explains the importance of children developing a sense of community and who they are during the preschool years. Teaching strategies are included to assist the teacher in implementing appropriate practices.
Every Child, Every Day, Richard L. Allington and Rachael E. Gabriel, Educational Leadership, 2012
Six research-based elements of literacy instruction that will ensure high-quality instructional activities for all students, every day are described. A student's personal choice is a key to the effectiveness of these elements even for struggling readers.