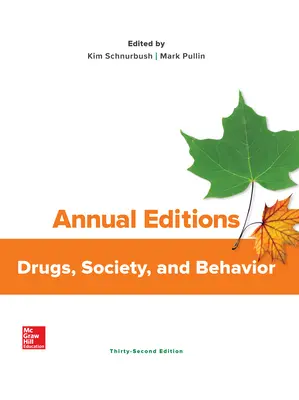 Annual Editions: Drugs, Society, and Behavior
32nd Edition
By Kim Schnurbush and Mark Pullin
ISBN10: 1260541460
ISBN13: 9781260541465
Copyright:
2020
---
Instructors: choose ebook for fast access or receive a print copy.
---
Program Details
Unit 1: Living with Drugs
History of Alcohol and Drinking Around the World, David J. Hanson, Preventing Alcohol Abuse: Alcohol, Culture, and Control, 1995
Alcohol use by humans, probably tens of thousands of years old, has both comforted and plagued almost every society. In this discussion, author David Hanson describes the drug's journey through time.
New Abuse-deterrent Painkiller Approved, Stephanie Smith, CNN, 2014
In order to reduce both abuse and drug overdose deaths, the Food and Drug Administration approved a drug called Targiniq ER, which combines the painkiller oxycodone and the overdose reversal medication naloxone.
Heroin Epidemic Increasingly Seeps into Public View, Katharine Q. Seelye, The New York Times, 2016
The low cost and high availability of heroin on the streets has caused an epidemic across the United States, to include an increase in overdose deaths and challenges for law enforcement as they routinely find heroin users unconscious or dead in bathrooms, fast-food restaurants, parks, busses, and trains. This article examines the heroin epidemic and the parallel of the spike in heroin use to the dependence of many on legal opioid painkillers.
Prescription Drug Abuse, Nora D. Volkow, National Institute on Drug Abuse Research Report, 2014
The nonmedical use and abuse of prescription drugs is a serious public health problem in the United States. This article looks at the exponential spike in prescription drug abuse in the last 20 years and how it has affected the daily lives of all who are involved or come in contact with the prescription drug addicts.
Mental Illness and Homelessness are Connected. But Not How You Might Think, Gale Holland, Los Angeles Times, 2017
Mental illness, homelessness and drug abuse are intertwined and have serious health repercussions for those living on the street. This article discusses the association between mental illness, being homeless, and drug abuse.
An Inside Look at Homeless Youths' Social Networks: Perceptions of Substance Use Norms, Lisa A. Melander, Kimberly A. Tyler, and Rachel M. Schmitz, Journal of Child Adolescent Substance Abuse, 2016
Substance use among homeless young people is a pervasive problem, and there have been many efforts to understand more about the dynamics of this health compromising behavior. This study examined perceived substance use norms within homeless youths' social networks utilizing in-depth interviews.
Descriptive and Injunctive Network Norms Associated with Non-medical Use of Prescription Drugs among Homeless Youth, Anamika Barman-Adhikari et al., HHS Public Access, Addict Behavior, 2017
Nonmedical use of prescription drugs (NMUPD) among youth and young adults is being increasingly recognized as a significant public health problem. The article discusses how homeless youth are more likely to engage in NMUPD compared to housed youth. This study suggests that network norms are strongly associated with a range of substance use behaviors in homeless youth.
Unit 2: Understanding How Drugs Work—Use, Dependency, and Addiction
Case Report: The Wide and Unpredictable Scope of Synthetic Cannabinoids Toxicity, Jose Orsini et al., Case Reports in Critical Care, 2015
Drug use and abuse has been a healthcare concern for years; however, in the recent past, tetrahydrocannabinoid (THC) has started to be synthetically produced and made readily available across the nation. This article discusses how synthetic cannabinoids are developed, why they are becoming so addictive, and the medical issues that medical professional are discovering.
Understanding Drug Use and Addiction, National Institute on Drug Abuse, National Institute on Drug Abuse Research Report, 2016
This article enables readers to better understand drug addiction, prevention, and treatment methods that include a life-long commitment from those affected to ensure their success. The writing includes risk factors as well as positive treatment methods to help reduce drug use and addiction.
What's The Buzz? Treating Prescription Drug Abuse in Youth, Shelley Steenrod, The New Social Worker, 2016
Adolescents have been attracted to prescription drugs at an alarming rate. This article discusses how popular prescription drugs vary, their effects on users, the psychological and physiological aspects of use, along with consequences faced by adolescents who consume these popular drugs.
Sex and Gender Differences in Substance Abuse, National Institute on Drug Abuse, 2018
In this article, special issues related to hormones, menstrual cycle, fertility, pregnancy, breastfeeding, and menopause that can impact women's struggles with drug use and abuse. Sex and gender differences with both drug use/abuse and other reasons, to include controlling weight, fighting exhaustion, coping with pain and mental health treatment are explored.
Unit 3: The Major Drugs of Use and Abuse
Krokodil: A Monstrous Drug with Deadly Consequences, Danielle M. Matiuk, Journal of Addictive Disorders, 2014
Drug use and abuse is not new in the United States, but a deadly drug has recently emerged from Russia called Krokodil, a deadly mixture of codeine tablets crushed up with readily available toxic ingredients such as vehicle gasoline, paint thinner, hydrochloric acid, red phosphorus, and even lighter fluid. Using Krokodil can leave a person mentally and physically incapacitated, and as the name indicates, some users are left with skin that appears crocodile-like when gangrene results. This article discusses this new deadly drug making its way around the globe, the physical effects on users and the efforts being made to discourage use of Krokodil.
Marijuana as Medicine, National Institute on Drug Abuse, 2018
Despite both medical and recreational marijuana use being made legal by multiple states across the nation, Federal law and the Drug Enforcement Administration (DEA) still hold marijuana is illegal federally and is a Schedule I drug, which are substances or chemicals with no currently accepted medical use and with a high potential for abuse. Examples of Schedule I drugs are heroin, LSD, ecstasy, and marijuana. This brief report explores the use of marijuana as medicine, explains what cannabinoids are and how they can be used as medicine, and some basic facts surrounding the use of marijuana as a medicine.
Prescription Opioids, National Institute on Drug Abuse, 2018
This National Institute on Drug Abuse report explains prescription opioids, common types of opioids, misuse of prescription opioids, how they affect the brain, side effects, overdose information, and opioid addiction.
Hallucinogens and Dissociative Drugs, National Institute on Drug Abuse, 2015
Hallucinogens and dissociative drugs such as acid, angel dust, and vitamin K, distort the way a user perceives time, motion, colors, sound, and self (Volkow, 2015). This reading examines some of the popular club drugs and their effects on behavior and the human body.
Drugs, Brains, and Behavior: The Science of Addiction, National Institute on Drug Abuse, 2018
Scientist have studied the effects of drugs and it's use for many decades. Issues such as morality, mental health, and environment have all led the research effort at different times, but this article relays some revolutionary discoveries about the human brain that may lead to more effective methods of understanding and responding to drug addiction.
Unit 4: Other Trends in Drug Use
Fentanyl: The Powerful Opioid that Killed Prince, Sara Sidner, CNN, 2016
Although the powerful painkiller fentanyl has been around since the 1960's and is potent enough to soothe extreme pain from cancer and similar illnesses, the emergence of fentanyl on the streets across the nation is causing a new health crisis as it only takes a small amount of the drug to kill. This article explores how and why fentanyl is flooding the streets, to include a discussion of how an accidental overdose of this drug killed the popular 1980's music icon Prince.
Rash of Hospitalizations in New York State Linked to Synthetic Marijuana, Lorenzo Ferrigno, CNN, 2015
Following a dramatic spike in hospital visits for synthetic marijuana-related emergencies, New York state issued a health alert as more than 160 patients in nine days had been rushed to hospitals for adverse reactions. Synthetic marijuana, also known as "K2" or "spice," side effects vary, but can include seizures, loss of consciousness, confusion, headaches, and an increase in heart rate.
Substance Abuse in the Military, National Institute on Drug Abuse, 2013
This National Institute on Drug Abuse report discusses substance abuse in the military. Despite illicit drug use being lower than that of the general public, alcohol, tobacco and prescription drug abuse are on the rise. Military personnel face unique challenges not present in the general public, to include the stress of deployment, and needing to assimilate to military culture.
Alcohol and the Hispanic Community, National Institute on Alcohol Abuse and Alcoholism, 2015
Hispanics are the largest growing population in the United States and research has shown that the consumption of alcohol among the Hispanic versus non-Hispanic population differs. Understanding these differences is the first step to prevention, intervention and the how to create treatment programs to serve this growing population.
Current Rural Drug Use in the US Midwest, Kirk Dombrowski et al., Journal of Drug Abuse, 2016
The nature and challenge of illicit drug use in the United States continues to change rapidly, evolving in reaction to myriad social, economic, and local forces. Record overdose rates, unexpected HIV outbreaks, and few treatment facilities have led to rural drug abuse issues rising at rapid rates. This reading suggests some clear remedies but points out the problems with implementation of such.
Oil and Drugs: A Toxic Mix, Collin Eaton and John D. Harden, The Houston Chronical, 2018
As oilfield workers slog through sometimes days-long shifts, they find ways to keep their eyes open and ways to beat drug tests and keep working. This article interviews several oilfield truck drivers in Texas whose lives are worn thin from 100-hour work weeks but cope thorough drug use to keep working.
The Role of Immigration Age on Alcohol and Drug Use Among Border and Non-border Mexican Americans, Jennifer M. Reingle et al., National Institute of Health, 2014
This study explores the age of immigration at which the marked increase in risk for alcohol and drug problems in adulthood in one group of immigrants living on the border and another group living in cities away from the proximity of the border.
Unit 5: Measuring the Social Costs of Drugs
Dealing with Opioid Abuse Would Pay for Itself, Austin Frakt, The New York Times, 2014
Use and abuse of opioid painkillers have become a problem in the United States, and fatal overdoses have quadrupled in the last 15 years. This article explores the social costs of these opioids, to include how opioid dependency is akin to a chronic disease, and can result in lost work productivity by addicts, an increase in crime, and a need for addiction treatment.
Alcohol: A Women's Health Issue, National Institute of Health, National Institute on Alcohol Abuse and Alcoholism, U.S. Department of Health and Human Services, 2015
This National Institute of Health report is an important contribution to the research surrounding women and alcohol, to include problem drinking, alcoholism and how women can obtain help if they believe they have a problem with alcohol.
The Effect of Sanctuary City Policies on the Ability to Combat the Opioid Epidemic, Jessica M. Vaughan, U.S. House Judiciary Committee Subcommittee on Immigration and Border Security, Subcommittee on Immigration and Border Security, 2018
This reading is a statement made by Jessica M. Vaughan, Director of Policy Studies for the Center for Immigration Studies, a Washington D.C. based research institute that examines the impact of immigration on American society, to include educating policymakers and leaders on immigration issues. Mrs. Vaughan has worked with the Center since 1992 and is a training instructor for senior law enforcement officers at Northwestern University's Center for Public Safety in Illinois. Her statement surrounds the epidemic of opioid addiction and overdoses in Sanctuary cities.
As Opioid Overdoses Rise, Police Officers Become Counselors, Doctors, and Social Workers, Katie Zezima, The Washington Post, 2017
The nation's opioid epidemic has changed the way police officers do their jobs as many are forced to become drug counselors and medical workers, changing the traditional police role of enforcing laws to more of a social worker position. This article explores the new role police officers across the nation are taking on due to the opioid crisis we are facing in the United States.
Declaring Addiction a Health Crisis Could Change Criminal Justice, Juleyka Lantigua-Williams, The Atlantic, 2016
There has been a debate for some time whether to label substance abuse as a moral failing or as a chronic illness. This article discusses the Surgeon General's declaration in 2016 that substance abuse is a public health crisis and should be treated and not punished. This decision could greatly impact the criminal justice system.
Unit 6: Creating and Sustaining Effective Drug Control Policy
Hawaii's Radical Drug Use Experiment, Kevin Sabet, LA Progressive, 2014
Applying the known principles human behavior, Judge Steve Alm from a Hawaiian Circuit Court has achieved strong reductions in recidivism from drug-addicted probationers. In keeping with Beccaria's theory of deterrence, Judge Alm found that in instituting consistently, swift, certain, and moderate sanctions, positive drug tests and missed appointments fell by 80 percent.
Company Denies Drug to Dying Child, Elizabeth Cohen, CNN, 2014
A dying baby and an experimental drug. What happens when the only drug that could save a dying person isn't approved by the FDA?
Judges to Explore Whether 'Habitual Drunkards' Can Appeal Deportation, Kimberly Leonard, U.S. News & World Report, 2016
This news article explains how the Federal Appeals Court is reviewing a case regarding an illegal immigrant and whether the immigrant, who is considered a "habitual drunkard" is ineligible to fight deportation under a 50-year-old statute because the person lacks "good moral character."
Some People Still Need Opioids, Stefan Kertesz and Sally Satel, Slate, 2017
The crackdown on pain medication prescriptions is intended to help the addiction crisis, but it is leaving chronic pain patients in untenable situations. Kertzesz and Satel examine how increasingly strict opioid laws are negatively affecting patients who depend on prescription opioids to help control pain.
Illegal Drug Laws: Clearing a 50-Year-Old Obstacle to Research, David Nutt, PLOS Biology, 2015
Drug control over the last 60-70 years, in an effort to control illicit drugs, has inadvertently resulted in great restrictions in medical and life science research. This article discusses how laws and policies against some "illegal" drugs have hampered pharmacology and therapeutic research in recent times.
Unit 7: Prevention, Treatment, and Education
Life Skills Training Shields Teens from Prescription Opioid Misuse, Eric Sarlin, National Institute on Drug Abuse Research Report, 2015
Research has shown teens receiving training in life skills can be diverted away from prescription drug abuse. This article explores cost-effective family-based methods that are effective in reducing teen drug use as well as early warning signs of current and potential illicit prescription opioid misuse and abuse.
FedEx Indicted on New Criminal Charges in Online Pharmacy Case, Dan Levine, Reuters, 2014
FedEx Corporation faces charges of conspiracy to commit money laundering due to delivering rogue online pharmacy packages despite warnings from law enforcement.
Beating Heroin is More than 12 Steps: It's 18 Years and Going, Tracey Helton Mitchell, CNN, 2016
Although 18 years have passed since Tracy Helton Mitchell was filmed at 25-years-old and a chronic drug user, she continues to ask herself what she would have done with her life if she hadn't been hooked on heroin. The author, a chronic heroin user in her 20s, discusses her heroin recovery and how she created an entirely different life as a recovering drug addict.
What It's Like to Be on Vivitrol, the Drug that Prevents Heroin Addicts from Getting High, Genevieve Smith, New York Magazine, 2015
New to the market, Vivitrol is being prescribed by doctors for heroin users as it contains a drug called naltrexone, which blocks the 'keyhole' where heroin bonds to the brain's receptors, making the user unable to get 'high.' Because of the success, Vivitrol is being incorporated into prison treatment programs as inmates are released back to society, which has allowed ex-inmates to keep clean and reduce recidivism.
Obama Announces New Moves to Fight Opioid and Heroin Abuse Epidemic, Nadia Kounang, CNN, 2016
This article explores the new Obama initiative to expand addiction treatment and increase coverage for mental health and substance abuse services across the nation.
The Immigrant Doctor Who's Solving West Virginia's Opioid Crisis, Brianna Ehley, Politico, 2018
Charged with combatting one of the worst health crises in the United States, Dr. Rahul Gupta decided to try a different approach. He ordered his staff to analyze the reports of each of the 887 people who had died in West Virginia due to an overdose last year. Dr. Gupta was interested in seeing what the state could have done for each of the 887 people who overdosed, in hopes of preventing future overdose deaths.
Fighting the Opioid Crisis Through Substance Use Disorder Treatment: A Study of a Police Program Model in Illinois, Jessica Reichert, Center for Justice Research and Evaluation, Illinois Criminal Justice Information Authority, 2017
For this report, Reichert interviewed representatives from seven law enforcement agencies in Illinois, which are employing treatment programs for individuals suffering from opioid use disorder.
Treatment Approaches for Drug Addiction, National Institute on Drug Abuse, 2018
This National Institute on Drug Abuse report focuses on drug addiction, to include what drug addiction is, whether it can be treated, types of treatment, and principles of effective treatment.