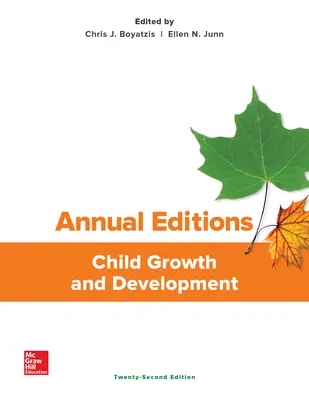 Annual Editions: Child Growth and Development, 22/e
22nd Edition
By Chris Boyatzis and Ellen Junn
ISBN10: 1259406199
ISBN13: 9781259406195
Copyright:
2016
---
Instructors: choose ebook for fast access or receive a print copy.
---
Program Details
UNIT: Prenatal to Birth and Cognition, Language, and Learning
Should You Bring Your Unborn Baby to Work?, Moises Velasquez-Manoff, The Atlantic, 2015
Recent "fetal origins" research is demonstrating that the fetus is more vulnerable to environmental factors than we previously realized. These can range from maternal stress to environmental toxins that can impair the mother's immune system. This article presents findings from around the world to illuminate the power of prenatal experience and the value of maternal leave policies.
"Possibly the Worst Approach", Melinda Wenner Moyer, Slate, 2015
In an attempt to protect children's immature immune systems, American parents have actually made them more vulnerable. New evidence indicates that infants and young children should be exposed to small amounts of foods to which the children may be oversensitive in an attempt to build immunity, an idea known as "immunotherapy."
The Talking Cure, Margaret Talbot, The New Yorker, 2015
Parent in low-income families speak with their children far less than do parents in higher socioeconomic classes. Programs such as Providence Talks and other early-childhood community interventions are trying to help low-income parents enrich their children's home environments to help those children grow cognitively and linguistically.
Good Thinking! Fostering Children's Reasoning and Problem Solving, Jessica Vick Whittaker, Young Children, 2014
As early as preschool children's critical thinking skills can be cultivated. Rather than assuming only older children are capable of such competencies, preschool environments can help children develop reasoning, critical thinking, and problem-solving skills.
The Preschool Puzzle, Kirsten Weir, Monitor on Psychology, 2014
Since Head Start programs began in the 1960s, psychologists and politicians have wondered whether such programs actually benefit young children. This article summarizes some of the major analyses of early childhood programs and concludes there are no simple answers, in part due to differences between the programs and the challenges of defining "quality" in preschool education.
How Children Learn To Read, Maria Konnikova, The New Yorker, 2015
One of children's greatest achievements is to learn how to read. This article describes recent research that examined the factors underlying that process, and the findings point to the key role of a brain area, the temporoparietal region in the left hemisphere. Growth in this area during the early elementary school years is a major factor in children's reading skill.
Is Your Fist Grader College Ready? Laura Pappano, The New York Times, 2015
When should children start thinking about college? To some educators, the preschool and primary school years are the right time. This article describes the steps some schools take-from mock applications to campus visits-to get young children thinking about college. Other educators are opposed to these potentially premature and high-pressure steps.
9 Ways to Support Child's Creativity, Margarita Tartakovsky, Psych Central, 2012
The author of this hands-on article gives easy tips to parents on how they can support and nurture their children's creativity.
Social Awareness + Emotional Skills = Successful Kids, Tori DeAngelis, Monitor on Psychology, 2010
Although schools have emphasized academic intelligence, evidence is mounting to show that emotional intelligence matters, too. This article reviews research confirming that children who complete a social and emotional learning program score significantly higher on achievement tests and appear healthier on depression and anxiety scales.
What Homeschooling Actually Looks Like, Sarah Rivera, Noodle, 2015
More than 2 million American children—about 3 percent of school-age children—are homeschooled. This article explores the many reasons parents have for homeschooling their children, the wide variations in state requirements for homeschooling, and the challenges of finding educational materials and balancing role of parent and teacher.
UNIT: Raising a Moral Child
Raising a Moral Child, Adam Grant, The New York Times, 2014
In the heat of the nature-nurture debate, studies have shown that the way parents raise their children provides evidence for the kind of person each child can turn out to be. In the study, modeling behavior, rather than preaching behavior, led to children acting in more generous ways. This article argues that it is a combination of modeling behavior and explanation of behavior that shapes a child's character.
Why Can Some Kids Handle Pressure While Others Fall Apart? Po Bronson and Ashley Merryman, The New York Times, 2013
Some children are "Warriors" and other "Worriers." This article describes biological influences, from genes to neurotransmitters to brain function, that help explain why some children thrive but others wilt under extreme challenge. For some youth stress can have advantageous effects, especially if the youth can view stress as being good for them.
The Moral Life of Babies, Paul Bloom, The New York Times Magazine, 2010
Can babies be moral? Despite theorist's claims of infants' immaturity, many fascinating new studies reveal that babies seem to possess a rudimentary moral sense, a naïve morality. Bloom's article describes numerous experiments that use ingenious methods to measure infants' understanding of good and bad in the first year of life.
Building Resilience among Black Boys, Tori DeAngelis, Monitor on Psychology, 2014
African-American boys in the United States face risks in various aspects of growing up. This article describes intervention efforts at multiple levels—family, schools, and communities—to promote resilience rather than risk in these boys.
Is Your Child Gay? Jesse Bering, Scientific American Mind, 2012
Is it possible to know what children will grow up to be gay adults? The author discusses several studies that suggest what he calls prehomosexual children do often show gender nonconforming behavior as children.
To Help a Shy Child, Listen, Perri Klass, The New York Times, 2013
Some children, perhaps many, are shy, quiet, and reticent. This personality is a natural and normal one among many temperaments, but it can pose problems for such children in a culture that seems to value being confident and outspoken. To help shy children, parents can use tactics borrowed from cognitive behavioral therapy as well as role play and rehearsal of positive interactions.
An All-out Anti-bullying Focus, Amy Novotney, Monitor on Psychology, 2014
As schools, parents, and psychologists have become more aware and concerned about bullying and its negative effects on children, a team of psychological researchers have studied the problem to identify new ways to combat bullying and reduce its impact on children.
Certain Television Fare Can Help Ease Aggression in Young Children, Study Finds, Catherine Saint Louis, The New York Times, 2013
The long debate over children's consumption of TV shows has focused on violence. This article explores the broader impact of children's "media diet"—antisocial and prosocial programming—on children's behavior. Parents have a key role in helping children draw the right lessons from what they see.
UNIT: Parenting and Family Issues
Why Fathers Really Matter, Judith Shulevitz, The New York Times, 2012
We often think of mothers as being crucial in children's development, but this article describes biological and genetic research showing how fathers have powerful genetic influences on their children's development. Fathers' reproductive vitality are affected by factors like stress and age that cause epigenetic changes in the fathers' genes, which can contribute to problems in children like autism and stress.
The Overprotected Kid, Hanna Rosin, The Atlantic, 2014
Childhood has changed for countless numbers of American children, as a cultural obsession with children's safety and view of children as vulnerable and delicate has deprived children of opportunities for independence and risk-taking that help build their confidence and competence. One antidote to this overprotection are new kinds of playgrounds and play environments for children.
Psychological Biases Play a Part in Vaccination Decisions, Tania Lombrozo, NPR, 2015
Some parents choose, quite emphatically, not to give their young children the typical vaccinations to protect against many diseases. The author explores some psychological biases that lead parents to do so, including the naturalness bias—not wanting to interfere with nature, the omission bias—parents would feel if their child died due to a vaccine than if their child died due to not receiving it, and anticipated regret—feeling especially responsible if their decision to vaccinate hurt their child.
New Ways to Protect Kids, Rebecca A. Clay, Monitor on Psychology, 2014
More than three-quarters of a million American children are maltreated each year. For many, the negative effects can lead to adverse developmental paths in childhood and adolescence as well as physical and emotional problems in adulthood. The parents who abuse children need support, and parent training programs that foster better parenting and resilience can help.
The Case Against Spanking: Physical discipline is slowly declining as some studies reveal lasting harms for children, Brendan L. Smith, Monitor on Psychology, 2012
Disciplining children is one of the most challenging dimensions of parenting, and many parents use spanking. The author reviews recent research on the spanking debate, with evidence pointing to risks associated with spanking, though the effects of spanking are often hard to determine.
Daddy Track: The Case for Paternity Leave, Liza Mundy, The Atlantic, 2013
Many countries offer maternity leave for mothers to stay home with a new baby. This article describes recent policies to help fathers stay home with the new baby. "Daddy time" brings many positives for the family, with mothers enjoying psychological, workplace, and economic benefits.
Why Parents Need to Let Their Children Fail, Jessica Lahey, The Atlantic, 2013
Learning when to step in to help versus when to back off is a decision parents and teachers have to make many times a day. Although good intentioned, too much parental involvement can impair a child's independence, decision-making, and ability to learn from mistakes and bounce back from failure.
UNIT: Cultural and Societal Influences
The Touch-Screen Generation, Hanna Rosin, The Atlantic, 2013
As interactive media have pervaded even young children's lives, parents have become wary of how rapidly changing technology affects their children. The author describes how parents—including those who design new games for children—navigate these challenges, with little consensus from research on whether playing with touch screens enhance or impeded their children's growth.
ADHD among Preschoolers, Brendan L. Smith, Monitor on Psychology, 2011
There is debate about how common ADHD is among preschoolers as well as controversy over prescribing medications for young children that were designed for adults. Behavioral therapies could involve parents and schools.
Is It Really ADHD?, Amy Novotney, Monitor on Psychology, 2014
Diagnoses of ADHD in children have skyrocketed over the past decade. Psychologists have attempted to determine whether the disorder has truly become more common or if our definition and diagnostic criteria have changed over time. Two leading researchers point to a leading suspect: As states tie school funding to students' performance on standardized test scores, more children in those states are being diagnosed with ADHD, which brings in extra money to those schools to help those children—and indirectly boost their test scores.
1 in 68 Children Now Has a Diagnosis of Autism Spectrum Disorder. Why? Enrico Gnaulati, The Atlantic, 2014
Within this seemingly high ratio of ASD diagnoses, there is speculation that perhaps something is being missed. Age of diagnosis persists as a delicate subject because complications arise when professionals attempt to differentiate between the behaviors of a would-be-mildly-autistic child and a slow-to-mature child, showing that the issue is not as black-and-white as it may seem.
Unlocking Emily's World, Chris Berdik, Bostonia Magazine, 2015
For children with autism, about 30 percent never learn to speak and remain nonverbal. Recent research—described through a fascinating case study of Emily, a 13-year-old girl--explores the brain regions and processes that may play a role in helping nonverbal autistic children become more communicative.
Helping Immigrant Children Heal, Lorna Collier, Monitor on Psychology, 2015
Tens of thousands of refugee minors and undocumented young immigrants makes the journey into the US, usually out of fear of gangs and violence in their homelands or to be united with parents who have come into the US. These youth are traumatized in their home countries and traumatized on the journey here, leading to high rates of PTSD. New approaches are building the children's resilience and recovery.
The Sexualization of Girls: Is the Popular Culture Harming Our Kids? Gwen Dewar, Parenting Science, 2012
Preschoolers wearing bathing suits and heels to compete in beauty pageants, dolls with fishnet stockings, and prepubescent girls made up to look like adult femmes fatales in high-fashion magazine ads. How does this sexualization of girls affect girls themselves and society's view of them? The author presents research that confirms our worst fears, including evidence that the girls are being viewed as sexualized objects.
Selling a New Generation on Guns, Mike McIntire, The New York Times, 2013
The firearms industry and the NRA are pouring millions of dollars into youth programs to try to hook kids early on guns. Framing such programs as ways to build children's "life skills" such as ethics and responsibility, the firearms industry is finding clever ways to market guns to children and engage children in recreational use of firearms.
Biology Doesn't Justify Gender Divide for Toys, Cordelia Fine, New Scientist Magazine, 2014
Walk into a toy store and you can't miss it—the pink aisle and the blue aisle. Children's toys are being gender segregated perhaps more than ever, potentially using simplistic assumptions from research suggesting there are innate differences in boys and girls. The author, however, critiques such assumptions and argues that the same research demonstrates the power of socialization and children's own deep desires to conform to gender norms.
A Court Put a 9-Year-Old in Shackles for Stealing Chewing Gum—an Outrage That Happens Every Single Day, Bryan Schatz, Mother Jones, 2015
Juvenile justice practices and policies have become much more punitive in recent decades, with young children receiving harsh treatments for relatively innocuous offenses. In many states, school-age children can be put in shackles—a heavy metal apparatus with handcuffs, a belly chain, and leg irons. Evidence shows that harsh treatment hurts children psychologically, and the American Bar Association has resolved to put an end to this excessive practice.
85 Million Children Work in Dangerous Conditions: Are Governments Fulfilling Their Promise to Prevent This? Jody Heymann, Aleta Sprague, and Nicolas de Guzman Chorny, Huffington Post, 2014
There are 168 million children laborers around the world, many in very dangerous jobs in mines and quarries. The United Nation's Convention on the Rights of the Child called for nations worldwide to protect children from such work, but to date roughly half of the countries that ratified the treaty have failed to pass child labor laws.