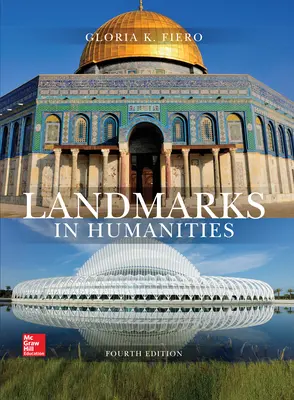 Landmarks in Humanities
4th Edition
By Gloria Fiero
ISBN10: 1259544923
ISBN13: 9781259544927
Copyright:
2017
Product Details

+
* Connect: A highly reliable, easy-to-use homework and learning management solution that embeds learning science and award-winning adaptive tools to improve student results.
* A survey of global culture designed to help students understand and appreciate the relevance of historical works and ideas to their own daily lives.
* Landmarks in Humanities guides students on a chronological sequenced journey to the most notable monuments, the most prominent ideas and issues that have shaped the course, and characters of the world's different cultures.
---
Instructors: choose ebook for fast access or receive a print copy.
---
Program Details
Origins: The First Civilizations
Prehistory
The Birth of Civilization
Mesopotamia
Africa: Ancient Egypt
Africa: Western Sudan
The Americas
Beyond the West: Ancient India
Beyond the West: Ancient China
Afterword
Key Topics
The First Civilizations Timeline
2 Classicism: The Greek Legacy
Ancient Greek Civilization
Athens and the Golden Age
Greek Philosophy
Beyond the West: Chinese Philosophy
The Classical Style
The Hellenistic Age
Afterword
Key Topics
Ancient Greece Timeline
3 Empire: The Power and Glory of Rome
The Roman Rise to Empire
Roman Literature
Art and Empire
Beyond the West: China's Rise to Empire
Afterword
Key Topics
Ancient Rome Timeline
4 Revelation: The Flowering of World Religions
Judaism
Christianity
The Spread of Christianity
Islam
The Expansion of Islam
Beyond the West: Buddhism
Afterword
Key Topics
World Religions Timeline
5 Synthesis: The Rise of the West
The Germanic Tribes
The Age of Charlemagne
Beyond the West: Japan
Feudal Society
Feudal-Age Literature
Early Medieval Music
Beyond the West: China
Afterword
Key Topics
Early Middle Ages Timeline
6 Christendom: Europe in the Age of Faith
The Medieval Church
Medieval Towns
The Pilgrimage Church
The Gothic Cathedral
Medieval Music
Beyond the West: India and China
Afterword
Key Topics
High Middle Ages Timeline
7 Rebirth: The Age of the Renaissance
Transition: Medieval to Renaissance
The Arts in Transition
The Italian Renaissance
Renaissance Humanism
Early Renaissance Art
High Renaissance Art
Beyond the West: The Glories of the Ottoman Empire
Renaissance Music
Afterword
Key Topics
Renaissance Timeline
8 Reform: The Northern Renaissance and the Reformation
Renaissance and Reformation
Sixteenth-Century Literature
Beyond the West: Japanese Theater
Northern Art
Northern Music
Afterword
Key Topics
Northern Renaissance Timeline
9 Encounter: European Outreach and Expansion
Global Travel and Trade
Africa
The Americas
Cross-Cultural Encounter
Afterword
Key Topics
Africa and the Americas Timeline
10 Baroque: Piety and Extravagance
The Catholic Reformation
The Italian Baroque
The Northern Baroque
The Aristocratic Baroque
Beyond the West: Aristocratic Landmarks
Baroque Music
Afterword
Key Topics
Baroque Timeline
11 Enlightenment: Science and the New Learning
The Scientific Revolution
The Enlightenment
Literature and the Enlightenment
The Visual Arts and the Enlightenment
Music and the Enlightenment
Beyond the West: Japan
Afterword
Key Topics
Enlightenment Timeline
12 Romanticism: Nature, Passion, and the Sublime
Heralds of Romanticism
Romantic Literature
American Romanticism
Romanticism in the Visual Arts
Romantic Music and Dance
Beyond the West: Exploring Africa
Afterword
Key Topics
Romanticism Timeline
13 Materialism: The Industrial Era and the Urban Scene
The Global Dominion of the West
Literary Realism
Late-Nineteenth-Century Architecture
Realism in the Visual Arts
Impressionism
Postimpressionism
Beyond the West: The Lure of the Exotic: Oceania
Late-Nineteenth-Century Sculpture
Late-Nineteenth-Century Music
Afterword
Key Topics
Materialism Timeline
14 Modernism: The Assault on Tradition
New Directions
War and Revolution
Beyond the West: Mao's China
Modern Literature
Modern Art
Modern Architecture
Music and Dance
Afterword
Key Topics
Modernism Timeline
15 Globalism: Information, Communication, and the Digital Revolution
Post-War Convulsions
The Quest for Equality
Science and Philosophy
The Information Explosion
Contemporary Literature
Art and Architecture
Music and Dance
Into the Twenty-First Century
Afterword
Key Topics
Globalism Timeline
Glossary
Further Reading
Literary Credits
Picture Credits
Index