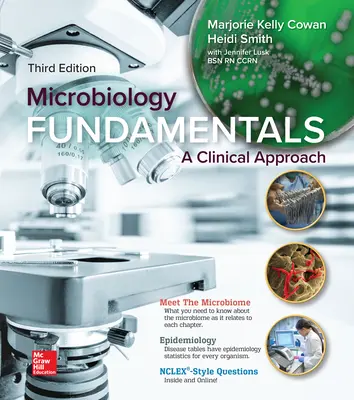 Microbiology Fundamentals: A Clinical Approach
3rd Edition
By Marjorie Kelly Cowan and Heidi Smith
ISBN10: 1259709221
ISBN13: 9781259709227
Copyright:
2019
Product Details

+
• What's Covered: A solid but accessible introduction to microbiology, this briefer text streamlines core concepts to better fit course length. Its one-column design simplifies reading and leaves ample space for illustrations and clinical content.
• What Makes This Product Unique: Co-author Jennifer Lusk is a practicing nurse whose perspective shows students how the content applies to their lives and future career.
• Digital Tools Available
---
Instructors: choose ebook for fast access or receive a print copy.
---
Program Details
1 Introduction to Microbes and Their Building Blocks
2 Tools of the Laboratory: Methods for the Culturing and Microscopic Analysis of Microorganisms
3 Bacteria and Archaea
4 Eukaryotic Cells and Microorganisms
5 Viral Structure and Life Cycles
6 Microbial Nutrition and Growth
7 Microbial Metabolism
8 Microbial Genetics and Genetic Engineering
9 Physical and Chemical Control of Microbes
10 Antimicrobial Treatment
11 Interactions Between Microbes and Humans
12 Host Defenses I: Overview and Nonspecific Defenses
13 Host Defenses II: Specific Immunity and Immunization
14 Disorders in Immunity
15 Diagnosing Infections
16 Infectious Diseases Affecting the Skin and Eyes
17 Infectious Diseases Affecting the Nervous System
18 Infectious Diseases Affecting the Cardiovascular and Lymphatic Systems
19 Infectious Diseases Affecting the Respiratory Systems
20 Infectious Diseases Affecting the Gastrointestinal Tract
21 Infectious Diseases Affecting the Genitourinary System
22 One Health: The Interconnected Health of the Environment, Humans, and Other Animals