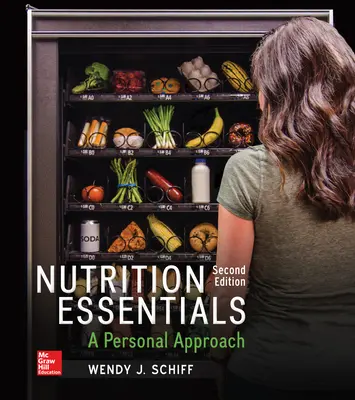 Nutrition Essentials: A Personal Approach
2nd Edition
By Wendy Schiff
ISBN10: 1259706540
ISBN13: 9781259706547
Copyright:
2018
Product Details

+
Nutrition Essentials: A Personal Approach
is the nutrition book that is all about
YOU
!
The personalized, consumer focus gives plenty of practical examples to help students learn about choosing foods and making decisions that are good for their health. Nutrition is more than vegetables. Find out how we're making it PERSONAL!
Program Details
Unit 1 Food Is More than Something to Eat Module 1.1 Why Learn about Nutrition? Module 1.2 Nutrition Basics Module 1.3 Key Nutrition Concepts Unit 2 Nutrition Information: Fact or Fiction? Module 2.1 Nutrition: Science for Consumers Module 2.2 Spreading Nutrition Misinformation Module 2.3 Becoming a More Critical Consumer of Nutrition Information Module 2.4 Seeking Reliable Nutrition Information Unit 3 Making More Nutritious Choices Module 3.1 Requirements and Recommendations Module 3.2 Planning Nutritious Meals and Snacks Module 3.3 Making Sense of Nutrition Labels Module 3.4 Should I Take Dietary Supplements? Unit 4 How Food Becomes You Module 4.1: From Cells to Systems Module 4.2: Digestive System Module 4.3: Common Digestive System Disorders Module 4.4: Metabolism Basics Unit 5 Carbohydrates: Fuel and Fiber Module 5.1 Sugars, Sweeteners, Starches, and Fiber Module 5.2 What Happens to the Carbohydrates You Eat? Module 5.3 Carbohydrates and Health Unit 6 Lipids: Focusing on Fats and Cholesterol Module 6.1: What Are Lipids? Module 6.2: What Happens to the Fat and Cholesterol You Eat? Module 6.3: Cardiovascular Disease: Major Killer of Americans Unit 7 Proteins: Life's Building Blocks Module 7.1 What Are Proteins? Module 7.2 What Happens to the Protein You Eat? Module 7.3 Proteins in Foods Module 7.4 What's Vegetarianism? Module 7.5 Proteins and Health Unit 8 Vitamins: Nutrients that Multitask Module 8.1 Introducing Vitamins Module 8.2 Fat-Soluble Vitamins Module 8.3 Water-Soluble Vitamins Module 8.4 Vitamins and Cancer Unit 9 Key Minerals, Water, and the Nonnutrient Alcohol Module 9.1: Minerals for Life Module 9.2: Key Minerals and Your Health Module 9.3: Water: Liquid of Life Module 9.4: Alcohol: Drink to Your Health? Unit 10 Nutrition for a Healthy Weight and Fit Body Module 10.1 Overweight or Obese? Module 10.2 Factors that Influence Your Body Weight Module 10.3 Managing Your Weight Safely Module 10.4 Disordered Eating and Eating Disorders Module 10.5 Get Moving; Get Healthy! Unit 11 Nutrition for Your Life, Environment, and World Module 11.1 Nutrition for a Lifetime Module 11.2 How Safe Is My Food? Module 11.3 Dietary Adequacy: A Global Concern