Online Learning: Are Students Setup for Success?
---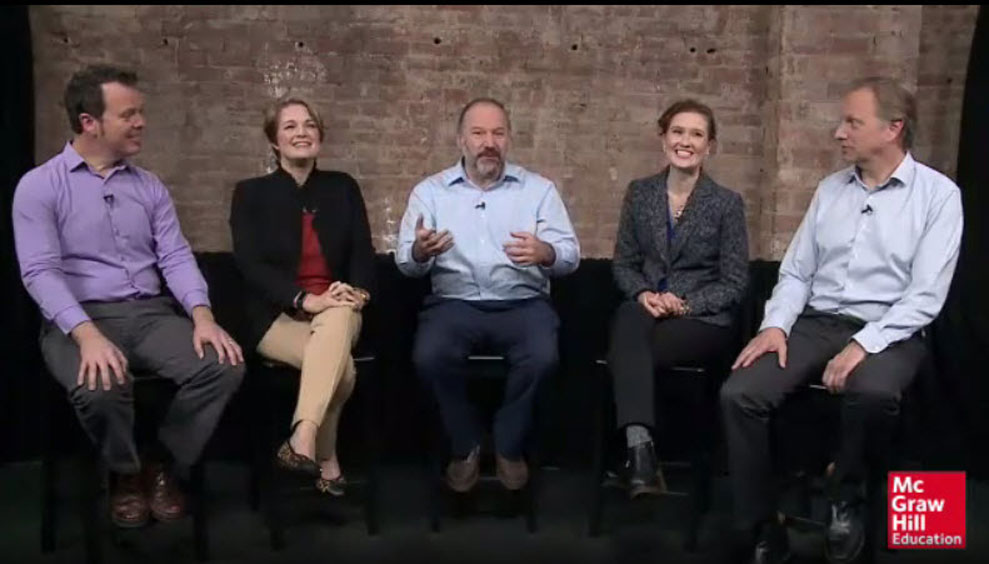 Online learning is a growing trend in higher education. Nearly six million students today are enrolled in online college courses today– that's nearly 28.5% of all U.S. college students. While online college courses are popular with students and college administrations alike, there is some debate on how adequately students are being set up for success. Big questions include are students properly prepared for the rigors of online learning, and are they receiving the same quality education that they might receive in a more traditional face-to-face classroom setting?
To learn more about online education and what it means for students and institutions today, McGraw-Hill brought together a panel of experts from the education community.
Michael Feldstein, co-Publisher, eLiterate, moderates this lively discussion with Lisa Rombes (Chair, Mathematics, Washtenaw Community College), Dr. Peter Shea (Associate Provost for Online Learning, SUNY Albany), Dr. Sasha Thackaberry (Assistant Vice President for Academic Technology and New Learning Models, Southern New Hampshire University), and Dr. Kelvin Thompson (Director of Online Design and Development Strategy, University of Central Florida).
Watch the on-demand session today!
Michael Feldstein (Moderator)
- Michael has a long and eclectic background in education, from teacher to blended an online education program administrator to educational technology product designer to ed tech analyst and consultant. He is a Partner at MindWires Consulting, Co-Publisher of the e-Literate educational technology analysis site, and Co-Producer of e-Literate TV. He has worked in product and program management for Cengage Learning and Oracle Corporation and served as Assistant Director at the SUNY Learning Network.
Dr. Kelvin Thompson
- Dr. Kelvin Thompson regularly addresses groups throughout the US on topics related to online/blended learning and educational technology while he serves as the Director of Online Design & Development Strategy for the University of Central Florida's (UCF) Center for Distributed Learning with a faculty appointment as a graduate faculty scholar in UCF's College of Education & Human Performance. Dr. Thompson has collaborated on the design of hundreds of online and blended courses over the past nineteen years, and he oversees CDL's strategic initiatives, including accessibility activities. Kelvin developed the BlendKit Course open courseware as part of UCF's Blended Learning Toolkit, and he also co-hosts TOPcast. His personal research interests center around how interaction affects learner engagement, and information on his Online Course Criticism qualitative evaluation model for facilitating the scholarship of teaching and learning in online and blended environments. Kelvin Thompson holds an EdD in curriculum and instruction and an MA in instructional systems technology from UCF and a Bachelor of Music Education degree from The Florida State University.
Lisa Rombes
- Lisa Rombes is currently an instructor and chair of the Mathematics Department at Washtenaw Community College in Ann Arbor, Michigan. She graduated with honors from Bowling Green State University in Ohio and Penn State University with degrees in Math Education. Her focus in school was Number Theory, and she always looks to convey to students that there is beautiful math other than that found in the Calculus sequence. She has been teaching developmental and first-year college math for 29 years, at the middle school, high school, and community college level. An early developer and instructor of online math courses, she is passionate about student success in this environment. Online course design is a real interest: Lisa also serves on the college committee working to review the quality online courses in all subject areas. She loves looking at the "student view" and helping instructors see what their students see.
Dr. Peter Shea
- Dr. Peter Shea is Associate Provost for Online Learning providing leadership and strategy for online education in collaboration with academic, administrative, and support units across the University at Albany, State University of New York. Peter is also Associate Professor in the department of Educational Theory and Practice with a joint appointment with the Department of Information Studies in the College of Engineering and Applied Science. His research focuses on technology-mediated teaching and learning in higher education and the development of communities of online learners. He is the author of more than 50 peer-reviewed journal articles, proceedings, and book chapters on the topic of online learning and co-author of "The Successful Distance Learning Student". He is Editor in Chief of the Journal Online Learning. Peter is a co-recipient of several national awards including the EDUCAUSE Award for Systemic Progress in Teaching and Learning, and Sloan Consortium Awards for Excellence in Faculty Development and Asynchronous Learning Networks Programs. He was named a Sloan-C Research Fellow in 2011.
Dr. Sasha Thackaberry
- Dr. Sasha Thackaberry is the Assistant Vice President for Academic Technology and New Learning Models at Southern New Hampshire University. Prior to that role, she was the District Director for eLearning Technologies in the Office of eLearning and Innovation at Cuyahoga Community College in Cleveland, Ohio. Focus areas include Next Generation Learning models like Competency-Based Education, micro-credentials, digital badges, PLA and the development of integrated ecosystems to support innovative learning environments. She enjoys writing and has published articles as a guest blogger on e-Literate, WCET, and evoLLLution, as well as peer-reviewed publications for EDUCAUSE Review, eLearn Magazine, Distance Learning, and the League for Innovation's Learning Abstracts. She is the co-recipient of the 2013 MOOC Award for Excellence through the Open Education Consortium, and a 2010 Innovation of the Year award through the League for Innovation. Sasha holds a PhD in higher education administration with a research focus in Competency-Based Education as well as an MAT from Kent State University. Her Bachelor of Fine Arts in Dance is from the University of Akron, proving that tech and arts can coexist and that the performing arts create a transferable skill set.