12 Best Movies to Watch Over Winter Break
---
December 18, 2017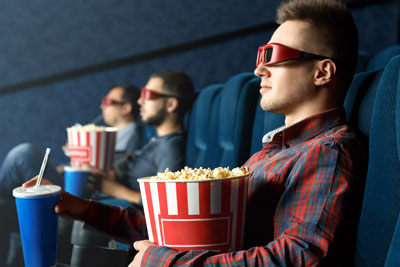 The semester is over, the papers have been marked and the grades are turned in. It's finally time to take a moment and enjoy what winter break is really all about…binge watching movies to your heart's content.
No matter if you're spending time with friends and family, resting and relaxing, or traveling here are some great movie options for everyone.
Enjoy. You've earned it!
Lady Bird (2017, Movie Theaters) – you're forgiven for not seeing (or maybe knowing) about this recently-released film but this semi-autobiographical story written and directed by Greta Gerwig is a hilarious, heartfelt tale about a young girl in 2002 graduating from high school, dealing with her passive-aggressive mother, and desperately wanting to leave for college on the East Coast. While a little early to tell, the film is getting major early Oscar buzz and breaking records on Rotten Tomatoes.
Chef (2014, Amazon Prime Video) – a really cute father and young son adventure where a talented chef quits his job and launches a food truck business and rediscovers his passion and love of food.
Five Came Back (2017, Netflix) – this one's a bit of a cheat as a movie since it is three, 1-hour episodes but this awesome documentary looks at five famous directors in WW2 and their impact in using their cinematic gifts during wartime to influence the minds of the American and European populace against the Nazi propaganda machine.
Brooklyn (2016, HBO Go) – romantic films typically range from bad, to worse, to utter dreck, but this gorgeously shot film about an 1950s Irish immigrant girl coming to America and finding love is somehow both heartwarming and charming without being too over the top nostalgic or sappy.
In the Loop (2009, Hulu) – politics is not something most people want to broach, let alone deal with over winter break, but this hysterical, profanity-riddled comedy of low-ranking British and American operatives and how small incidents in politics can snowball in to crazy outcomes is 100% worth a watch.
Best in Show (2000, Netflix) – who doesn't need a little Christopher Guest in their lives? An oldie but eminently classic mockumentary about the high-stress world of competitive dog shows and the people who love them.
The Lost City of Z (2016, Amazon Prime Video) – a griping biographical drama about the adventure of British explorer, Percy Fawcett, and his attempts to find an ancient lost city in the Amazon.
Heathers (1989, Netflix) – have you seen Heathers already in life? No? Seriously, what is your damage? This cult-classic is one of the best dark comedies ever and definitely worth a re-watch if for the quotes alone. If you're feeling a little edgy over winter break this might be the snarky relief you need.
The Lobster (2016, Amazon Prime Video) – you like quirky films? Whelp the plot summary to this one includes a futuristic world where people are obliged to find a match within 45 days or be turned in an animal of their choice. And it's a love story. Interested?
Hidden Figures (2016, HBO Go) – if you didn't catch this academy award nominated film last year here's your chance. The true-life story of the contributions African-American women made on the NASA space program is an inspiring tale and a perfect film to sink in to.
Rogue One (2016, Netflix) and/or Star Wars: The Force Awakens (2015, Starz) – there's this little indie movie called "The Last Jedi" that came out in mid-December. You might not have heard of it. That's ok. Jump back in to this crazy far away galaxy and buy your movie theater tickets early!
The Big Short (2015, Neflix) – the high-octane, eminently watchable breakdown of the 2008 financial crisis is wild, crisp, and frighteningly applicable to today's climate. Even if you've seen the film before it's a highly entertaining and enjoyable second viewing.