Dorm Room Recipe: Tofu Teriyaki
Published October 31, 2014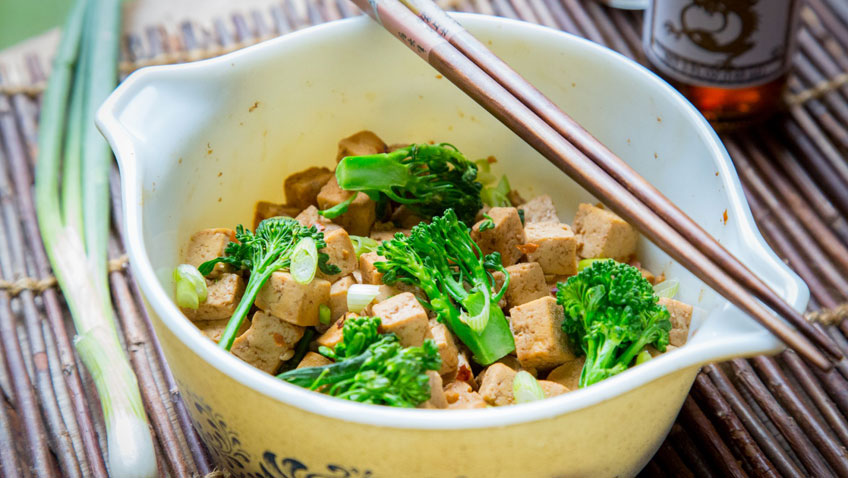 Is the cafeteria failing when it comes to Meatless Monday options? Or, are you just looking for a way to make friends with that vegetarian down the hall? This simple dish is nutritious, filling, and will energize you for your next study session.
prep time: 7 minutes
cook time: 4 minutes and 15 seconds
total time: 12 minutes
Equipment:
microwave
microwave-safe bowl
microwave-safe cover
cutting board
knife
paper towels

Ingredients:
8 ounces (½ pound) tofu
2 tablespoon teriyaki sauce
1 tablespoon soy sauce
¼ tablespoon chili flakes
½ cup broccoli cut into florets (you can substitute bok choy or spinach, if desired)
1 stalk scallion, thinly sliced (optional)

Directions:

Step 1: Drain tofu from liquid. Use paper towels to absorb the excess liquid and cut the tofu into ½-inch cubes.
Step 2: In a microwave-safe bowl, toss tofu with teriyaki sauce, soy sauce, and chili flakes. (If you have time, let the tofu sit and marinate in the flavors for a few minutes)
Step 3: Cover the bowl and microwave on HIGH for 3 minutes.
Step 4: Carefully remove bowl and using your spoon, mix tofu and add your greens. Cover again and pop back into the microwave for 1 minute and 15 seconds more on HIGH.
Step 5: Remove and sprinkle sliced scallions over the top of the dish, if desired.