Dorm Room Recipe: Blueberry Mug Muffin
Published October 31, 2014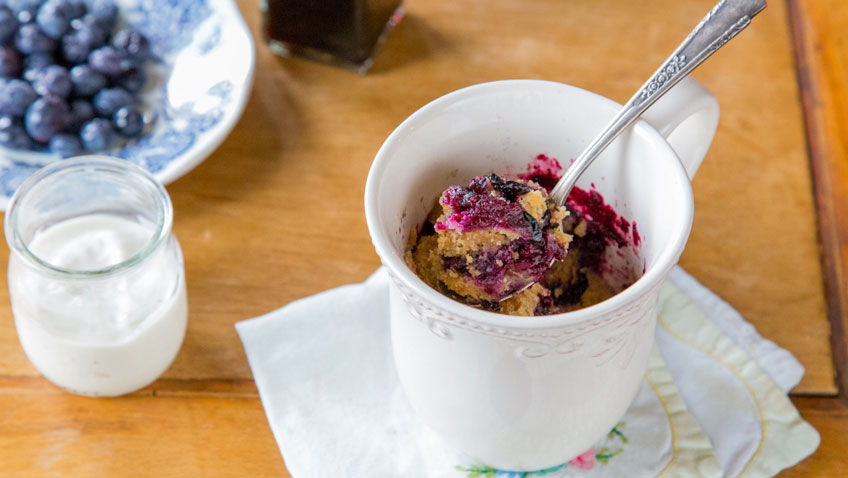 On a budget? Forget those expensive pastries you grab each morning on-the-go; you can get the same satisfaction from a dorm-made recipe. In minutes. For reals.
prep time: 7 minutes
cook time: 1 minute 20 seconds
total time: 9 minutes
Equipment:
microwave
microwave-safe mug
whisk or fork
bowl

Ingredients:

For the muffin:
2 tablespoons butter
½ cup milk
½ cup all-purpose or whole-wheat flour
2 tablespoons brown sugar
¼ tablespoon baking powder
½ cup blueberries

For the streusel topping:
1½ tablespoons butter
1½ tablespoons all-purpose or whole-wheat flour
1½ tablespoons brown sugar
¼ tablespoon cinnamon

Directions:

Step 1: Place 2 tablespoons of butter in the microwave-safe mug and melt by microwaving for 10 seconds.

Step 2: Add the milk, flour, sugar, and baking powder to the mug. Whisk until the mixture is lump-free. Carefully fold in the blueberries.

Step 3: In a separate bowl prepare the streusel topping: mix together the topping ingredients with your fingers.

Step 4: Sprinkle the streusel crumbles over the top of the muffin batter in the mug.

Step 5: Microwave on HIGH for 1 minute and 20 seconds. Enjoy plain or with yogurt.