Dorm Room Recipe: Bell Pepper-Cheddar Omelet
Published October 31, 2014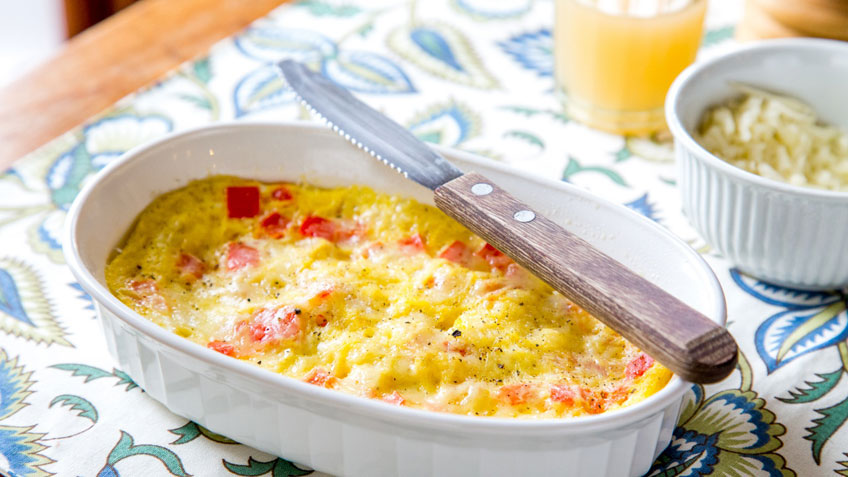 Stop skipping breakfast! Even sleepy students suffering through morning classes have to eat—after all, your brain functions better on protein. This quick recipe is done in 7 minutes (right in your dorm room!). What's your excuse now?
prep time: 5 minutes
cook time: 2 minutes
total time: 7 minutes
Equipment:
microwave
microwave-safe bowl
whisk or fork
knife
cutting board

Ingredients:
¼ red bell pepper
2½ tablespoons grated cheddar cheese (divided)
2 large eggs
salt & pepper, to taste
oil (for greasing the dish)

Directions:

Step 1: Dice the red bell pepper into ¼-inch cubes.

Step 2: Lightly grease a shallow microwave safe bowl or dish

Step 3: Crack the eggs into the greased dish. Whisk. Fold in 2 tablespoons of the grated cheese and diced peppers. Season to taste with salt and pepper.

Step 4: Cover the dish and microwave on HIGH for 1 minute. Carefully remove the dish from the microwave and sprinkle the remaining cheese over the top.

Step 5: Return the dish to the microwave and bake for an additional minute or until cheese melted and egg is cooked through.