College Tuition Can Cost Students More than Money
Published October 17, 2016
---
"Working full time while going to college was very tough," says David Hernandez, a McGraw-Hill Education student ambassador, and a first-generation student who had immigrated to the United States from Puerto Rico. "I was always rushing, never having enough time to study, which forced me to stop doing all the things I loved doing most."
David isn't alone. The primary challenge for students is the cost of loans, according to the 2016 McGraw-Hill Digital Study Habits and Trends Survey Analysis, which includes data from 3,311 student respondents. The second most prevalent challenge: balancing a job with school. Both weigh heavier on students than the actual classes those loans pay for: only 41% of students surveyed report that doing well in classes is one of the most common challenges they face in school.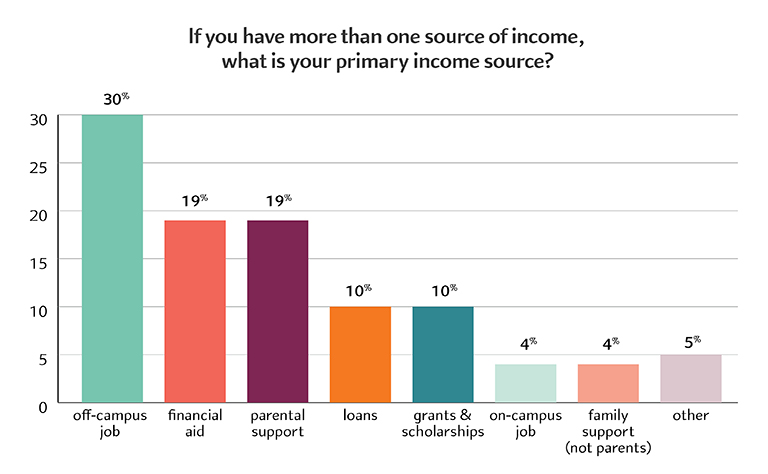 Let's review that! Most students surveyed feel that the financial burden of paying for courses is a greater concern than the coursework itself. How is that possible?
Here's what we know: 39% of students surveyed are burdened by loans and and 49% have a job off campus. And, as many as 30% of students reported that an off-campus job is their primary source of income.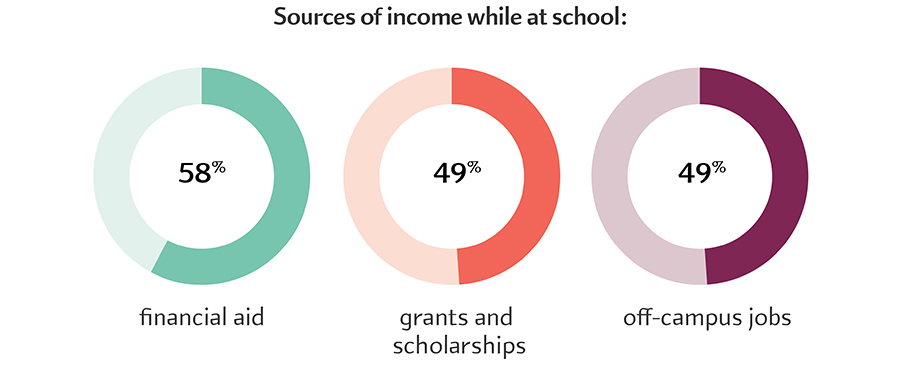 Paying a Heavy Price for Higher Ed Sticker Shock
"Working full time while going to college was very tough."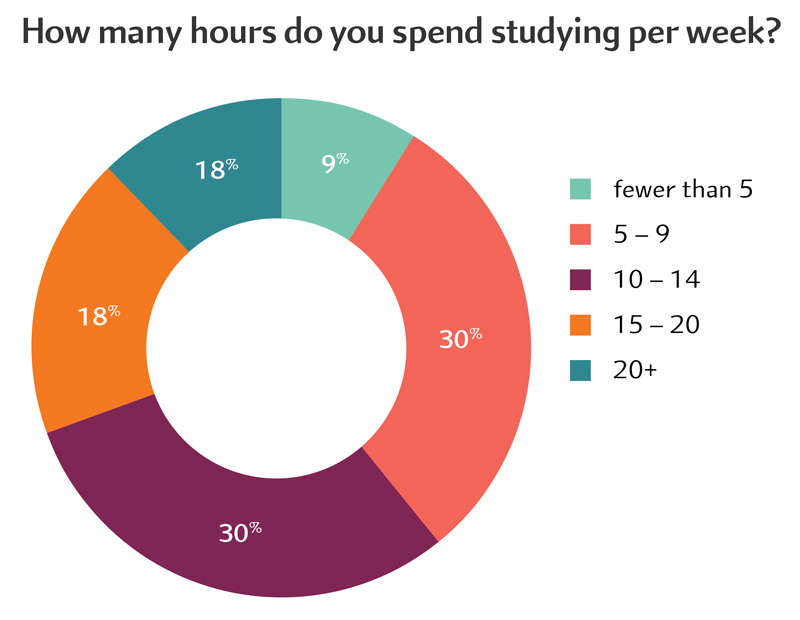 Dealing with financial stress is clearly a daily struggle for many students, and it appears that academic attention is not winning in this balancing act. The 2014 National Student Financial Wellness Study, conducted by The Ohio State University and included 52 participating institutions, revealed that nearly 33% of students sometimes or frequently neglect their studies because of money they owe. The McGraw-Hill Education survey took an even closer look student study habits, and found that while 60% of participants study between 5 and 14 hours a week, only half of them are putting in more than 10 hours. Those that really go the distance are much less: 18% of participating students study 15 to 20 hours a week, and as little as 12% of them actually study for more than 20 hours weekly. It's hard for students to hit the books when they're worrying how they're going to earn enough to spend on them, or when they're exhausted from stretching themselves too thin.
These increasing strains, and the dynamics of the situation can be detrimental. A paper on financial stress and undergraduates released earlier this year by the Wisconsin HOPE Lab at the University of Wisconsin-Madison spells out the trouble: "The rising price of college has left many students concerned that they might not be able afford to complete their degrees. Students are doing many things in order to stay in school—cutting back on expenses, borrowing money, and working longer hours—but research suggests that some of these strategies may undermine students' performance and thereby lead to non-completion."
The possible negative outcomes, such as dropping out of school, can't be overstated for their lasting impact on future employment and income potential. Other research further backs up the concerns for these very real issues. A 2014 report published by the Pew Research Center cited that full-time working millennials with at least a bachelor's degree had $15,500 more median annual earnings than those who had some college education and $17,500 more than those with just a high school diploma. In addition, a 2014 paper from the Georgetown University Center on Education and the Workforce states: "By 2020, 65% of all jobs in the economy will require postsecondary education and training beyond high school," adding that "at the current production rate in higher education, we will fall 5 million short of the workers with postsecondary credentials we will need by 2020."
It's imperative that students complete college to derive value from their hefty investments in higher education. McGraw-Hill President Peter Cohen says, "Lowering the cost at entry is only part of the conversation we need to be having about value. More importantly, we need to work toward ensuring that every student who makes the investment in a college education gets to the finish line, graduates and finds a fulfilling career."
Digital Learning Technology Makes a Difference

We're fast approaching 2020 and students need to start using realistic solutions now, given that the financial woes aren't likely to completely disappear anytime soon. Digital Learning Technology (DLT) is a proven way students can take back control to master their coursework.
"With SmartBook I was able to maximize my study time, and improve my knowledge of the material."
For instance, keeping up in college while juggling a full-time job became more manageable for David Hernandez when one of his professors introduced him to McGraw-Hill's SmartBook: "I was able to maximize my study time, and improve my knowledge of the material. It allows you to build a framework of the material, as well as highlighting the content that you need to know the most," he says. "My grades improved exponentially, and my personal and student life became more enjoyable. I became president of the biggest honor's organization."
David's success story is one of many among McGraw-Hill student customers. In 2016, DLT had a positive effect with improving grades for 79% of them, and that also reflects a 7% increase from the beneficial impact it had in 2014. In fact, more than 4 out of 5 of all the surveyed students feel that DLT is currently helping them get more value from their college experience in several ways, which include improving education, increasing study time, boosting grades, and efficiently saving time.
Mobile use for on-the-go study is another advantage of DLT. When compared to personalized features and even price, it's a benefit that's much more important today to about two-thirds of surveyed students, even though 74% study at home. In particular, McGraw-Hill students have been steadily viewing mobility as more and more essential: two years ago 13% considered it extremely important to study on an electronic device; last year, 19% felt that way; and this year, 22% agree.


With all the upsides of DLT, one might think that cost isn't a strong consideration in choosing whether to purchase these educational resources. But again, it is the main deciding factor with 64% of students for whether they would use DLT more often. Indeed, with higher education, price points can always be pain points, making money a mega influencer in student choices.