Discover the Impact of Connect on Student Engagement, Grades, and Retention Rates at 34 Universities
Published October 31, 2014
---
We evaluated the impact of Connect on student engagement, test scores, course grades, attendance and retention rates at 34 higher education institutions in the United States. Read below for details:
Introduction: Embracing Technology to Achieve Results
According to the National Center for Educational Statistics, almost 30 percent of full-time college freshman in 2010 didn't return for their sophomore year – a figure that nears a shocking 60 percent for those attending two-year institutions.1 And the most recent data available for graduation rates shows that only 38 percent of full-time students completed their bachelor degree within four years, and only 58 percent completed the degree in six years.2
These jarring statistics raise an important question—how can higher education institutions further support students throughout the learning process in order to raise graduation rates? While there is no one solution, it's encouraging to see the impact of new learning technologies and innovative study tools that fully engage students in course material while informing instructors of the students' skill and comprehension levels.
Interactive learning tools—including McGraw-Hill Education's Connect®—are being implemented to increase teaching effectiveness and learning efficiency in thousands of colleges and universities throughout the country. By facilitating a stronger connection with the course and incorporating the latest technologies—such as McGraw-Hill LearnSmart®, an adaptive learning program—these tools enable a student to be more successful in their college careers, which will ultimately raise the percentage of students completing their postsecondary degrees.
In order to determine Connect's effectiveness, data was aggregated and analyzed from 34 different case studies featuring diverse colleges and universities across the U.S. The resulting analysis outlines the proven benefits of Connect for students and instructors alike. Improvements in time management, in-class discussions and lectures, student engagement, exam scores and course grades increase overall satisfaction with the course and course work, which ultimately helps raise graduation rates.
What is Connect?
Connect is an all-digital teaching and learning environment designed from the ground up to work with the way instructors and students think, teach and learn. The digital teaching, assignment and assessment platform strengthens the link between faculty, students and coursework, helping everyone accomplish more in less time. For students, Connect uses innovative, interactive technology to enable a more personalized learning experience that better engages students in course content so they are better prepared, are more active in discussion, and achieve better results. Connect allows instructors to give homework assignments with immediate, automatic feedback, upload recorded class lectures and presentations, highlight important sections and add notes to online textbooks, and track student progress and concept comprehension in real-time on an easy-to-use, enhanced online platform.
Since 2009 Connect has been used by more than 5 million students and professors. During this time almost 100 million assignments have been submitted. Connect has approximately 680 course titles from which to choose over 71 disciplines across the curriculum.
Why Connect?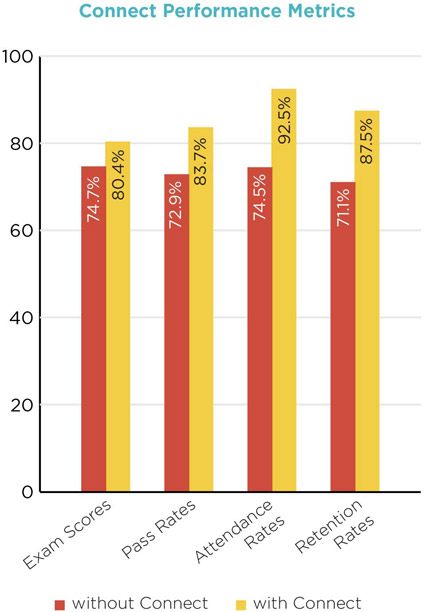 The teaching and learning environment is dramatically and rapidly changing as learning technologies advance. With Connect, on-campus classrooms, hybrid classes, and online courses become an environment that is interactive and highly adaptable, allowing for a personalized learning experience for each student. Connect extends learning beyond the classroom in order to thoroughly engage students in the coursework at their own pace and on their own schedule. In fact, in all 34 case studies, instructors reported that using Connect improved students' overall performance. This was illustrated through increased engagement, improvement in test scores and overall course grades, attendance, and/or retention rates.
How Connect Benefits Instructors
Overall, Connect helps instructors to be more efficient and effective, no matter how they choose to structure their course or deliver instruction. Whether the class follows a traditional on-campus, face-to-face structure, a blended learning model, or is facilitated completely online, Connect improves the teaching experience for instructors. Once the course outline and coinciding materials have been created using the Connect platform, time spent refining and grading class assignments and tests is reduced to a fraction. Connect gives instructors the ability to track their students' progress and concept comprehension throughout the semester, allowing them to adapt lectures accordingly and provide additional support to those students who exhibit greater need. With Connect, instructors no longer lose valuable time on administrative tasks like grading quizzes and reviewing homework, and instead can focus on teaching complicated concepts or guiding students through active learning assignments. Connect guides students through the course material which ultimately helps them come to class well prepared and ready to engage in thoughtful discussions.
Reducing Administrative Time
Because Connect provides immediate feedback and automatically grades students' assignments, instructors are no longer burdened by these administrative tasks, and can focus almost exclusively on teaching. On average, instructors reduced their time spent grading by 77 percent.3 A majority of the instructors used this additional time to prepare and refine lessons, spend one-on-one time with students, and cover more in-depth, higher level concepts and critical material in class.
During his time at Franklin University in Columbus, Ohio, Professor David Welch recovered the equivalent of two weeks of lecture time by having his student's complete tests outside of class using Connect. This allowed Professor Welch to spend significantly more time on teaching new concepts and required course material versus administering tests and reviewing homework assignments. In fact, his time spent teaching new concepts had more than doubled since using Connect.4
Similarly, Professor Lois Bitner Olson of San Diego State University in San Diego, California has been able to reduce the amount of time she spends on assignment preparation and grading by more than 88 percent—from four and a half hours per week to just half an hour. All of the time recovered allows Professor Olsen to devote more attention to her lectures and redesign them based on students' skill level. "I really like Connect," said Professor Olson. "It really does make life with 960 students each year a lot easier."5
Powerful Reports Lead to Engaged Classrooms
While instructors no longer need to grade assignments, they still need to track their students' comprehension and progress both individually and collectively. Connect can generate a number of powerful analytical reports and charts that let instructors quickly review the performance of a given student or an entire section, including an At-Risk Report which identifies those students most in need of intervention based upon their course engagement. Instructors can see which concepts their students have mastered and where they lack understanding and/or confidence, and use that knowledge to determine what content they need to spend time teaching and what students can effectively learn on their own.
Professor Frank Wray of University of Cincinnati in Cincinnati, Ohio is able to effectually assess student academic performance through Connect and LearnSmart's dynamic reporting functions. "I am much better able to assess whether students are actually learning something," said Professor Wray. "The reporting function made my colleagues and me much more efficient and has armed us with valuable data to help students master the material."
Professor Wray also noted that as his students' assignment completion rate increased, their mastery of concepts also improved.6
Creating More Effective Lectures
These reports enable instructors to tailor lectures—and office hours. Instructors can monitor concept comprehension across the class, or search for a specific student and focus on that student's progress across assignments. With Connect, instructors can focus lectures on covering the core topics with which the class is struggling, and provide individual guidance or feedback during or after an assignment.
Professor Sam Mirmirani of Bryant University in Smithfield, Rhode Island appreciates the ability to more carefully craft his lecture time to focus on key topics while making them more applicable to his students' level of comprehension. The reports within Connect show him the topics that his student's need the most help with, so he is able to update his lecture notes based on the report feedback. "I now have more frequent and systematic information on how my students are doing," said Professor Mirmirani. "Through the detailed reporting on class performance I now know which areas to emphasize more and which ones less."
Not only does Connect empower instructors to craft more meaningful lectures, it also helps students fully engage in the course material thus allowing them to come to class well prepared. Dr. Adriana Brodsky of St. Mary's College in St. Mary's City, Maryland has discovered that once her students begin taking the required quiz assignments before class through Connect, they become more engaged during face to face lecture time. "Online quizzes are great!" Dr. Brodsky notes. Since students take assigned quizzes in the beginning of the week on their own time, Dr. Brodsky's lectures have become more interactive as she can assume that students have read the material and studied the chapter. This allows her to focus on making connections and using engaging, focused case studies.7
How Connect Benefits Students
Connect offers students a variety of features and tools in order to support and aid them throughout the learning process. Connect's easy-to-use, all-digital learning platform acts as a virtual study partner that can provide students with personalized instruction while giving them access to recorded class lectures and a fully interactive electronic textbook. Connect allows students to learn at their own pace and on their own schedule. It's easy to see why so many students using Connect feel more confident with class material and have improved their grades. In the 27 case studies tracking the impact of Connect on grades, test scores, and/or pass rates, every single one showed overall improvement.
Increasing Students' Confidence and Retention
Learning new concepts can be challenging and students' uncertainty in their work can inhibit full participation thus limiting their learning potential. Professor Meg Pollard of American River College in Sacramento, California reports that Connect has ultimately increased her students' confidence. She believes that students find her accounting class less intimidating when using Connect. Because Connect gives students immediate feedback on their work, student confidence increases with each correct answer. "Connect provides students with meaningful practice opportunities and the accompanying feedback to close the loop of learning," said Professor Pollard. "Students often struggle with concerns about how to get started with their homework and whether their work is correct. Connect offers a structure that allows them to engage with assignments and work with confidence."8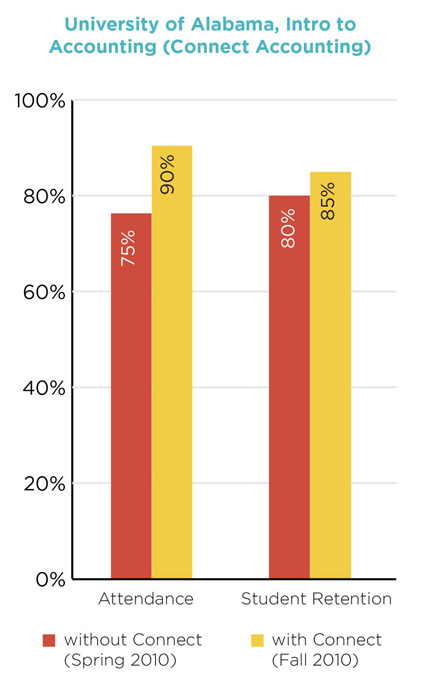 Greater confidence in course material coupled with access to a variety of learning tools and increased faculty support have even proven to boost student attendance and retention rates. Professor Lisa McKinney of The University of Alabama in Tuscaloosa, Alabama saw a noteworthy increase in the retention rate of her Introduction to Accounting course after integrating Connect into her class in fall 2010. Professor McKinney found that across all seven sections and 650+ students in the course, retention rates increased by five percent and class attendance increased by 15 percent compared to her spring 2010 classes.
Improving Students' Grades
The end result of a platform that builds student confidence, engagement and retention is a more connected student, and often, a higher scoring student. Professor Kathleen Kirasic of the University of South Carolina in Columbia, South Carolina saw improved student performance and increases in both course completion and passing rates. Kirasic uses Connect to deliver all learning and assessment activities, and encourages students to use the LearnSmart modules, which she also assigns as homework, throughout the course and to study for exams. Through this increased engagement (students are interacting with the class either in person or online daily), the number of students earning A's has more than doubled and the number of students receiving F's has substantially diminished. "Clearly, more students received a passing grade with Connect. I am confident that the grades accurately reflect their increased ability to apply learned material," said Professor Kirasic.
Creating a Personalized Learning Environment
Connect's rich content, abundant assignment types, and flexible policy options can be customized, while its powerful study tools adapt to individual student understanding and need. Simply put, Connect offers students a system that works for them, no matter how they study.
Connect also incorporates adaptive learning tools—like McGraw-Hill's LearnSmart, now used by millions of students across the country—to create a personalized learning path for each student. These tools further improve student engagement, grades, and retention, thereby enabling students to be more successful in their college experience and ultimately more career-ready.
Conclusion
This analysis confirms what instructors and students have been anecdotally suggesting: Connect demonstrably helps students learn more effectively while further informing instructors and their teaching methodologies. Based on this aggregation of data from a variety of higher education institutions, it's clear that adaptive learning tools increase teaching productiveness and learning capability for all types of instructors and students. By providing an interactive, personalized learning experience, through tools such as McGraw-Hill's Connect, colleges and universities across the country can improve student engagement, grades, attendance and retention rates—ultimately increasing graduation rates.
Methodology
The performance data used in this effectiveness study are based on case studies conducted by instructors from 34 different institutions of higher education independently from one another. Professors measured the effect of Connect on a set of performance indicators such as student engagement, student performance, student retention, or instructor efficiency based on measurable metrics such as grades, pass rates, retention rates, time spent on activities, and attendance rates. Control and test groups were determined according to context. In some cases, performance metrics were recorded simultaneously between two groups of the same class, one using Connect while the other did not. In other cases, professors recorded the differences between the same course before and after implementing Connect. While each professor had control over what to focus the case study on, and on how to define control and test groups, the methodology for computing performance metrics was consistent across the board.
About Connect
McGraw-Hill Connect® is a first-of-its-kind comprehensive digital learning and teaching system, helping usher in a new era of cutting-edge, digital-based instruction that will help improve student performance. The introduction of this groundbreaking digital, adaptive learning solution builds on the company's success in digital education solutions and more than 100 years of experience in curricula development.
Connect is currently being used by more than 1.1 million students and professors and thousands of colleges and universities nationwide, with over 170 course titles across 50 academic disciplines from which to choose.
---
1 U.S. Department of Education, National Center for Education Statistics, Integrated Postsecondary Education Data System (IPEDS), Spring 2008 and Spring 2011, Enrollment component. (This table was prepared November 2012.) http://nces.ed.gov/programs/digest/d12/tables/dt12_346.asp
2 U.S. Department of Education, National Center for Education Statistics, Integrated Postsecondary Education Data System (IPEDS), Fall 2001 and Spring 2002 through Spring 2011, Graduation Rates component. (This table was prepared November 2011.) http://nces.ed.gov/programs/digest/d11/tables/dt11_345.asp
3 Et al. Digital Course Solution Improves Student Success and Increases Instructor Efficiency, Case Studies
4 Welch, D. Case Study, Franklin University, Fall 2010
5 Olson, L.B. Case Study, San Diego State University, Spring 2010
6 Wray, F. Case Study, University of Cincinnati, Fall 2009
7Brodsky, A. Case Study, St. Mary's College, Spring 2011
8 Pollard, M. Case Study, American River College, Spring 2011